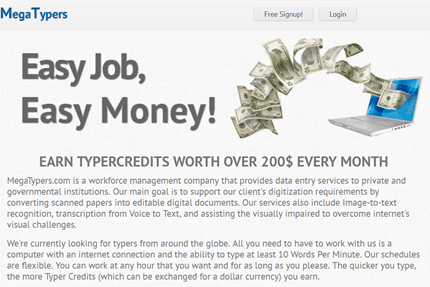 In this review, I would like to cover all you need to know about MegaTypers and give you my honest opinion about it. Can you really make easy money by solving CAPTCHAS? Or is it a scam?
Let's find out!
By the way, if you want to discover the same method that earns me $900+ per month from my laptop, check out my #1 recommendation.
MegaTypers Review
---
Name: MegaTypers
Website: Megatypers.com
Price: Free to join
Type: CAPTCHA Typing "Job"
Recommended? NO
Overall rating:

0.3/5
What is MegaTypers?
---
MegaTypers claims to be the easiest and fastest way to work online. It's a platform that allows users to make money by simply entering CAPTCHAS. 
A captcha is basically a test used on different websites to detect whether an attempt to login or send a comment is being made by a human or a computer bot. This test blocks spammers and bots that try to get automated access to websites.

So, with MegaTypers, your job is to solve as many CAPTCHAS as you can in a short timeframe.
Who Are You Solving CAPTCHAS For?
---
I have to confess I'd never seen this type of online job before. I am still very skeptical and wondering what the purpose of solving so many CAPTCHAS is.
What's strange is that MegaTypers doesn't offer any explanation as to what is the REAL purpose of your job.
So, there are 2 possibilities here. Either you are working to solve captchas for hacker and spammers, or you are helping identify captchas that are legible to websites.
Well, with a little research I found that hackers take advantage of CAPTCHA typing workers to bypass security.
For example, these hackers can make a lot of money by…
Creating hundreds of email passwords and selling to internet marketers willing to promoting their affiliate offers or their products.
Cracking the password of a company's Facebook account and extort money from them.
And many other unimaginable ways.
Here is a conversation I found on a forum related to bitcoins:


Looking at 2capcha.com, they say customers have to agree to use their services for research purposes only. But what kind of research is that?
It's clear to me that these companies have no control over how their customers will use these CAPTCHA recognition services.
Now, I am not here pointing my fingers and saying you will be working for hackers and spammers because  I can't prove that. But the thing is, you don't really know.
No Terms And Conditions
Look around, and you won't find the "About us" page, the Privacy Policy page, and even the Terms and Conditions. These are essential pages that every legitimate website must have.

Without the Terms and Conditions, you really don't know what to expect from them.
So Much Work For So Little Pay
The front page says "Easy Job, Easy Money." They also claim top earners make between $100 and $250 per month. 
HAHA NO WAY! 
In my opinion, you will struggle to reach $10 per month.
First of all, it's important to know that the amount of money you make will depend on how fast you go, and at what time you work. That is because pay rates vary per hour. For that, you should check out the latest statistics table, which will give you the payout rates per 1,000 CAPTCHAS.

As you can see, the maximum you will earn is just $1 per 1000 images.
The problem is that these CAPTCHAS don't show up immediately after you submit an answer. Often times it keeps loading and loading forever, which is very annoying as it decreases your wage significantly.

I gave it a try and made $0.01 in 4 minutes. So, in order to earn $1, I would have to spend 6.5 hours on average.
They Can Terminate Your Account 
---
If you don't follow a strict line, Megatypers will terminate your account and not pay what they owe you.
They threaten to ban your account if you:

Type "garbage" – Make lots of errors repeatedly. Whenever you make a mistake, they will deduct your earnings from your total balance.
Quit typing more than 10 times in less than 24 hours.
Let the timer in your work panel expires repeatedly.
Pros & Cons
---
Pros
Free to join.
Easy job.
Lots of payment processors – PayPal, Perfect Money, Payza, Western Union, Webmoney, Bitcoin, and Litecoin.
Cons
Extremely low pay rate.
Very tedious work.
No explanation why you are solving CAPTCHAS.
High minimum cashout requirement – $15 or more depending on the payment type.
They can ban your account if you are not fast and accurate enough.
They can ban your account for no reason.
There are no Terms and Conditions and No Privacy Policy page.
There is no information about the company.
Conclusion – Is MegaTypers a Scam?
---
I can't make such a claim because I can't prove anything.
But, think about it, guys, even if it's legit, I don't think it's worth spending hours doing such a tedious and unfulfilling job for just $1.
The worst thing is to work for months just to have your account banned for no reason.
In my opinion, you should think carefully before start solving CAPTCHA because you don't know if you will get paid or not.

This reward platform is going viral! Cash out via PayPal, Visa, Gift Cards, and in-game currencies - Click here to find out how to generate an extra $10+ per day! 
How I Prefer to Make Money Online
---

Personally, I don't like using GPTs, PTCs or any other reward platform to make money online. Why? Because I will always earn less than the minimum wage, which feels like a complete waste of time!
Instead, I grow my affiliate website, which during the last year has generated over $6,000 in commissions. I simply write articles for my own site and promote other people's/company's products as an affiliate.
It's not as easy as typing CAPTCHAS, but if you can write and help people with a subject you like, that means you are more than capable of doing what I do!
For step by step training on how to build an affiliate site around your passions and interests, I highly suggest you take a look at My #1 Recommended Program. That's the same platform I use to learn and connect with other online entrepreneurs.
You don't need any experience in web design or marketing as it gives you excellent step by step training and 24/7 support.
In my opinion, this is the best platform for those highly committed to achieving time and location freedom.
So, have you worked for MegaTypers? What is your opinion about it? Please, share your thoughts with us in the comment section below. Thanks for reading!