In this review, I would like to cover all you need to know about TranscribeMe and give you my honest opinion about it. Is it a scam or legit opportunity?
Let's find out!
By the way, if you want to discover the same method that earns me $900+ per month from my laptop, check out my #1 recommendation.
Transcribe Me Review
---
Name: TranscribeMe
Website: transcribeme.com
Price: Free to join
Type: Transcription

LEGITIMATE

Overall Rating:

3.7/5
What is TranscribeMe?
---
TranscribeMe is a company that provides fast and low-cost transcription services. Through its voice-to-text platform, businesses or individuals can obtain a written record of a speech, discussion or debate.
According to the website, TranscribeMe has the industry's best pay rates, starting at $20 per audio hour. They also claim top earners reach $2,200 per month, with the average being $250.
Pros & Cons
---
Pros
Free to join.
Full flexibility to work whenever and wherever you want.
Get paid via PayPal.
Cons
Work is not always available.
For some people, the exam can be difficult.
You need to be a fast typist in order to maximize your pay rate.
The audio files are not always clear and easy to understand.
How Does it Work?
---
TranscribeMe works as a crowdfunding platform that splits audio or video files into shorter segments of 10 – 60 seconds. Then, these files are distributed to transcriptionists via the WorkHub platform.
After all the smaller audio files have been transcribed and joined together, they will pass through a Quality Assurance process before it's sent to the customer.

This reward platform is going viral! Cash out via PayPal, Visa, Gift Cards, and in-game currencies - Click here to find out how to generate an extra $10+ per day! 
Registration and Exam
The registration is free, and you don't need any experience as a transcriptionist.
However, you need to have a valid Paypal account and pass the English Transcriber Skills Assessment. But before the exam, you have to go through a training program where they will introduce you the Transcriptionist Portal and show you the Style Guide.
The exam consists of 10 questions and 3 test audios of approximately one-minute duration each. If you don't pass the test on your first attempt, you can try again.
Watch this video to learn more about the registration and exam:
It's really important that you read through the style guide before taking the exam. After you pass the exam, your account will be activated within 2 or 3 business days.
Unfortunately, at the time of writing this review, the examination is temporarily closed as the number of transcriptionists have reached full capacity. So, you should visit the website regularly to make sure you guarantee your position when new opportunities arise.
How Much Money Can You Make? 
---
It depends. The minimum is $20 per audio hour, but your pay rate depends on how fast you go. For example, if you spend ten minutes to transcribe 2-minute audio, you will make around $4 per hour.
Therefore, you need to be much faster than that to reach the minimum wage if you live in a first world country.
Now, if you have a background in Medical or Legal, you will earn a higher rate. That is because the language used in these sectors might be too complicated for a lay person.

Testimonials
---
There are mixed opinions about working for TranscribeMe on the internet. However, most people like the experience and think it's worth it.
Here are some positive testimonials: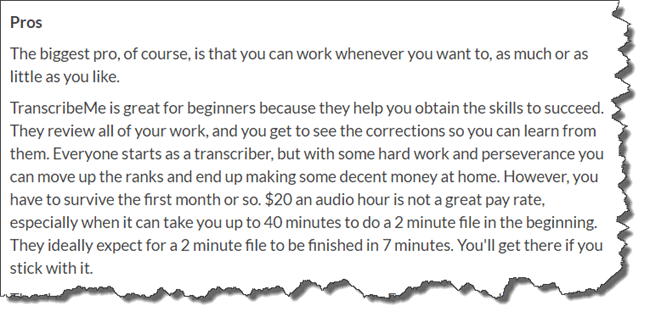 There are negative sides as well. The most common complaints are regarding the low pay rate and the lack of jobs. I've also read that the majority of clips are fuzzy and hard to understand, so you have to listen the audio multiple times.
Conclusion – Is Transcribeme a Scam? 
---
No, it isn't. TranscribeMe is a legit company and an interesting option for people willing to make money online.
$4 / $5 per hour is not a lot, but if you have free time, this can be a great opportunity to supplement your income without a freaking boss yelling at you. Another advantage is the freedom to work anytime, anywhere you want.
If you are just starting out, you may feel discouraged by the low payout. In that case, you should give yourself some time to improve your typing skills.
Verdict: Legit
How I Prefer to Make Money Online
In my opinion, there are better ways to make money online. Personally, I prefer to work for myself and grow my own online business.

As an online entrepreneur, not only I have the flexibility to work anywhere and anytime I want, but also my income potential is unlimited and not tied to how many hours I work.
That means I can take multiple vacations a year and still keep on making passive income. That is only possible because my website is running 24/7 and making all the sales on autopilot. Of course, you have to put in the time and effort before attracting a large enough audience.
For a complete course on how to build an affiliate site around your passions and interests, I highly suggest you take a look at My #1 Recommended Program.
You don't need any experience in website creation as it gives you excellent step-by-step course, support, and tools to start from scratch. In my opinion, this is the best platform for those highly committed to achieving time and location freedom.
Thanks for checking out my TranscribeMe review. If you have any question, feel free to ask in the comment section below. It's my pleasure to help!