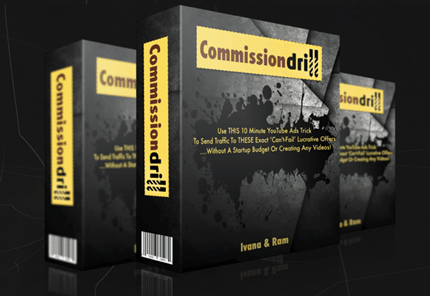 I have just found Commissiondrill, a course whose creator is claiming you can make lots of commissions with only 10 minutes of "work" per day. This time is all about simple and lucrative Youtube ad campaigns. Is Commissiondrill a scam or legit? Is this strategy worth pursuing or is it a complete waste of time and money?
Let's find out!
By the way, if you want to discover the strategy that earns me $900+ per month from my laptop, don't forget to check out my #1 recommendation.
Commissiondrill Review
---
Product: Commissiondrill
Website: http://commissiondrill.com
Price: $12.91 + Upsells
Type: Internet Marketing
Overall Rating: 2.8/5
The Hype
---
The sales page is giving you hope that you will be able to copy the product creator's success and make over $100 PER DAY within 6 weeks. That's overhyped, guys!

When it comes to paid traffic, you can make $100, $1000, 1 million in commissions per day! What really matters is your net profit! 
I mean, how much is left in your pocket after all your expenses with marketing tools and advertising?
There is always a learning curve and a lot of money to be spent on ads before you can understand your audience and how to improve conversions. So, yes, you can make money with this method, but not so fast as they make you believe it will be.
Also, be prepared to waste money on ads, as there is no such thing as 'can't fail' CPA and ClickBank offers.
What is Commissiondrill?
---
Commissiondrill is a step by step PDF and Video Training course that will show you how to create high converting Youtube ads and make money promoting CPA (cost per action) and Clickbank offers.
According to the sales page, you don't need to…
Create your own website. (But you will need to create a landing page)
Have your own product.
Create videos.
Work long hours.
Spend a fortune on ads.
Wait for weeks, or months to see results.
Pros and Cons
---
Pros
It's a decent training.
Easy to follow.
Affordable training.
The method works, but it doesn't mean you will make profits within a short timeframe.
Affordable traffic.
Cons
It gives your unrealistic expectations.
You can lose a lot of money with ads.
You will need to spend money on an autoresponder, and landing page builder.
How Does It Work?
---
The core Commissiondrill course consists of 10 videos and a PDF guide. There are also 3 case studies that will show you how Ram Rawat was able to profit from this method.
You will learn how to…
Find profitable CPA and Clickbank offers.
Create cheap YouTube ad campaigns.
Target specific YouTube viewers that are more likely to click your ads and buy your affiliate offers.
Create high converting sales funnels to collect leads (people's emails) and make sales.
Legally use other people's videos and turn into your own ad videos.
So, basically, you will have to create Youtube ads that will direct people to a landing page.
Your landing page will collect people's emails and direct them to the official page of the CPA offer or Clickbank product that you are promoting. If they make a purchase or complete a specific action required by your CPA program, you will earn a commission.
Now, because you are collection people's email addresses, you will also be able to send automated emails via an autoresponder. Hence, you can keep promoting more products and make more sales through email marketing campaigns.
Can You Make Money With Commissiondrill? 
---
Yes, you can apply their strategy and make money. But honestly, I don't think it's going to be easy to make a profit after all the marketing services and ad campaigns you will need to buy.

The problem with paid traffic is that it doesn't always result in profits, even if it's cheap. Therefore, you will probably have to spend a lot of money conducting tests to improve conversions.
If you want to give Commissiondrill a try, go for it with realistic expectations. There is always a risk you will waste more money than earn in the beginning.
So, be cautious and never invest more than what you can afford to lose.
Upsells
After you purchase for the front end product, you will come across 4 upsells: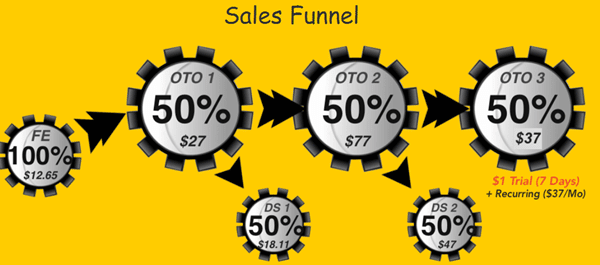 OTO #1 – Commission Drill DFY Campaigns: 3 done-for-you landing pages along with permission to promote these offers. ($27)  
OTO #2 – Turning Pennies into Sales: Advanced YouTube Training ($77)
OTO #3 – Live coaching: One webinar every month with detailed step-by-step plan to become a top affiliate and scale your business. ($37/month) 
Final Thoughts – Is Commissiondrill a Scam?
---
No, it isn't. Commissiondrill is actually a decent training that will help you understand YouTube ads, how to create a sales funnel, among other useful things in online marketing.
Although it's possible to succeed with it, I need to warn you about the challenge of generating a positive return on your investment.
Verdict: Legit 
My Advice to You
In my opinion, newbies should focus on free traffic methods as a way to get valuable skill in online marketing and build a more reliable source of income.
But it takes time!
Yes, it does. But at least you know you are not risking your hard-earned money.

If you want to get started with free traffic, I suggest you check out my NO. 1 recommendation.
This platform will help you build an affiliate site that gets high rankings in Google and attracts lots of free traffic.
You don't need any experience and website creation as it gives you excellent step-by-step course, support, and tools to start from scratch. In my opinion, this is the best platforms for those highly committed to achieving time and location freedom.
Click Here and Check Out My No. 1 Recommendation Review
Thanks for checking out my Commissiondrill review. If you have questions, feel free to ask in the comment section below. It's my pleasure to help!

This reward platform is going viral! Cash out via PayPal, Visa, Gift Cards, and in-game currencies - Click here to find out how to generate an extra $10+ per day!