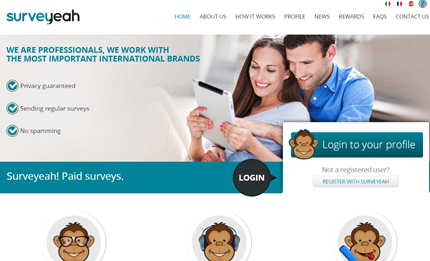 Welcome to my Surveyeah review!
Over 2 million people from 123 countries have already registered with Surveyeah to share their opinions and make some extra cash from home.
Although survey panels pay very little money, lots of people rack up hundreds of dollars per month just by answering simple questions from their laptops or smartphones.
Indeed, this can be a short-term solution to those who are struggling during the current financial crisis.
Considering a large number of scams out there, you are probably wondering if Surveyeah will pay you for your time and effort. And if so, how much money can you earn?
In this review, I would like to cover all you need to know about this survey panel and give you my honest opinion.
Also, don't forget to check out this step-by-step program that helped me build my own internet business, earn $1,600 per month, and quit my job in 2019.
Surveyeah Review
Name: Surveyeah
Website: surveyeah.com
Company: Tradatech S.r.l.
Membership Eligibility: 123 countries (+15)
Price: Free to join
Type: Online Survey

LEGITIMATE

Overall Rating: 2.5/5
What is Surveyeah?
Surveyeah is a survey panel owned and operated by an Italian company called Tradatech Srl. The site has been running since 2014, allowing users from 123 countries to complete online surveys and earn some cash on the side.
Surveyeah has grown rapidly during the past 2 years. It claims to have paid over 1 million euros worth of cash and eGift card rewards,
By completing sharing your opinions, are not only helping companies with their marketing research but also students who need to collect information from a group of people for their theses.
For example, before selling a new line of products in the supermarket, a company wants to hear the opinion of potential customers to understand their preferences so as to make better decisions.
In return for your time and effort, you will collect points that you can redeem for PayPal, Skrill, Payza, Western Union, Amazon gift vouchers, a variety of other gift cards.
Pros & Cons
Pros
It's free to join.
Surveyeah is open to residents in 123 countries.
There are many payment options available.
Cons
Surveys are scarce in many countries.
The minimum payout threshold for PayPal is too high
It can be hard to qualify.
The earning potential is low as any other survey panel.
It can be hard to qualify for surveys depending on your profile.
Unlike most survey sites, there is no affiliate program. So, you cannot earn commissions by inviting people through your referral link.
How Does Surveyeah Work?
Registration
You can join Surveyeah for free by clicking on the "Register with Surveyeah" button and filling up a registration form.
First, select the country where you live, and provide basic information such as your name, email, gender, postcode, and date of birth.
Keep in mind that you don't have to provide your full time nor your home address if you don't want.
Next, check your email inbox and click the confirmation link to validate your account. Check the spam email folder if you don't receive it in the next few minutes.
Complete your Profile
When you get access to the dashboard, they will ask you to complete your profile. This is required so that Surveyeah matches you with studies looking for a specific group of people according to their age, gender, income, etc.
There are many categories such as household, education, occupation, electronics, etc. These questions are not mandatory, but the more information you provide, the better your chances of receiving survey invitations.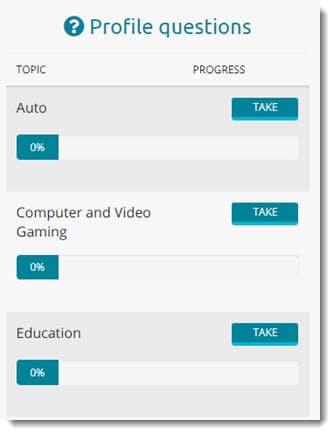 The good news is that you will receive 2 free points once you've completed the whole profile.
How Much One Point is Worth? 
Surveyeah operates a point-based system whereby the value of one point depends on your currency.
To find out the value of one point you have to check the prize section. For example, in the UK, you can redeem 125 points for a £10 Amazon gift card or 250 points for £20 via PayPal. Therefore, one point equals 8p. 
Taking Surveys
Surveyeah collaborates with many marketing research partners to send you frequent survey invitations. One of them is Your Surveys, which is probably providing surveys to hundreds of reward sites and survey panels.
You will get an invitation by email whenever a new survey becomes available or you can find surveys via the dashboard.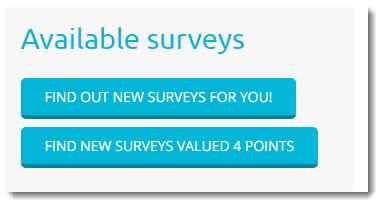 Before completing the paid survey, you must answer a few screening questions so the company can be sure you are the right candidate.
Unfortunately, it can be hard to qualify and you will waste a lot of time only to be told you don't fit. If you get disqualified, they will redirect you to another survey opportunity if there is one.
Some companies may also screen you out when you are halfway through or even approaching the end of the survey. Many people give up on surveys once they realize the company is collecting a lot of information for free!
The survey itself can take anywhere between 5 and 20 minutes to complete.
Surveyeah may not give you points immediately as they will be calculated at the end of the survey in which you participated. Points can take up to 3 weeks to be credited. 

Keep in mind that Surveyeah has the right to deny your points if they think you are rushing and/or giving random answers.
How Much Money Can You Make?
It depends on the survey length and your country. If you live the United States, Canada, the UK or another wealthy country, Surveyeah will pay you between $0.50 – $2 per survey
As most surveys take 5-20 minutes to complete, your wage will be around $3 – $5/hour. The rate of pay is probably even lower when you take into account the time you have to spend answering qualification questions.
Another important thing to consider is the frequency of invitations. Depending on your profile, client demand, and your country of residence, you could get surveys every day or less than 4 surveys per month.

This reward platform is going viral! Cash out via PayPal, Visa, Gift Cards, and in-game currencies - Click here to find out how to generate an extra $10+ per day! 
One panelist from the United Kingdom was very disappointed as he made just £10 after 10 months. He said it's not uncommon to be screened out 15 times in a row.


I have to agree with his statement, but that is also the case with most survey panels.
How do You Get Paid? 
Surveyeash process payments via PayPal, Amazon gift cards, Skrill, Western Union, and Moneygram.
The cashout amount differs from country and payment option. In the UK, members can withdraw £10 via Amazon Gift cards and £20 when choosing another option.
I think £20 is unnecessarily high as there are many reward sites allowing members to cash out $5 or even $1 at a time.
Complaints
The two most common complaints that I've seen about Surveyeah are the low rate of pay and frequent disqualifications.
In this review on surveypolice.com, the person claimed he spent 20 minutes filling up a survey only to be told he was not a good match.

The one to blame for this is probably the marketing research company responsible for the survey.
As I mentioned, there are many companies that screen out participants after they complete most of the survey questions.
Although they will never admit it, they might do this to avoid paying panelists. Imagine how much money these companies can make at the expense of people's time!
Therefore, many people express their frustration with surveys and think they are a complete waste of time.
Conclusion 
Surveyeah is a legitimate website that will pay you once you earn enough points. The main problem is the high cashout requirement and frequent disqualifications. 
Disqualifying candidates based on their profile is acceptable. But why make people waste so much time completing the profile and then asking the same questions over and over again?
I think survey companies should make better use of a member's profile to select candidates.
In my opinion, there are better survey platforms available such as Prizerebel, and Prolific.
Yes, you can make more than $100 per month with these sites, but be prepared to spend long and painful hours in front of your computer.
If you are serious about making money online, why not build your own online business instead of completing surveys? After all, it can give you the freedom to work whenever and wherever you want.
Keep reading to learn more!
How I Prefer to Make Money Online
Me, personally, I prefer writing blog posts for my own website and promote products and services that I trust. If people decide to purchase what I promote, I earn an affiliate commission.

Let that sink in for a moment. My income is not tied to how many hours I work, but on how many people I attract to my website.
That means the more visitors I have, the more money I can make! Of course, there must be a win-win situation, so I focus on providing quality content and help people as much as I can.
Thanks to a great step-by-step program, I learned the right way to get high Google rankings and also to promote my website content.
What I love about it is the possibility of making passive income while I am traveling. For example, in October I went to Morocco for 10 days while my website kept running and generating over $400 in affiliate commissions.
For a complete course on how to build an affiliate site around your passions and interests, I suggest you take a look at my top recommended program here.
You don't need any previous experience as it will give you clear instructions, support, and tools to start from scratch.
In my opinion, this is the best platform for those who are highly committed to achieving time and location freedom.
Final Words
Thanks for reading my Surveyeah review. If you have any questions or want to leave your own review, feel free to use the comment box below.
Stay safe and peace out!