41
Remotasks Review – Is it a Scam or a Legit Micro-Job Site?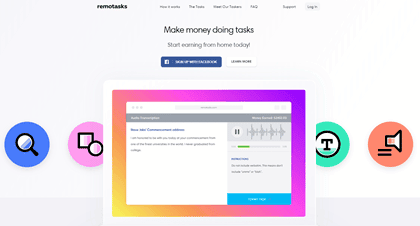 More and more people are joining Remotasks in search of an alternative and consistent income from home.
Remotaks is a legit opportunity to work as a freelancer and start making money quickly.
The reason it has become so popular is that applicants don't need any special skills or qualifications to join the platform.
However, you need to be fluent in English and pass exams to unlock different tasks.
You are probably wondering if Remotasks is really worth your time and effort. Also, you want to know exactly how it works and how much money you can make.
You're in the right place! In this review, I'm going to cover all you need to know about Remotasks and give you my honest opinion about it.
You may also want to check out the same method that earns me over $1,200 per month from my laptop! Anyone can replicate or achieve even better results! 
Remotasks Review
---
Name: Remotasks
Website: www.remotasks.com
Company: Scale.ai
Price: Free to join
LEGITIMATE
Type: Micro jobs
Overall Rating:

2.8/5
What is Remotasks?
---
Remotasks is a crowdsourcing platform operated by Scale AI, Inc., a company whose mission is to accelerate the development of artificial intelligence.
By joining Remotasks, you can get paid for doing a variety of tasks such as audio transcription, categorization, image annotation, data collection and Lidar.
Scale AI is headquartered in San Francisco, CA, but the job opportunities are open Worldwide as long as you have English fluency.
It's not so popular as other similar micro job sites like Amazon Mechanical Turk, and Clickworker.
Nevertheless, the pay rate is similar or even better depending on the job type.
The LiDar tasks are the ones that pay the most.
You can work as much or as little as you want as there are no minimum hours required to get paid.
And, when you get more experienced, you can be promoted to a become reviewer and earn more.
According to the official website, you can start making money within 1 hour. However, I don't think that is the case because you need to wait for exams approval.
Pros and Cons
---
Pros
Quick sign up process.
No minimum payout requirement.
Get paid weekly through Paypal.
Flexible job – Work whenever or wherever you want.
There is an online community where you can ask questions and ask for advice.
Cons
For most tasks, the Pay rate is abysmal.
It's a repetitive job.
You have to take tests, but they won't give you the results if you don't pass.
Being consistently inaccurate and slow will get you permanently banned from performing a specific task.
You have to pay a 2% transaction fee every time you get paid via PayPal.
Lengthy guides.
How Does It Work?
---
Registration
You can only register with Remotasks using your Facebook account, and it's very straightforward.
Getting Started
To start working on specific tasks, you must pass the exam dedicated to that category.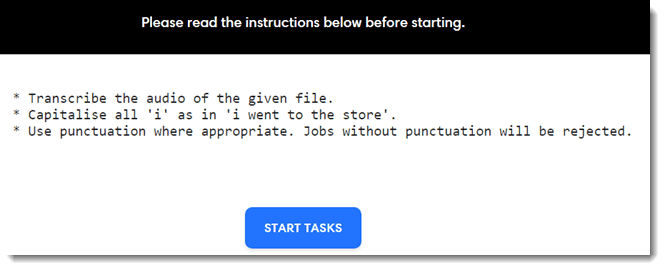 Although they have many task types available, you may not have the opportunity to complete all the exams straight away.
The first time I signed up for Remotasks, the only exam that was available was for audio transcriptions jobs.
As English is not my first language, I have to confess that I struggled a bit with the transcription exam.
Now I know transcription jobs are not for me
Task Types
Most of the tasks are relatively easy and doesn't require any special skills, knowledge or previous experience.
Here are a few examples:
Image annotation: draw boxes around objects to identify them in a picture.
Categorisation: identify keywords that describe an image.
Image transcription: write down the content from an image.
Audio transcription: write down what you hear from an audio file.
Data collection: searching the Internet to find the required data.
Identifying spam.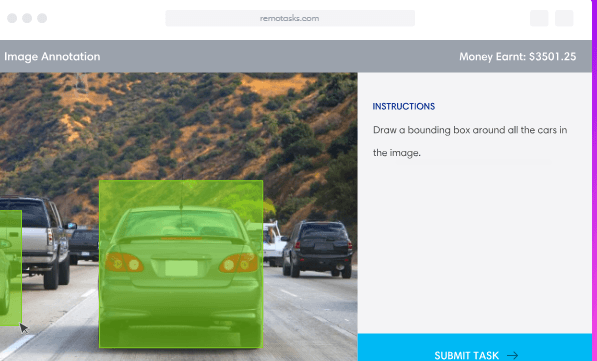 Example: Image Annotation
There is also a complex task called LiDAR annotation, in which you can contribute to the development of self-driving vehicles.
LiDAR (Light Detection And Ranging) is a technology that is being used to create self-driving cars, which is the biggest market for Remotasks.
The technology identifies the distance between the sensor and the surrounding objects, creating a 3D map.
Your job is to draw a box and label every single object in the scene such as pedestrians and bicycles, cars, etc.
Take a look at the video below to see how LiDAR annotation works in practice.
Because the job is more difficult, the pay rate much higher than the other tasks.
If your accuracy rating stands out from the crowd, they may offer you the opportunity to become a reviewer and earn more.
In-Person Training
---
If you want to specialize in LiDAR, Remotasks offer a 10-day Bootcamp training where you will learn 10 different LiDAR scenarios.
To apply, you need to fill up this separate form and wait for the invitation. If you qualify, you will need to select a training location and confirm your attendance.
I believe the competition for this training is quite high, but you should not lose hope.
How Much Money Can You Make? 
---
Remotasks pays per task that you complete correctly.
Next, I'll show you the expected pay rate and the approximate duration of some tasks
Image annotation: $0.05 – $0.20 per task (< 4 minutes).
Categorization: $0.01 – $0.02 per task (< 3 minutes).
Lidar: $5 – $80 per task ( 3 – 6 hours per task).
For audio transcription and other tasks, you can expect to earn $1-$2 per hour.
However, it's possible to earn more depending on the task complexity and length.
On Reddit, a person claimed to have been making roughly $80-140 per week with Remotasks.
However, he didn't mention the total amount of hours he was working per week, which is something important to consider.
Cashing Out
---
Remotasks will pay you every Friday via PayPal as long as you reach the minimum threshold of $5.00. 
Just make sure you set up your Paypal address to your Remotasks account.
Unfortunately, there is a 2% transaction fee on every payment.
You Won't Have a Second Chance!
---
It's imperative that you achieve high accuracy score and complete the tasks within the time limit.
If your accuracy is too low or you spend a long time to finish a task, you will be permanently banned (disabled) from performing that task.
Keep in mind that once you click "submit," there is no way to change your answer. Therefore, if you make a mistake, your job will be marketed as incorrect, thus lowering your score.
In other words, you won't have a second chance!
Conclusion – Is Remotasks a Scam? 
---
Remotasks is a legit crowdsourcing platform for those who want to work remotely and earn a consistent income from home.
The tasks are relatively easy and can be accomplished by people in any country who is fluent in English.
It's ideal for those who don't mind doing repetitive tasks and live in a country where the dollar has a strong value.
The pay rate is abysmal for people in western countries. However, you can earn more by working with LiDAR or by becoming a reviewer.
I believe most people who use Remotasks are from South-East Asia, especially the Philippines due to the high exchange rate between the dollar and the Philipines peso.
Is Remotasks Worth it?
Only you can answer this question. Personally, I would only work for less than the minimum wage if I was only interested in gaining experience.
If what you earn on Remotasks is more than the minimum wage in your country, then by any means, go for it!
Verdict: Legit
How I Make $1,000 Per Month From Home
---
Working as a freelancer is a great way to make money online.
Another great option is to build an online business that allows you to earn passive income.
I have walked the way, I don't regret it!
Now, I have the freedom to work whenever and wherever I want and make money even while I am on holidays.
With an internet business, I continue making money regardless of whether I am on the beach or at home writing content for my website.
I started from NOTHING and achieved remarkable results thanks to a newbie-friendly step-by-step training developed by Kyle and Carson.
These guys helped me go from $0 to $1,000 per month, which was life-changing for me!
If you are searching for a legit opportunity to earn a full-time income online, highly recommend their free starter membership.
So, have you worked for Remotasks? Tell us about your experience with this platform in the comment section below.