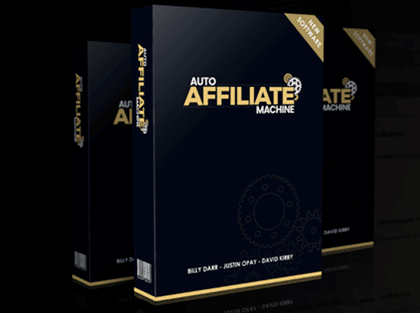 Another digital product that has been selling like hot cakes on JVZoo this week is called Auto Affiliate Machine.
The creator claims that this push-button software gets you free traffic and easy commissions. So, is Auto Affiliate Machine a shortcut to success or a total scam?
Let's take a look!
By the way, if you want to learn step by step the same strategy that earns me $1K+ per month from my laptop, check out my #1 recommendation.
Auto Affiliate Machine Review
---
Product: Auto Affiliate Machine
Website: http://autoaffiliatemachine.com/brand-new
Price: $17
Business type: Affiliate Marketing
LEGITIMATE
Overall Rating: 2.6/5
The Hype
---
The creators of Auto Affiliate Machine are trying to convince you that their software can generate 1-click traffic and instant profits.
According to the sales page, no hard you work or content creation is necessary.
But you are a smart person and know that there is no such thing as easy money without significant risks.
Yes, you are right! It's never that easy, so you should take it with a grain of salt.
What Is Auto Affiliate Machine?
---
Auto Affiliate Machine is a cloud-based software that creates affiliate reviews in PDF format in a matter of seconds.
Indeed, you don't need any experience as you just have to insert some information about the product you are reviewing.
Here is one review example that I took from the sales page: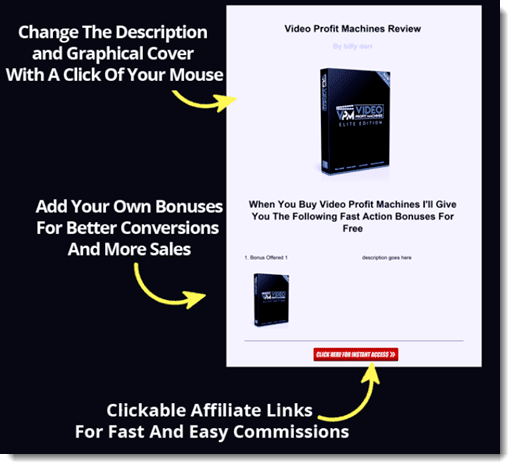 Pros and Cons
---
Pros
The software can be used for any niche market.
It creates well-structured product reviews in PDF.
With one click, the software posts your reviews to all your social media accounts
Cons
The sales page may give false expectations about the software. The software shares your reviews on social media, but your level of success depends on how effectively you use social media and how many followers you have.
Unless you post your PDFs on your own website, they won't get indexed by Google. Hence, you won't take advantage of free organic traffic.
How Does it Work?
---
It's a very simple software that provides a template for product reviews.
It allows you to enter the name, benefits, star rating, eCover image, and the essential information about the product you would like to promote.
You will also be able to insert your bonuses details, affiliate links and call to action buttons.
Most marketers that are looking for a quick buck will copy and paste the information from the product sales page. And that is basically what they call 'review.'
After you fill up the template with all the information for your review, you can click on "create PDF."

As the Auto Affiliate Machine software integrates with social media, you will be able to post the PDF to all your accounts with just one click.
That's it!

When people open the PDF, click on your affiliate links, and purchase the product, you get a commission. So, the more people see your post (more traffic), the more money you can make!
Now, the question is:
Can The Software Get Free Viral Traffic and Instant Commissions?
---
Auto Affiliate Machine is a tool that will help you create eye-catching reviews and save your time when sharing them on all your social media platforms.
It's not a magic solution to get traffic to your reviews!
The business model relies primarily on social media to bring traffic to your affiliate offers.
Therefore, if you are not active on social media, and if you don't have a significant number of followers, I'm afraid you will struggle to earn commissions.
I'm not being pessimistic, just realistic!
If you want a software that will help you create nice reviews in PDF, then Auto Affiliate Machine will do the job perfectly.
However, don't expect it to will eliminated the hard work required to get traffic and sales.
Conclusion – Is Auto Affiliate Machine a Scam?
---
It's not a scam because you are actually getting a product that you can use to promote your product reviews.
Personally, I'm not a fan of this method of sharing PDFs.
I write product reviews to make money online, and from experience, you can have much better results by publishing reviews on your blog.

So, instead of PDFs, I recommend posting review articles that gets not traffic via social media but also by Google's search results.
If you want to build a solid foundation for your online business, I suggest you check out my number one recommendation.
It's a platform that has not only excellent step-by-step training but also a supportive community and all the tools you need to succeed as an affiliate marketer.
Click Here and Check Out My #1 Recommendation Review
Thanks for checking out my Auto Affiliate Machine review. If you have any questions, feel free to ask in the comment section below. It's always a pleasure to help!

This reward platform is going viral! Cash out via PayPal, Visa, Gift Cards, and in-game currencies - Click here to find out how to generate an extra $10+ per day!