Welcome to my Myiyo review!
You are here because you are probably looking for more information about a survey panel called Myiyo.
This company promises to pay you for taking part in online surveys and therefore, help companies improve their products and services.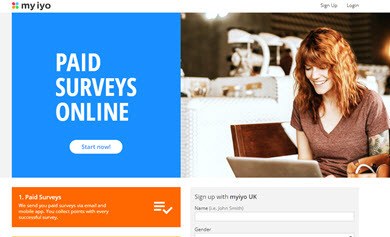 There are hundreds of survey sites on the internet, and you may already know that some of them don't have a good reputation.
Is Myiyo a scam or a legit website? How much money can you make?
In this review, I am going to show you everything you need to know about this panel, and what you should expect after you join as a panellist.
You may also want to check out my #1 recommendation, which is the same program that helped me build a profitable online business and reach $1,300 per month from home.
Myiyo Review
What is Myiyo?
Myiyo is a survey panel owned by mo'web research, an international marketing research company based in Germany.
The panel has been operating for more than 15 years, gathering valuable insights from millions of participants worldwide.
As a member of Myiyo, you have the change to share your opinions and earn points that you can convert to real cash via PayPal.
Myiyo is open for residents in the following countries:
The United Kingdom, Germany, France, Italy, Span, South Africa, Turkey, Poland, Russia, Ukraine, Brazil, Mexico, Argentina, Colombia and Peru.
Is Myiyo a Scam? Will You Get Paid? 
No, it isn't. Everything indicated that Myiyo is 100% legit and trustworthy.
The company is a member of both ENSOMAR and BVM, which means they fully adhere to specific guidelines for professional conduct.
Not only that, but they also claim to protect your privacy rights under GDPR (EU General Data Protection Regulation).
Yes, Myiyo does pay!
Many survey sites have a bad habit of terminating people's account for no reason just to avoid payments.
Others fail to credit people's account after completing a survey or requesting a payout.
As long as you give honest answers and don't breach the terms of service, you should expect to get paid without any issues.
However, be aware that it might take a long time for you to reach the minimum redemption amount and cash out.
Surveys invitation are not frequent, and you may not qualify for many of them.
Regardless of the website you use, it's very difficult to make $150+ per month by taking Myiyo surveys.

If you are serious about making money online, I highly recommend building your own online business here.
Pros and Cons
Pros
Free to join.
Complete surveys from your Desktop or mobile through the app.
Quick sign up process.
Get paid via PayPal.
Myiyo doesn't charge PayPal fees.
Long-time members can cashout with 10.000 (€10) instead of 20.000 points (€20).
Cons
Some people rarely get surveys.
The minimum payout is €20, which can take a long time to cash out.
It's usually hard to qualify for surveys.
Payments can take up to 5 weeks to be processed.
How Does Myiyo Work?
Registration
If you want to join Myiyo survey panel, you have to create a free account by providing some basic details such as your name, date of birth, and employment.
Check your email and click on the confirmation link to activate your account. You will earn 100 points after the activation.
Next, you should fill up your profile so that the company can send you surveys that are relevant to you.
It only takes around 10 minutes to answers a few questions about yourself, including your
You will earn an extra 500 points after completing your profile.
Download Myiyo App
If you want to complete surveys on your phone or tablet, you can do so by installing Myiyo app, which is available on the Google Play or App Store.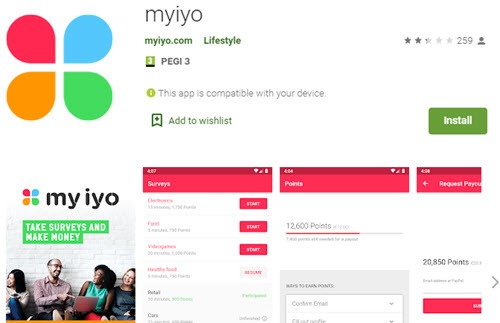 Once a new marketing study matches your profile, you will receive a survey notification.
The app is very easy to use and allows you to take surveys while you are commuting or waiting on a big queue.

Point System 
As I already mentioned, Myiyo will give you points after each marketing study that you participate.
1000 points are worth €1.
Once you have reached 20,000, you can redeem €20 via PayPal regardless of which country you live in.
If you live outside the Eurozone, you can convert Euros to your currency through your PayPal account.
Long-time members can cashout €10 when they reach 10.000 points.
What I like about Myiyo is that, unlike other Quest Mindshare, Libe Tribe and Snagoo, they won't charge payment fees.

This reward platform is going viral! Cash out via PayPal, Visa, Gift Cards, and in-game currencies - Click here to find out how to generate an extra $10+ per day! 
Note that PayPal is not available in certain countries like Russia and South Africa. If you live in any of those countries, you will receive your payment via Bank transfer.

Taking  Surveys 
After completing your profile, Myiyo will start sending you survey invitations via email. Check your spam folder to make sure you don't miss any email from the company.
In the member's area, you can also see all the new survey opportunities by clicking on "Surveys" at the top menu.
In the UK, there were 6 new surveys as soon as I signed up, which is great! Some survey sites only invite you after a few days, which is very discouraging!
How Much Money Can You Make? 
The number of points that you will earn depends on the survey length and complexity.
Most surveys take 10 – 30 minutes to complete and will pay you 250 – 1000 points (€0.25 – €1) each.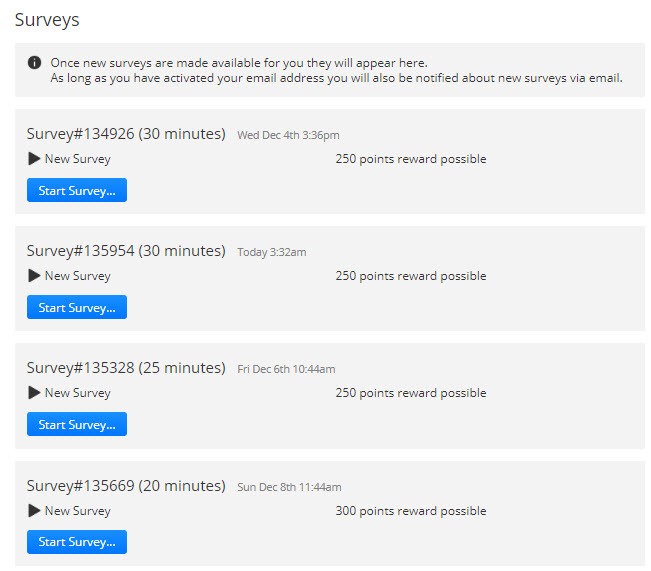 Pre-qualification Questions
Usually, you will have to answer some questions first in order to qualify for a marketing research study.
Most clients require participants that are part of a specific target group. For example, based on household income and education level.
Unfortunately, you will not qualify for every survey because each study has different requirements.
You should be patient as you will waste a lot of time in the process.
Sometimes you may get rejected right from the start due to security reasons.
According to Myiyo website, the security system is in place to prevent a participant from answering a survey twice.
For example, they can detect that you have already participated in a given study using another survey panel.
However, no system is perfect and you can be blocked by mistake due to technical flaws.
Nevertheless, Myiyo clients would rather block you instead of risking the integrity of the survey.
Many people complain about frequent survey disqualifications, which is understandable because no one wants to waste time.
Unfortunately, you will always waste time regardless of the survey panel you decide to join.
Points Validation 
After you have completed a survey, it will go through a quality check process that can take a few weeks.
Always provide truthful answers and avoid rushing through surveys. Otherwise, your points won't be validated and you won't get paid.
Does Myiyo Respect Your Privacy?
As I already mentioned, Myiyo strives to comply with strict privacy regulations.
According to the company, they only share anonymized data with their clients to protect your personal information.

Referral Program
Another way to earn points with Myiyo is by sharing your affiliate link with friends and family.
If someone joins Myiyo through your link and completes the first survey, you will earn 500 points. That's the maximum number of points you can earn per referral.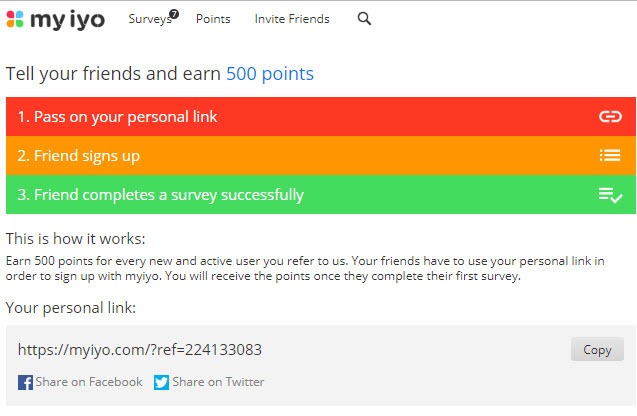 Personally, I prefer promoting sites that pay a percentage of my referral earnings.
For example, Prizerebel is a top GPT (get paid to) site that pays me 30% commission for life.
User Reviews – Complaints
If you check Myiyo on Google Play, you will see that it's been rated 3.1 stars, which doesn't look bad at first glance.
However, most people have rated it a 1-star rating on both Google Play and Surveyolice.com.
One woman said that she has been a member for 3 years, but only managed to save 8000 points, which is not enough to cash out.
Depending on your country, you may get very few survey invitations.
If you live in the UK or the US, you can also struggle to accumulate points due to frequent disqualifications.
So, you can answer lots of qualification questions and leave with nothing!
Payment Delays
Survey points can take a few weeks to be validated
Besides, there can be payments delays!
On the FAQ, they say the average waiting time is 3 weeks, but sometimes you may have to wait 4 or 5 weeks to receive the money.
If you waiting for longer than 5 weeks, you should contact Myiyo support to see what is happening.
Conclusion
Myiyo is a legit and reputable survey company that you can use to earn some extra from your desktop or mobile device.
I haven't seen any complaints about missing payments, which is reassuring!
However, lots of reviews indicate that Myiyo is not one of the best options available.
The main problem is that it takes a long time to reach the minimum payout threshold because of frequent survey disqualifications.
One person from the UK claims that he didn't reach 20,000 points after being an active member for 1 year!
Also, there are not many surveys in some countries, which can make matters worse.
In my opinion, Myiyo should lower the minimum payout requirement so that participants don't lose their motivation and quit empty-handed.

The truth is that you should never have high expectations with survey sites.
How to Earn a Full-Time Income From Home
Imagine earning a job-replacing income working from the comfort of your home or anywhere you want!
Many people are living the laptop lifestyle thanks to a proven business model called affiliate marketing.
As an affiliate, your "job" is to create content for the internet and promote products from companies that you trust.
Depending on your audience and the affiliate programs that you join, you could be making commissions that amount to $1,000s and even 10,000s per month.
I've built a profitable affiliate sit in my spare time while still working full-time at the coffee shop in London.
In 2019, I finally quit my job to live off 100% from my online business!
Yes, it takes time and effort, but it's worth it in the end!
If you want to create your own online business, check out my #1 recommendation.
I've been a member since 2015, and it's the same program that taught me how to grow this business from the bottom to the very top!
Final Words
Thanks for taking the time to read my Myiyo review. I hope it was helpful!
If you have any questions, feel free to ask anything in the comment section below, and I will be glad to help! 🙂
All the best
Stefan