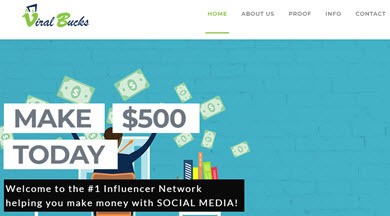 Welcome to my Viral Bucks review!
I found this website called Viral Bucks, which claims you can earn $10 for every friend you invite through social media.
The site may seem legit for some people, but it doesn't convince me at all.
I have reviewed lots of similar sites where people supposedly get paid a ridiculous amount of money by referring others.
They have no product or service that you can promote, so where is the money coming from?
Is Viral Bucks a scam or a legit opportunity? Can you earn real money here?
In this review, I am going to reveal the truth behind Viral Bucks and tell you why you should stay away from this site.
You may also want to check out my #1 recommendation, which is the same program that helped me build a profitable online business and reach $1,300 per month from home. 
Viral Bucks Review
---
Name: Viral Bucks
Website: www.viralbucks.co
Membership availability: Worldwide
Recommended? No
Overall Rating:

0

/5
What is Viral Bucks?
---
Viral Bucks is advertised as the #1 influencer network where you can supposedly make $500 in just one day with social media.
The company claims to have paid $52 million to over 200.000 happy members since 2017.
These are big claims that anyone can make on the internet, but where the proof?
How Does Viral Bucks Work?
---
According to the website, Viral Bucks earns money through ad revenue and sponsorship.
They use that money to compensate members who promote the platform, increasing the exposure to their sponsor's products.
At first glance, they seem like another GPT (get paid to) site where members earn money by taking surveys, completing offers, and referring friends.
I have reviewed lots of legitimate GPT sites here on my blog such as Prizerebel, and Offernation.
You will promote the platform, and the company will pay you a commission. But these sites will only pay you when your referral signs up and completes a task!
That's not how Viral Bucks work!
Unrealistic Payouts
The BIG program with Viral Bucks is that it promises you will earn $10 when somebody joins Viral Traffic through your link.
Not only that, but you will also earn $2 for every click on your link, which is totally unrealistic!
Most legit GPT sites will pay you a 10 – 30% commission based on your referral's earnings.
So, if your referral earns $10, you will make $3 maximum.

The Members Area
So, what will happen if you decide to join Viral Bucks?
After the free registration, you will see $25 in your balance account, which is crazy!

No company will ever pay you $25 just for signing up!
In the member's area, you will see a referral link that you should copy and promote to your friends on social media.
Beside your referral link, there is also a blue button that says $30 Surveys and Apps.

If you click on it, you will see a Task Wall with lots of offers and the amount of money that you will supposedly earn if you complete them.
There are $10 and $30 offers which again, is completely non-realistic.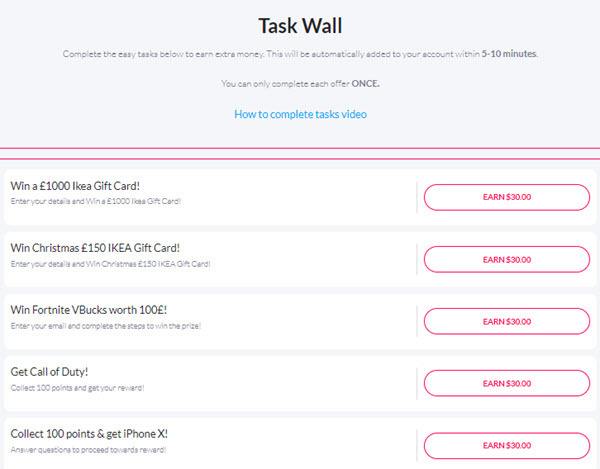 All the reward sites that I reviewed on my blog will pay you less than $2 per offer.
If you complete any of these offers, the owner of Viral Bucks will earn a nice commission from their partners.

Payment Requirements
Viral Bucks claims you can cash out your earnings via PayPal, Bitcoin and mailed cheques if you meet the following requirements:
20 Clicks.
5 referrals.
5 completed task wall tasks.
RECOMMENDED: Click here to see my no.1 recommendation for making money online.
Can You Make Money With Viral Bucks?
---
The answer is no. You can't!
Companies will never pay such high commissions for clicks and leads (referrals). Also, advertisers don't pay a lot of money for people to try their offers.

This reward platform is going viral! Cash out via PayPal, Visa, Gift Cards, and in-game currencies - Click here to find out how to generate an extra $10+ per day! 
On the internet, it's common to earn more than $10 in affiliate commissions, but only if your referral purchases a product or service.
The thing is, Viral Bucks doesn't sell any!

As they mentioned on their website, they only generate revenue from advertising.
Therefore, Viral Traffic owners have the potential to earn $10 per referral, not you!
Conclusion – Is Viral Bucks a Scam?
---
Viral Bucks promises to pay a ridiculous amount of money for referrals and simple tasks.
By doing so, they encourage lots of unsuspecting people to join and take action!
The more people who join, promote their links and complete tasks, the more money they will make!
However, Viral Bucks can't afford to pay such high commission rates to affiliates.
Therefore, they will probably use some excuse that you are using fake clicks and referrals to ban your account.
You will work for free and complete useless offers that will just make the owners of Viral Bucks richer.
In the end, you won't get paid!
I have reviewed many similar websites in the past, including Eazy Dollars, and Kids Earn Cash
For this reason, they may be owned by the same people who rebrand the site from time to time.
They are all using misleading advertising at the expense of people's time and even money.
You should avoid this site at all costs!
How to Make $1,000+ per Month From Your Laptop
---
I used to complete surveys and offers to earn a bit of extra cash on the side.
It was very time-consuming, and I knew an extra $50 – $80 wouldn't change my life.
But in 2015, I discovered a platform that helped me set up a WordPress website, attract visitors and earn affiliate commissions.
They told me since the beginning that it would take time and effort to reach my goals, but I accepted the challenge.
Why? Because I met many members who were making a full-time income using the same strategies.
Besides, I was sick and tired of my job and decided that I had to make a change!
I wanted to work from my laptop, so I could enjoy unlimited travel and live a less stressful life.
4 years later, I'm now writing this Viral Bucks review from a coach heading to Cambodia.
Building an online business has allowed me to quit my job and travel long term with my wife to SE Asia.
You can achieve amazing results too if you follow the lessons and take massive action.

The potential is huge as more and more people buy products and service on the internet.
Final Words
Thanks for taking the time to read my Viral Bucks review. I hope it helps you make an informed decision.
If you have any questions about this site or a real opportunity to make money online, drop me a message below.
All the best