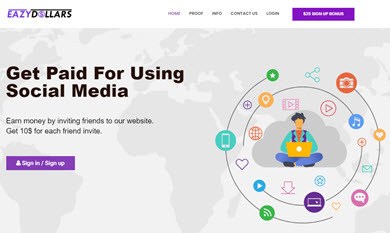 Welcome to my Eazy Dollars review!
This website is promising to pay you $10 for each person that you invite through social media, which seems too good to be true!
Not only that, they will supposedly give you a $25 bonus just for signing up.
It quickly reminded me of many scam sites that I reviewed 1 or 2 years ago, such as Kids Earn Cash, MyWorkingHour, Money 4 Task, and the list goes on and on.
I suspect that the owner is the same due to staggering similarities!
You probably know the internet is full of deceitful sites and apps designed to waste your precious time and money.
If you are planning to sign up for Eazy Dollars, I advise you to read this entire review before you do so.
I'm going to reveal the ugly truths about this site and the potential risks involved.
While you are here, you may want also want to discover my #1 recommendation. This step by step course helped me build an internet business from scratch, work remotely, and earn a full-time income online. 
Eazy Dollars Review Summary
---
Name: Eazy Dollars
Website: https://eazydollars.co/
Company: Zindexius
Membership Eligibility: Worldwide
Price: Free
Overall Rating:

1/5
Eazy Dollars Review on Youtube
What is Eazy Dollars?
---
Eazy Dollars is a platform that promises to pay you for sharing your referral link with friends as well as taking online surveys and downloading apps.
The owner claims that you will earn $2 every time someone clicks on your link and an additional $10 when the person signs up.
Therefore, people are enticed to open their Facebook and other social media accounts and send the link to as many people as possible.
More people will join the Eazy Dollars in hopes to earn easy money, but the reality is that…
You probably won't get paid! 
It's unrealistic, and I don't trust anyone who claims to have made money with it.
Next, I am going to show you all the reasons why I believe you won't get paid.
#1 – Unrealistic Payouts
---
From first glance, Eazy Dollars looks like another GPT (get paid to) site like Prizerebel or Swagbucks, but there is a big difference:
The unrealistic claims!
The first red flag you should be aware of when you visit Eazy Dollars' website is the hype.
Whoever owns this site is trying to convince you that you can become an influencer and get paid $10 for every friend that you invite through social media.

Not only that, they claim you will earn $2 every time someone clicks on your affiliate links, which is insane!
I am a veteran affiliate marketer, and I have reviewed hundreds of legit reward platforms. No company can afford to pay a $10 commission for a simple sign-up.
For a company to pay $10, the average profit generated by each person (lead) would have to be much higher than $10.
That will never happen with GPT sites.
Usually, GPT sites pay 10 – 20% commission on what your referral earns by taking surveys and completing offers inside the platform.
So, for example, if your referral earns $10, you will make $1 – $2, depending on the affiliate program.
Recommended: Learn how to refer an insane number of people and make a full-time income online.
#2 – Clone Sites
---
After thorough research, I found other two almost identical sites that are operating under different names.
These are Viralmarket.co and Paid4Clout.com, which are probably operated by the same individual(s).
All these sites promise to pay you a $25 bonus, $2 per click, $10 per referral, and unrealistic survey payouts.
There are only minor differences in the words that they are using to entice people and layout.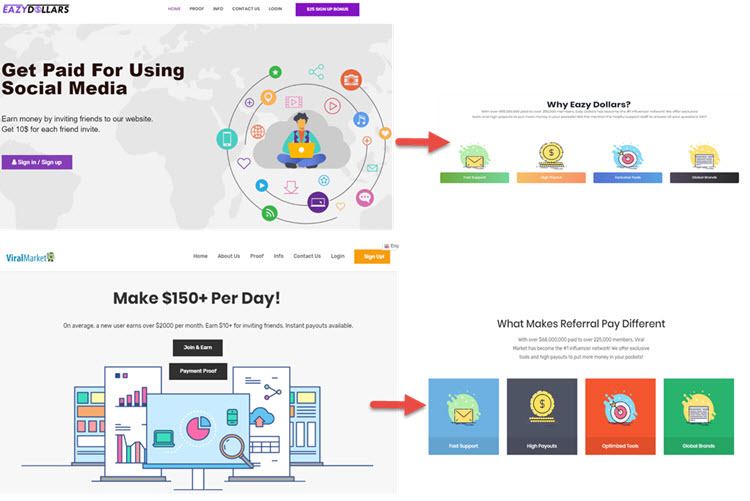 The member's area is also incredibly similar. Just have a look!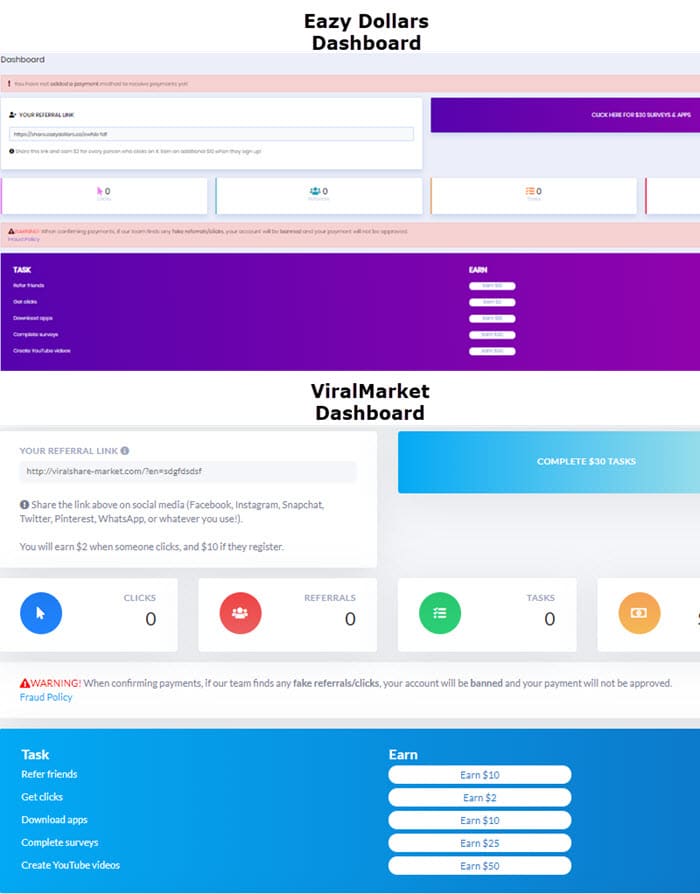 # 3 – No Company Registration
---
If you visit the FAQ on EazyDollars.co, you will find that the parent company is called Zindexius. 

On the Viralmarket's website, the company is presented as Zindex. Pretty strange, right?
I didn't find any company called Zindexius on Google. There is absolutely no official website or registration, which is another strong evidence to suggest EazyDollars is a scam.
Zindex Limited is a company registered in the UK, but unfortunately, I couldn't find any proof of its connection with Eazy Dollars.

This reward platform is going viral! Cash out via PayPal, Visa, Gift Cards, and in-game currencies - Click here to find out how to generate an extra $10+ per day! 
The lack of information about the company and its owners is something you should worry about. Legit sites will always give you some information.

#4 – No Proof of Partnerships
---
Eazy Dollars claim to works with big brands such as McDonald's, Wendy's, Burger King and Target.
However, if you search the internet, you won't find any proof of any collaboration or partnership with any these big brands.
#5 – Fake Youtube Testimonials
---
There are 2 short testimonial videos on the Eazy Dollars YouTube channel.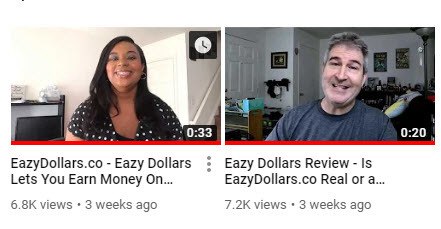 Both of them are paid actors that are offering their spokesperson services on Fiverr.com.
Here is the proof: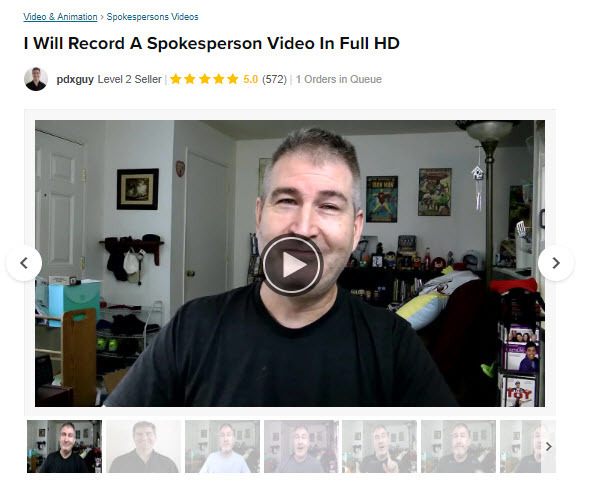 These guys have been paid to give a positive testimonial and influence more people to join the platform without any disclose.
Registration
---
The first step is to register for free with your name, username, email and password.
I didn't want to provide my personal information, so I simply inserted a fake name and email address.
You never know what these people can do with your personal data, so it's better to be safe than sorry.
How Does it Work?
---
Referral Program 
Once you register, you will receive a unique referral link, which you are encouraged to share with your friends on social media.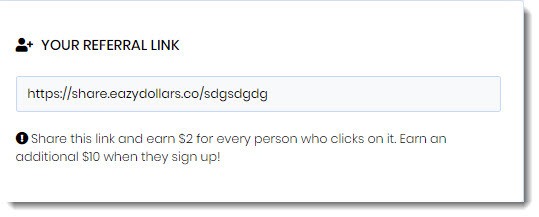 You will also get a $25 sign-up bonus, which I don't believe is real.
They say every time someone clicks on your link, you will earn $2. Then, if the person signs up, you will make an extra $10.
By sharing the link, you are effectively promoting Eazy Dollars without any guarantees. So, you may be working for free!
Be aware that promoting links on Forums and Facebook groups is considered spamming.
As a result, so your post will be deleted, and you will probably receive a warning from the moderator.
RECOMMENDED: Click here to see my no.1 recommendation for making money online.
Task Wall
Another way you can supposedly make money with Eazy Dollars is by completing offers inside the Task Wall.
They are promising to pay you $10 per offer, which is again, very unrealistic!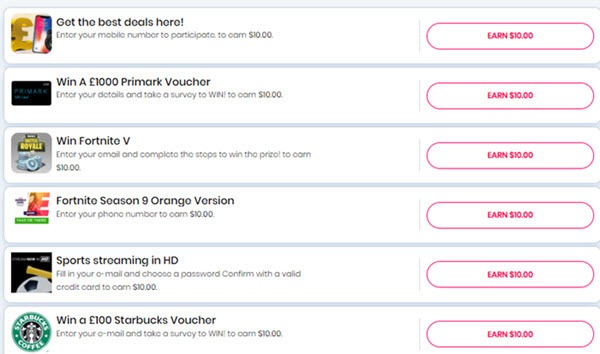 Most of these offers ask your phone number, postcode, and other personal data to third-party companies.
Some of them give you entries to participate in contests for a chance to win gift cards or iPhones.
Other offers require a free-trial subscription that will start charging you via your mobile network after 1 or a few days.
That's exactly how the owner of Eazy Dollars is making profits.
These companies pay a generous commission to him/her every time you sign up to these offers and provide your precious contact details.
And what do you get in return? Probably ZERO, NADA!
YouTube Submission
Eazy Dollars is also offering $50 just for subscribing to their Youtube channel and publishing a 1-minute video testimonial.
In the video, you should speak about your experience with the platform and why you love it.
They will give you a ready-made description with your referral link attached and lots of tags.
After you publish the video on YouTube, you must submit the video link for confirmation.
That's why when you search for Eazy Dollars on YouTube, you see a few people saying good things about it.
Cashout
In the cashout section, you can choose to get paid via PayPal, Bitcoin, Cash App, mailed Check, and gift cards.
You can only cash out if you meet the following requirements:
Get at least 20 clicks.
Complete 5 tasks inside the task wall.
Refer at least 5 people.
When you request the payment, you are likely to have your account locked or banned.
The most common excuse that these type of websites will give you is that you violated the terms of service. But they will never tell you precisely what you have done wrong.
Conclusion – Is Eazy Dollars a Scam?
---
Many people claim Eazy Dollars is a scam, and as you have seen in this review, there are strong reasons to believe so. 
No GPT site can afford to run such a highly profitable referral program!
If you know one that is 100% legit, just let me know in the comment section below, and I will start promoting it asap. 😉
That being said, I don't recommend this site to anyone, not even to my worst enemy.
Chances are, Eazy Dollars will eventually shut down and rebrand itsel. The promise of making $10 per referral will probably remain though.
Avoid Easy Dollars at all costs!!! 

My Humble Advice
---
It's possible to earn $10 and even hundreds of dollars per referral by promoting products and services as an affiliate.
The best way to do it is by providing quality content through your own website and Youtube channel.
There are many things you need to learn if you want to build an authority site and get enough traffic (website visitors).
Traffic = Money
There is no shortcut to making a living from home, but anyone is capable of achieving their goals with the right knowledge and mindset.
It takes time and perseverance, but as Greg Behrendt said,
"Anything in life worth having comes from patience and hard work."
Many people are using affiliate marketing to work remotely and live a boss-free life!
If you are willing to put in the work in order to achieve time and location freedom, check out my #1 Recommendation.
It's the same platform that helped me reach over $1,000 per month in passive income.
Final Words
---
Thank you so much for taking the time to read my Eazy Dollars review.
I hope this post has given you valuable information so you can decide whether Eazy Dollars is a scam or a legit site.
If you think this review will help other people, kindly share it on your favourite social media platform.
My mission with this blog is to help you make money online and refrain from scams.
So, if you need a hand, you can always contact me by leaving a message below.
I wish you all the best.
Your friend,
Stefan