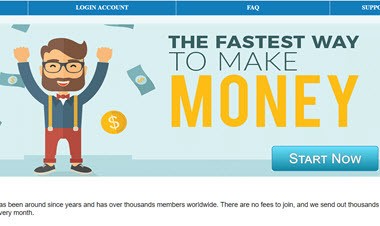 Today, I would like to warn you guys about MyWorkigHour.com, which is trying to steal your personal information with the promise of fast money online.
In this short review, I am going to expose what is behind the curtains and prove why this website is a complete scam.
By the way, if you want to learn the same method that earns me $1,000+/mo from my laptop, check out my #1 recommendation!
MyWorkingHour Review
---
Name: MyWorkingHour
Website: www.myworkinghour.com
Price: Free to join, but you will work for free
Owner: Unknown
Overall Rating:

0/5
First Impression
---
Right off the bat, I noticed MyWorkingHour was not a serious website due to the hype and crappy look of its homepage.
They claim MyWorkingHours is the fastest way to make money online, allowing members to make money in a matter of minutes after joining.

However, there is no information about the job you will be doing, which is a BIG red flag!
All they say is that you will earn by doing "very easy and little" tasks from the comfort of your home.
Those who are in a difficult financial situation will quickly take the bait and proceed without searching for more information.
Now, those who are more cautious may visit the FAQ page and discover that the job involves promoting a referral link on social media, blogs, forums, etc.
In that page, you will also discover that the minimum cashout is a staggering $300, and that top members are earning $200 per day and over $5,000 per month!
What is MyWorkingHour?
---
MyWorkingHour is a website that claims you can supposedly make money fast by sharing your referral link.
By sharing your link on the internet, you are basically spamming other websites in hopes people join MyHouringHour and repeat the cycle.
MyWorkigHour is not a GPT (get-paid-to) platform like Prizerebel, Offernation or Swagbucks. It's also not a micro job site like Remotasks or MTurk.
In reality, it's nothing more than a misleading website that is trying to harvest as many leads (email addresses) as possible!
Leads = $$$
The scheme is identical to PayHourlyJobs and other scams that I have reviewed in the past such as Fix Monthly Income, and Money4task.
The dashboard and business model are almost identical to these two sites, which don't exist anymore.
Note the staggering similarities between Fix Monthly Income and MyWorkingHour: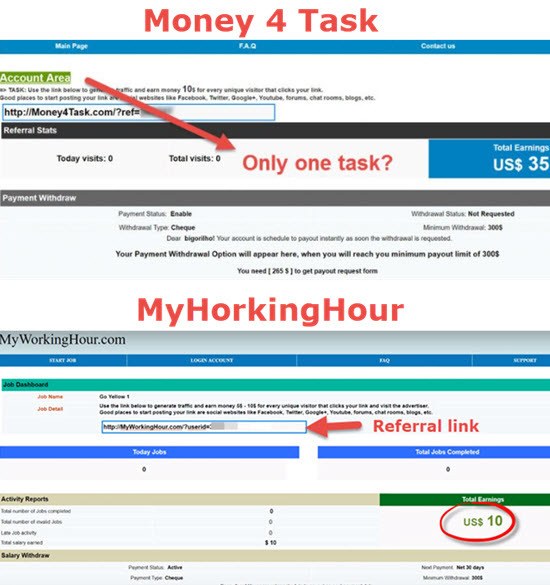 That makes me believe MyWorkingHour is operated by the same person, who might have just rebranded the site many times.

How Does it Work?
---
According to the FAQ, MyWorkingHour will pay you to generate traffic (visitors) to their advertisers.
However, there are no ads on their site, so where are the advertisers?
Well, it turns out they sell your email address to internet marketers, who will start bombarding you with spam emails.
They are the spammers, ops "advertisers"!
These spam emails are usually infested with affiliate links directing you to get-rich-quick products.
After you sign up, you will see this dashboard: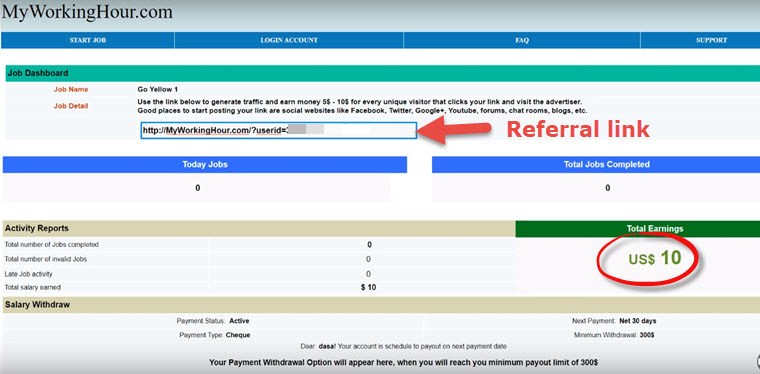 Right at the top, they say you can earn $5 – $10 per referral that clicks on your link and visit the advertisers.
However, that is a lie because the link will direct people to MyWorkingHour's website itself as you can see from the URL address:

You are encouraged to post your referral link on different social media platforms, blogs, forums, etc.
However, many forums and Facebook groups will ban you for spamming.
Affiliate links should only provide their links in exchange for valuable information, such as a review.

Note you already have $10 in your account just for signing up, which is ridiculous!
No website will give you $10 for doing absolutely nothing!
Besides, no affiliate program is willing to pay $5 or $10 per referral unless there is a purchase involved.
As there is no product for sale at MyWorkingHour.com, I can only conclude this is a complete BS!
The truth is that MyWorkingHour is not only harvesting emails for profit without any accountability but also recruiting people to promote them for free!
Yup. You won't get paid for all your hard work!

This reward platform is going viral! Cash out via PayPal, Visa, Gift Cards, and in-game currencies - Click here to find out how to generate an extra $10+ per day! 
Next, I am going to show you the main reasons to avoid MyWorkigHour.

Red Flags
---
Red Flag #1 – Unprofessional and Unsafe Website
MyWorkingHour is not a well-designed website, but this is not a big issue compared to what I am about to say.
Worse than having an unprofessional appearance, the site doesn't have an SSL certificate, meaning it's unsafe to use.
If you visit an unsafe URL, you may be vulnerable to hackers trying to spy on your internet activity and steal your personal information.
Red Flag #2 – No Privacy Policy, and No Terms of Use
All legit money-making websites have a privacy policy and terms of service page, which indicate transparency and accountability.
Without these pages, you will never know what your rights and duties are, or what they will do with your personal data.
Red Flag #3 – Insane Income Claims
MyWorkigHour is promising to pay you $5 – $10 per referral, which is not realistic.
No affiliate program is willing to pay so much for a simple sign up.
Look, guys. I get 1000 visitors per day on my website, and if MyWorkingHour really worked, you would see only positive things in this article with a big "JOIN NOW" button.
If they really paid, I would be a millionaire by now. I am not joking!
Red Flag #4 – No Product or Service
There is no product, service, valuable content or ads inside the platform, and the reason for that is simple:
The only commodity being traded is your personal data!
Red Flag #5 – No Payment Proof
I searched the internet and didn't find any payment proofs, and even if you find some screenshots, they are 100% Fake!
Conclusion – Is MyWorkigHour a Scam?
---
Yes, it is!
I hope you don't join MyWorkingHour, but if you already did, I highly recommend you don't waste your time with it as you won't get paid.
Also, If you have provided the same password you use on your online banking or email account, you must change it immediately!
As I said, this website isn't SSL certified, which can put your data at serious risk.
What I Recommend
---
If you want to get paid for easy tasks online, my top recommendation is Prizerebel.
They provide many opportunities to make money online, including micro-jobs via Figure Eight.
The drawback of GPT and Micro job sites is the incredibly low pay rates!

Now, if you dream about working 100% from your laptop and earn a full-time income online, one of the best strategies is to build your own internet business.
There are many strategies, but affiliate marketing is a great business model!
In 2015, I found an excellent training program that showed me how to set up a website, grow an audience, and earn affiliate commissions.
Before you follow this path, you need to understand that it takes time and effort to build a successful internet business. But it's possible if you are highly committed.
I hope you found this MyWorkingHour review helpful. If you have any questions, drop me a comment below, and I will be more than glad to help! 😉
Stay safe and peace out!