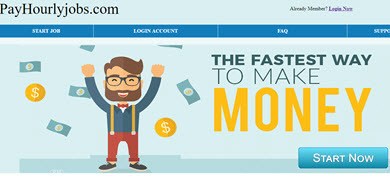 In this review, I would like to warn you about a website called PayHourlyJobs, which promises you will make easy money from home.
I am going to expose how this site works and why you should avoid it at all costs. Is Pay Hourly Jobs a scam?
Read this before you join!
You may skip to my #1 recommendation if you want to learn the same method that earns me $1,000+/mo from my laptop. (newbie-friendly and free to get started).
PayHourlyJobs Review
---
Name: PayHourlyJobs
Website: www.PayHourlyJobs.com
Price: Free to join, but you will work for free
Owner: Unknown
Overall Rating:

0/5
The Hype
---
As soon as I saw PayHourlyJobs, I instantly knew it was a clone version of MyWorkingHour as the only thing different is the name.
The site is unprofessional not only due to its crappy look, but mainly because it lacks a Terms of Service, a Privacy Policy and an Income Disclaimer.
I could finish talking about PayHourlyJobs here because every legit website has these critical pages. But I think it's important to expose how it works so you can avoid other similar sites.
They say PayHourlyJobs is the fastest way to make money online, allowing members to make money in a matter of minutes after joining.

However, you can only discover what job you will be doing after you visit the FAQ.
Most people, especially those who are struggling financially, will not care about reading the FAQ, let alone search for more information before joining.
What is PayHourlyJobs?
---
PayHourlyJobs is a website where you can supposedly earn money by promoting your referral links on the internet (social media, forums, etc.).
If you read the FAQ, you will discover that top members are earning $200 per day and over $5,000 per month!
PayHourlyJobs is very different from legit GPT (get-paid-to) sites like Prizerebel, Swagbucks, and Offernation. It's also not a micro job site like MTurk.
In reality, it's nothing but a website designed to harvest as many emails (leads) as possible for profit.
By joining PayHourlyJobs, you will put your personal data at risk, and promote the website for free as you won't get paid. 
It's practically identical to other sites I have reviewed such as Fix Monthly Income, and Money4task.
How Does it Work?
---
After signing up, you will discover that your only job is to share your referral links on different social media platforms.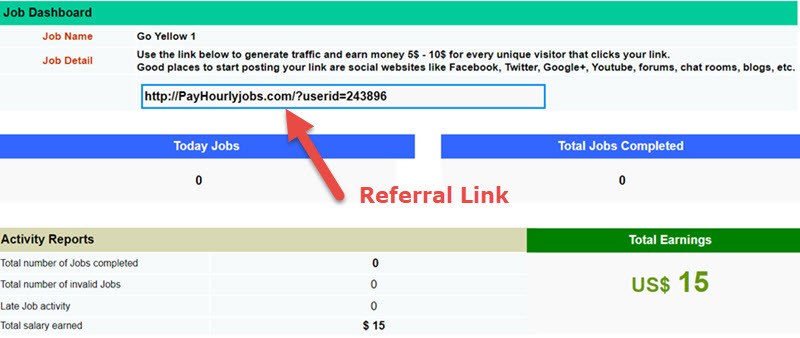 They promise to pay you $5 – $10 for every visitor that clicks on your link, which is insane


I've extense experience with internet marketing, and I know this pay rate is 100% BS. Not even Google can afford to pay so much money when users click on their ads!
They say you get paid to generate traffic (website visitors) to PayHourlyJob, which in turn gets paid to bring traffic to their advertisers.
However, you will quickly notice there are no ads on their site, so what advertisers are they talking about?
Well, those are the companies or individuals that are probably buying their email list to send spam. Your email is included in that list!
Will You Get Paid?
---
PayHourlyJob claims that you will get paid via PayPal once you reach $300, but that is just a pipe dream!
As I already said, no company can afford to pay $5 – $10 per click, so you will never see this money in your account.
Next, I am going to show you the main reasons to avoid PayHourlyJobs.
Red Flags
---
Red Flag #1 – Unsafe Website
PayHourlyJob doesn't have an SSL certificate, which means it's unsafe to use.
When you visit sites that don't have this certificate, you become easy prey to hackers trying to steal your personal information to possibly access your bank and email accounts.
Red Flag #2 – No Privacy Policy, and No Terms of Use
Without the Terms and Conditions and Privacy Policy, the owners are free to do whatever they want with your account and personal data.

In Europe and the U.S., PayHourlyJob is clearly infringing privacy regulations.
Red Flag #3 – Insane Income Claims
Look, guys, my website gets 1000 visitors per day. If they really paid $5 per click, I would be the first one to show you my link and promote PayHourlyJobs as the best opportunity to make money online.
As a result, I would be a millionaire by now!
Red Flag #4 – There is No Product or Service
There is no product, service, valuable content or ads inside PayHourlyJobs, and the reason for that is simple:

This reward platform is going viral! Cash out via PayPal, Visa, Gift Cards, and in-game currencies - Click here to find out how to generate an extra $10+ per day! 
The only commodity being traded is your personal data!

Conclusion – Is PayHourlyJobs a Scam?
---
There are many reasons to believe PayHourlyJobs is a scam.
Don't waste your precious time joining and promoting this website as you won't get paid.
If you have signed up with the same email and password you use for your email account, PayPal or online banking, you must change it immediately!
If you want to get paid for easy tasks like surveys and offers, I highly recommend Prizerebel, which top-rated rated GPT site.
However, the pay is low, so you may also want to discover how I prefer to make money online in the next section.
How I Make Money Online
---
In July 2015, I discovered affiliate marketing and the possibility of earning a job-replacing income online.
This excellent step by step program helped me grow a lucrative site and achieve $1,000 per month working remotely.
I am not rich, but this consistent online income has transformed my life.
I am now working part-time at my current job without any financial issues and planning a 1-year trip to South East Asia.
This trip is only possible because I put in the work during the last 4 years and built a website capable of generating passive income. 
If you want to learn more about this training program and my story, check out my #1 recommendation review here.
I hope my PayHourlyJobs review was helpful to you. If you have any questions, leave me a comment below! 🙂
Stay safe and peace out!