Welcome to my Diamond Cash app review!
Maybe you found Diamond Cash while browsing the Google play store in search of easy money on your phone.
You may like the idea of using apps to earn a few cents during your commute or in your spare time in general.
Yes, it all adds up at the end of the month!
However, you must be careful with apps that have a terrible habit of avoiding payments.
I believe less than 10% of cash apps actually make a serious effort to reward all users.
Most of them pay only a small percentage of people and make the rest waste their precious time and patience.
Does Diamond Cash fall into this category of non-paying apps? Is it a scam or a legit app?
Read this review as I'll uncover everything you need to know about Diamond Cash and give you my honest opinion about it.
You may also want to check out the step-by-step training that helped me reach $1,000+ per month working from my laptop (no special skills required). 
Diamond Cash App Review
---
Name: Diamond Cash
Company: Gudekoi Ltd
Price: Free
Income potential: Very low
LEGIT
Membership Eligibility: United States, Australia, United Kingdom, Europe and other countries.
Overall Rating:

2

/5

This reward platform is going viral! Cash out via PayPal, Visa, Gift Cards, and in-game currencies - Click here to find out how to generate an extra $10+ per day! 
What is Diamond Cash?
---
Diamond Cash is an application that allows you to earn cash rewards for installing other apps, taking surveys, watching videos, completing offers and inviting friends.
It's run by a private company based in London called Gudekoi Ltd.
By completing easy tasks, you will supposedly earn points that you can redeem for PayPal or gift cards.
Diamond Cash is very similar to many apps that I reviewed in this blog, such as FuturePoints, App Flame, and Cash Alarm.
Cash apps like these are proliferating at staggering rates because more and more people are trying to find one they can trust.
Is Dimond Cash App a Scam?
---
I am confident that Diamond Cash is operating legally, but that doesn't mean you will get paid.
If you take a look at the review section on Google Play, you will see many complaints about missing points and payments.
So, just like with most reward apps, you should not have high expectations.
The reason Diamond Cash should not be considered a scam is that they don't steal any money nor make any promises.

Here are two extracts from the Terms and Conditions which proves my point:
"We do not guarantee any earnings/income through our services"

"We will not be responsible or liable for the delay or failure to credit points"
Although I don't think it's fair, there seem to be no government regulations to force these type of mobile applications to pay users.
Once you accept the Terms of Service, you agree that you may not get paid.
Unfortunately, many people get excited to use Diamond Cash straight away and ignore the small print.
RECOMMENDED: Click here to see my no.1 recommendation for making money online.
Installation and Registration
---
Diamond Cash is only available for Android devices, so you can download it through the Google Play store app.
The app doesn't require an email address or Facebook account to sign up.
All you need is to accept the Terms and Conditions and Privacy Policy.
Next, you can complete the exclusive offer by installing and running your first app. This offer will give you 500 points ($1).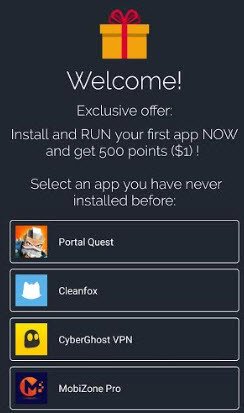 Points Vs Rewards
---
Before completing any task, it's important to know the real value of one point.
You should visit the reward section, choose your country and see how many points you need to redeem a specific cash amount via PayPal or Gift cards.

For example, in the US, you need 5000 points to redeem for $10 via PayPal.
In this case, you know that 10 point equals $0.02.
Start Earning Points With Diamond Cash
---
To start earning points, click on the first tab and then select the type of task you want to complete.
Next, I am going to explain each task briefly so you have a better idea of what you can expect.
Apps
In this section, you will find an extensive list of mobile applications and instructions that you must follow.
Most apps will give you less than 400 points or $0.80.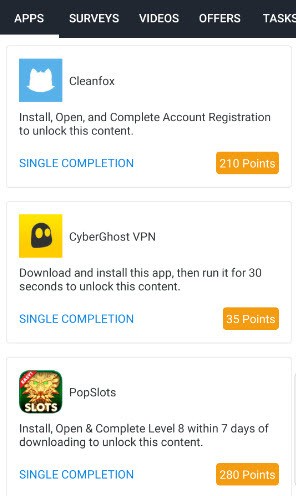 When you tap on the app of your choice, you will be redirected to the download page on the Play store.
Next, you should open the application and complete the task(s) set for each app.

If you decide to install a game, you may have to play it for a few seconds or complete a specific level.
As for reward apps like Cashkarma, or Cash Time, you must register and probably earn a specific number of points.
Some apps only require quick installation and subscription.
WARNING: Be very careful and avoid subscriptions where you need to provide your credit card details.
For example, the list has an app called Mobizone Pro, which charges a weekly fee.
Many people complain they had to pay for it and they don't know how to cancel the subscription.
Taking Surveys
This section is full of survey routers such as Speak Up!, Samplicio.us, Your Surveys, GiveUsYour2Cents and more.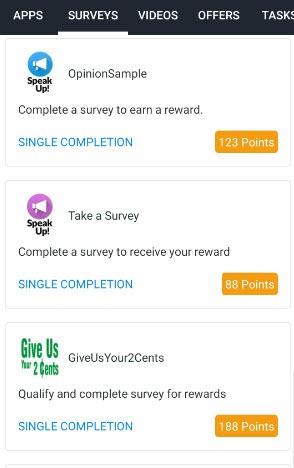 When you select a router, it will search for surveys and start asking you lots of profiling questions.
If you are not qualified, they will immediately redirect you to another survey opportunity.
It's very annoying this process because you will answer repetitive questions without making any money!
Most surveys won't pay you more than $2.
Watching Videos
All you have to do in this section is to select a video category and let it play.
You will earn 13 points after watching 5 videos.
Completing Offers
Diamond Cash provides a long list of offers, so you can apparently earn a large number of points.
Again, I urge you to be extremely careful with what you are signing up to.
Many offers involve filling up a form with your name, email, and phone number to participate in prize draws.
They are asking your contact information to advertise products and services.
Your chances of winning these prizes are extremely low, and once you give them your details, it's very hard to make them stop calling you.
Tasks
In this section, you will find 3 simple tasks to earn more points with Diamond Cash:

Check-in – Check-in daily to collect 5 points.
First App install – Install your first app to get 500 points.
Invitation code – Enter an invitation code and get 225 points
Inviting Friends
Another way to earn points with Diamond Cash is by inviting your friends to join under your invitation code.
If someone inserts your code, the person will earn 250 points, and you will get 20% of all your referrals' earnings.
That's why you see lots of people writing reviews on Google play and sharing their codes.
Cashout
---
Once you reach the minimum payout requirement, you can exchange your points for Paypal, and gift cards from Amazon, Steam, Google Play, eBay, and more.
Some gift cards may not be available in your country though.
The minimum amount of cash you can withdraw in the US is $5 (2500 points).
In the UK, the minimum is £5 (3100 points).
User Reviews – Complaints 
---
Diamond Cash has received a 4.5 rating on the Google Play store, but I if you have a look at the reviews, you will see many complaints.
Many reviewers give a 4 or 5-star rating, but most of them only say things like, "Great app", "It's amazing", "nice app", "good" etc.
I suspect many of these positive reviews are purchases from platforms like Review Roster or another similar service.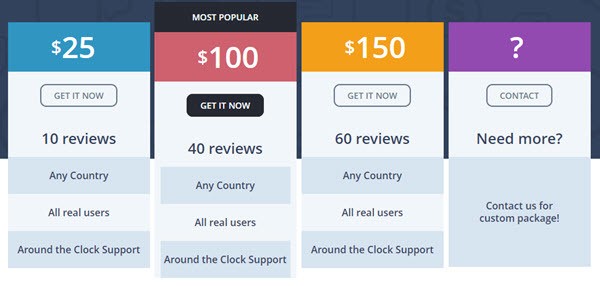 Most people who gave it 1-star report that they didn't receive points after completing a survey or offer.
Conclusion 
---
Diamond Cash app is a legit application, but there are no guarantees that you will get paid.
The main goal of cash apps is to generate profits, and because there are no regulations that force them to pay you, they can forfeit your points or block your account.
You should choose carefully which platforms and app you are going to spend your time on.
Unfortunately, I can't recommend Diamond cash or any similar app.
However, there is an excellent GPT website that you can also use from your mobile device called Prizerebel.
I've used it for more than 2 years and never had any payment issues!
How I Make $1,000 Per Month from Home – My Story
---
In 2015, I was sick and tired of wasting my time with low-paying surveys and offers.
One day, I was reading some blog posts when I discovered a strategy that would completely change my life. It's called affiliate marketing!
With affiliate marketing, you can earn commissions for promoting other people's products via our own website or Youtube channel.

Personally, I use both a website and Youtube to generate traffic (visitors) and make sales.
If you are promoting an info product that pays recurring commissions, your income can add up very quickly!
The reason why I work hard to achieve my goals as an affiliate marketer is that I love the freedom it provides.
I can work whenever and wherever I want, and keep on making money even while I am on a prolonged holiday.
I just can't stand the idea of working for somebody else for the rest of my life.
If you are like me, and you are prepared to whatever it takes to achieve your online goals, check out my #1 recommendation. 
It's the same platform that helped me reach over $1,000 per month working from my laptop.
As a side note, this is not a get-rich-quick scheme, so you have to be patient and put in the time and effort before you can start making money.
Final Words
Thanks for taking the time to read this Diamond Cash review. I hope this post has given you some helpful information.
If you want to share your experience using Diamond Cash or you have any questions, just leave me a comment below.
I wish you all the best.
Your friend,
Stefan