Welcome to my FeaturePoints Review!
I discovered FeaturePoints in January 2018, when it was just a mobile application.
Later, it became available for Desktop users and incorporated offers, videos and more survey opportunities.
At that time, I gave it a high rating, but I had to update this post and be harsher due to the significant amount of complaints during the last year.
It this review, would like to explain how Feature Points work and give you my honest opinion about it. Will you get paid? Is it a scam or legit?
Let's find out!
You may also want to check out the step-by-step training that helped me reach $1,000+ per month working from my laptop (no special skills required).
FeaturePoints Review Summary
---
Name: FeaturePoints
Website: https://featurepoints.com/web/
Strategy: GPT – Get paid to answer surveys, complete offers, download apps, and more!
Price: Free
LEGITIMATE
Overall Rating:

2/5
What is FeaturePoints? 
---
FeaturePoints is a website and mobile application owned and operated by a Canadian company called TapGen Corp.
The platform was created in 2012, and since then, it has paid over 5 million dollars in cash rewards.
The company offers marketing and advertising services for developers who want more exposure for their games and apps.
They get more exposure by partnering with FeaturePoints, which rewards users for trying out these apps. It's a win-win situation!
Not only that, but it also allows you to make more money by taking online surveys, completing offers, watching videos and referring friends.
FeaturePoints is a legit opportunity to make money online, but just like any GPT and cash app, the pay is significantly low.
Therefore, if you are willing to invest more time into generating a more substantial income from home, I highly recommend affiliate marketing.
Pros and Cons
---
Pros
Easy way to make money online.
There is a huge number of offers available.
Free to join.
Many redemption options, including Paypal and Amazon gift cards.
Low payout threshold – $5 (US), £3 (UK).
Generous referral program (50% commission).
Cons
Low pay.
No signup bonus.
There are not many apps and games available.
FeaturePoints can terminate your account for any reason at any time without prior notice.
Many people complain about missing payments.
How Does it Work? 
---
Installation and Registration
FeaturePoints is available for Desktop and both Android and iOS devices.
You can download the app for free on Google Play or App Store, and register with your Facebook account or email address.
I recommend taking the time to read the terms of service and privacy policy to learn more about the rules and your rights on the platform.
Points vs Rewards
You will earn points that have a different currency value according to the payment option that you choose and your country.
Here are some examples:
Paypal: 6,000 points = $10
Amazon e-gift card: 8,100 points = £10
Starbucks e-gift card: 4,050 points = £5
Bitcoin: 6,000 points = $10
Tokens
In addition to earning points, you will earn 1 Token for every 20 points you earn.
Another way to earn Tokens is by watching video ads. Every time you watch a video, you get 1 Token.
Tokens are automatically used to enter weekly and monthly contests.
What I like about FeaturePoints in this regard is that it shows you the total number of entries on the current contest, and it's updated in real-time.
They also show you a list of the previous winners.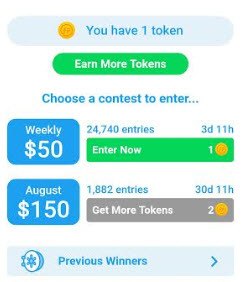 Getting Started
After the registration, you can enter a referral code to earn 50 points. You can use my referral code, which is MFRHN5 to collect your points.
Next, FeaturePoints will ask you to choose a payment method, which you can change later on if you like.
After that, you are free to start downloading apps, watching videos, and completing offers.
To unlock surveys, you will need to complete the first section called "about you", which contains only 4 questions.
They will only ask your date of birth, gender, country and postcode. You will get 10 points after completion.
Keep in mind that when you are completing surveys, they may re-confirm these answers.
If you provide different answers in future surveys, they may suspect you are not honest and as a result, they may disqualify you.
Downloading Apps 
To earn points in this section, you must not only install the app but also follow the instructions.
Some apps require you to use it for a few minutes while others ask you to take specific steps. It depends on the app.
If the app is a game, you may have to play it for a while or reach a certain level to get rewarded.
For example, the Coin Dozen require you to download the app and complete level 25.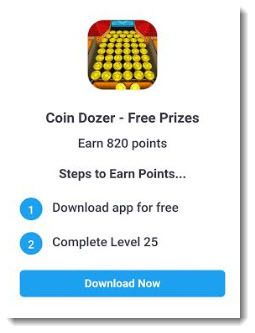 Now, if it's another type of app, you may have to create an account and use it for 2 or so minutes.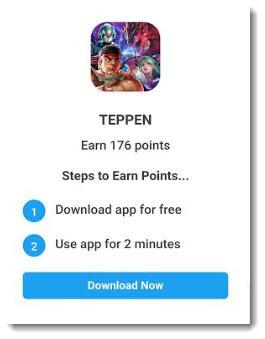 While writing this review, there were 11 apps available here in the UK ranging from 24 to 820 points or $0.04 – $1.36 after PayPal redemption.
As expected, the pay rate is very low here!
Taking Surveys
FeaturePoints has partnered with different marketing research companies.
You must answer extra profiling questions to unlock more survey routers and get more invitations.
After you complete your first profiling questionnaire called "About you", you may unlock Tap Research and Pollfish panels.
Most surveys from Tap Research are short (1 – 12 minutes) and usually award less than 300 points or $0.50.
Unfortunately, you won't qualify for every survey, and maybe half of your time may be wasted.
If you want to receive more survey invitations, I also recommend a GPT platform called Prizebel.
Completing Offers 
I wasn't expecting too many opportunities inside the "more offers" section, but I was dead wrong.
The list of offers is huge, so there is a lot of money to be made there.
Here are some offer examples that I am seeing here in the UK:
iStreams – Sign up for the free trial with a valid credit card to earn a reward. Earn 1,710 points. 
Boots Cosmetics – Submit a valid email to earn a reward. Earn 370 points.
Amazon Prime – Sign up for the 30 days free trial with a valid credit card. Earn 581 points.
Dragon Awaken – Sign up, play and reach level 60 in a span of 7 hours of gameplay to earn a reward. Earn 955 points.
Revolut – Order the free card and top up 10 Euros to earn a reward.
Referral Program
Invite friends to join Feature Points and earn 50% of what they earn by sharing your affiliate link via social media, blog, Youtube, forums, etc.
I don't know any other app or GPT site that pays 50% in referral commissions. Most sites pay only 10% or 20% maximum.
Another option is to share your custom code with people, so they get 50 points as a sign-up bonus. That's exactly what I did in this post.
Earn More Points
Record a Youtube video about FeaturePoints: There are many requirements for this option, and you should meet all of them to get 300 points.
Share a promotional video on Facebook: Each post is personalized with your own referral link. Therefore, if someone joins Feature Points through your link, you will earn 50% of their earnings.
Like FeaturePoints' Facebook Page: Earn 20 points.
Follow FeaturePoints on Tweeter: Earn 5 points.
Cashout 
---
You can redeem your points for PayPal, Bitcoin, and various gift cards including iTunes, Amazon, PayPal, and Starbucks.
User Reviews – Complaints
---
This post would be incomplete if I ignored the user reviews on the Google play store.
I was shocked to see hundreds of complaints about missing points and payments.

There are also many complaints about the low pay rate, and how difficult it is to reach the minimum payout threshold.
Final Thoughts – Is FeaturePoints a Scam? 
---
There is no guarantee that you will earn any money by using FeaturePoints, but nevertheless, I wouldn't call it a scam.
It's sad to see many people having trouble with payments, but the reality is that most apps avoid payments.
Although developers and app companies don't want to admit it, most of them simply forfeit rewards to increase their profit margin.
They make good use of the Terms of Service, which usually state that the company has the right to terminate your account for any reason, and at their sole discretion.
Also, the pay rate is very low, which means you need to be very patient to reach the minimum cashout requirement.
Whether FeaturePoints will pay you or not is a matter of luck, really.
Is it worth it? Honestly, a few cents here and there is better than nothing, but it's certainly not life-changing.
If you are serious about making a three, four or even five figures a month from your laptop, then the next section if for you.
Verdict: Legit
How I Make $1,000+ Per Month From Home 
---
I take advantage of affiliate marketing, which gives me the opportunity to promote other people's products and earn affiliate commissions.
What I love about this business model is that it gives me the freedom to work whenever and wherever I want.
It's not a method to get quick results, but if you do it the right way, you can build a reliable source of passive income for many years!
I learned the ropes with this in-depth step by step program that also gave me excellent support and all the tools that I needed to grow my online business.
In my opinion, this is the best place to start for those who want to become an online entrepreneur and work 100% remotely.
The great thing is that you can get started for free here before you commit 100%.
Thanks to this course, my site has grown significantly over the last 4 years, and have been generating a full-time income month after month.
I started as a complete newbie, and I am sure you can do this too!
If you are willing to put in the time and effort, I can't recommend it highly enough!
Final Words
Thanks for reading my FeaturPoints review. I hope it has given you valuable information to decide whether you should join or avoid this platform.
If you have any questions or just would like to share your experience, feel free to leave us a comment below.
Stay safe and peace out!