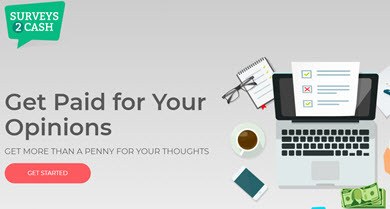 Welcome to my Surveys2Cash review!
Surveys2Cash is another website where you can supposedly earn cash and gift cards in return for your opinions. 
Lots of people are searching for ways to supplement their income or even quit their 9-5 jobs. 
The internet provides many opportunities, but some sites and mobile applications are just not worth your time. Therefore, it's important to read reviews and get more information to avoid traps along the way.
So, what can you expect from Surveys2Cash? Is it a scam or a legit site? In this post, I reveal the members' area and give you my honest opinion about this platform.
You may also want to check out the step-by-step training that helped me reach $1,600+ per month working from my laptop (no special skills required). 
Surveys2Cash Review Summary
Name: Surveys2Cash
Website: https://surveys2cash.com/
Price: Free
Membership Eligibility: United States (+18)
Overall Rating:

1

/5
What is Surveys2Cash?
Surveys2Cash is a website that claims you will get an aggregated list of survey providers. They say you will get paid via PayPal and e-gift cards after completing surveys and offers.
I have reviewed hundreds of similar platforms that promise to connect you with marketing research companies. Some of which turned out to be a complete waste of time!
At first glance, Surveys2Cash seems like one of those sites, but I like to give the benefit of the doubt before making pre-judgments. So, I decided to sign up and go through the process.
In the next section, I will share with you what I found in the member's area.
How Does Surveys2Cash Work?
Registration
Surveys2Cash is free to join, and it's open for American residents over 18 years of age. To register, click on the "Get Started" button and fill-up the form on the next page.
On top of the signup form, they claim you can earn up to $100 on your first survey. Well, it's highly unlikely that you will earn over $2, let alone $100!

Unless you get an invitation to participate in a rare in-person focus group section, you will probably have to complete over 100 surveys to earn your first $100. 
Update: Good news! Now it says "Earn on your first survey – today". 
During the signup process, you must provide some personal information such as your name, email, home address, date of birth, and even your phone number. 
In the small print, they tell you that by signing up, you agree to receive sales calls and SMS messages. You can opt-out by texting STOP. 
The Members' Area
After signing up, you will be encouraged to tell more about yourself so the company can match you with top paid surveys.

However, instead of asking demographic questions such as your age, household income, etc., they will present you with a long list of third-party websites and offers.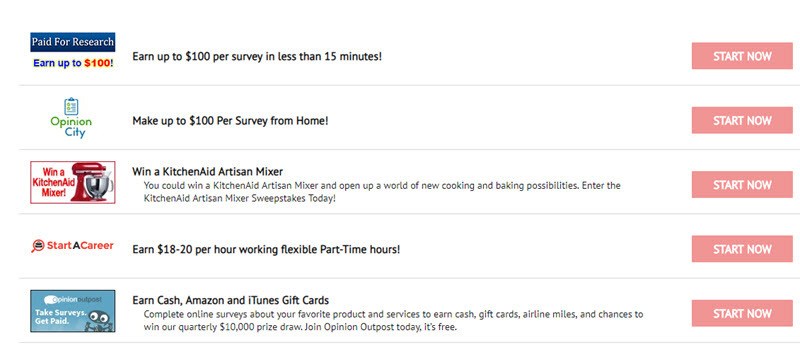 The list is massive and includes links to many sponsored offers from different company sectors such as debt resolution, energy, farmaceutical, and retail. 
One site that is on the list is called SaySo4Profit, which used to have malicious links.
They also displayed a misleading ad that says "Congratulations! You qualify to earn $100 per survey in less than 15 minutes". That's false advertising because when you click on the link, they will direct you to another survey site called Survey Cabin, which will never pay you $100 per survey. 
I also found fake job sites that will put you in a spiral of useless sites.
In short, Surveys2Cash is enticing you to join these third-party companies in return for commissions. However, different from reputable GPT sites, they won't pay you to accept these offers. So, don't waste your time with them! 
After you go through that massive number of questions and offers, you will finally reach the survey page. I was disappointed to find only 5 survey sites on the list. They are legit, but in my opinion, there are much better options out there! 
Can You Make Money With Surveys2Cash?
Surveys2Cash is simply an affiliate platform that works as a middleman between marketing research companies and panelists. Therefore, they are not responsible for sending survey invitations and payments.
After you click on the link, Survey2Cash will direct you to the survey partner from where you can sign up and start completing surveys.
This site will distract you and make you waste a lot of time with questions and offers that won't convert to cash in your pocket. On the contrary! Many offers will actually entice you to spend money on products you don't need.
Conclusion – Is Surveys2Cash a Scam?

Surveys2Cash is not a get-paid-to site as it won't reward you for completing surveys and other tasks. Also, it's not a website that gives you useful information about any opportunity to make money online.
Blogs also direct you to different sites, but the main difference is that they provide value. 
Well, that's not the case with Surveys2Cash, which will only collect your contact details and push you ads after ads. 
Despite how Surveys2Cash operates, I wouldn't call it a scam.  It didn't send me to any malicious URL as SaySo4Profit did, but the way they promote some offers don't reflect reality. So, be aware! 
Verdict: Not Recommended

This reward platform is going viral! Cash out via PayPal, Visa, Gift Cards, and in-game currencies - Click here to find out how to generate an extra $10+ per day! 
Better Alternatives to Surveys2Cash
If you want to complete surveys, offers, and other simple tasks, I can't recommend Prizerebel highly enough.

As a free member, you can complete surveys from different marketing research companies and accumulate points that you can cash out via PayPal and a wide variety of gift cards. 
You don't need to sign up to other sites unless you do so as part of an offer. In that case, you will earn points after following the instructions. 
Other legit sites worth trying are Prolific Academic, Pure Profile, and Survey Junkie.
Earn a Full-Time Income Online
You can generate thousands of dollars per month by creating content and promoting other people's products.  That's precisely what I decided to do a few years ago, and it has completely changed my life! 
In short, I write helpful articles that rank on Google and attract lots of visitors. Then, I earn advertising revenue and commissions as an affiliate. 
You can create a profitable site around a topic of your interest and help people in your niche. 
If you are you are prepared to work hard in order to achieve time and location freedom, check out my #1 recommendation here. It's 100% newbie-friendly and free to get started.
As a side note, this is not a get-rich-quick scheme, so you have to be patient and put in the time and effort before you can start making real money.
Final Words
Thank you for taking the time to read my Surveys2Cash review. I hope it was helpful, and if you have any questions, just leave me a comment below.
Peace out!