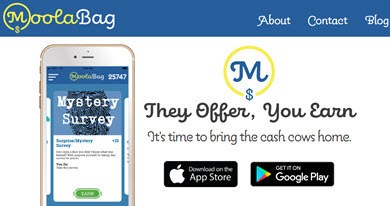 Welcome to my MoolaBag app review!
Would you like to earn some cash from your smartphone or tablet?
MoolaBag is another mobile application that supposedly allows you to get paid for completing offers, taking surveys, watching videos, and more.
It's available for both Android and iOS devices and seems just like many other apps like App Bounty, AppKarma, and CashPirate.
With so many apps available, you may be overwhelmed trying to find the best one, or the least worse.
I decided to write this review to explain how MoolaBag works and give you my honest opinion about it. Is it a scam or a legit application?
You may also want to check out the in-depth course that helped me reach $1,000+ per month working from my laptop (no special skills required). 
MoolaBag App Review Summary
---
Name: MoolaBag
Website: https://www.moolabag.mobi/
Company: AdSwapper, Inc.
Price: Free to join
Membership Eligibility: Worldwide
Overall Rating: 2/5
What is Moolabag App?
---
Moolabag is a mobile application that connects you with brands and marketing research companies willing to pay for your opinions.
It's owned and operated by a company called AdSwapper based in Columbia, MO.
By joining Moolabag, you will get points for taking surveys, downloading apps, accepting trial offers, participating in prize draws and more!

This reward platform is going viral! Cash out via PayPal, Visa, Gift Cards, and in-game currencies - Click here to find out how to generate an extra $10+ per day! 
The app has been given an overall rating of 3 out of 5 on the Google play store.
Later on this post, I'll be addressing the most common issue that most users complain about.
Pros and Cons
---
Pros
Get paid via PayPal and many e-gift cards.
It works on both Android and iOS devices.
There are many offers available.
It's available worldwide, but you may not see many opportunities in your country.
Cons
Low pay.
There are many reports of missing points.
No signup bonus.
Poor usability.
The app is slow and has a few bugs.
There is no referral program.
How Does MoolaBag Works?
---
Installation and Registration 
MoolaBag can be downloaded from the Google Play or App Store depending on your device.
After the installation, you should sign up with Facebook, Google or your email address.
Points and Rewards
Before accepting any offer or completing any task, it's essential to know that 100 points equal $1.
Once you have at least $5 in your balance account, you can cash out via PayPal or many e-gift cards including Amazon, iTunes, Wallmart, and Target.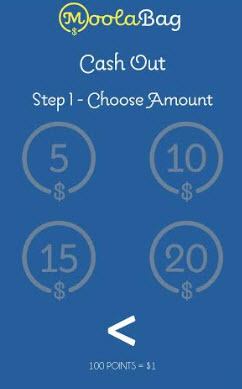 The Dashboard
MoolaBag is a simple app, but not well-organised.
Each survey or offer invitation covers your entire screen, and you must flip through them to see the other opportunities.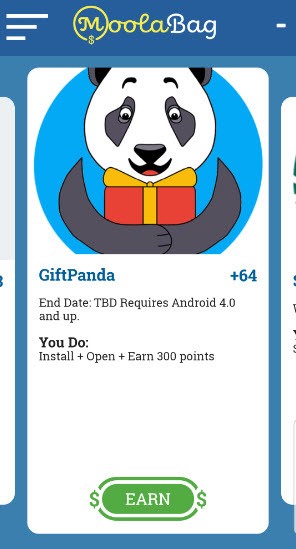 There are no categories to separate different tasks, like in many GPT sites and cash apps.
If you want to get paid just for downloading apps, you have to flip through the offers one by one until you find the ones you are looking for.
Taking Surveys
MoolaBag has partnered with different survey companies so you can get paid for your opinions.
The first thing MoolaBag recommended to me was Theoremreach, which is a third-party survey provider.
After answering a few profiling questions, you will get access to all survey opportunities.
They say you can earn up to 1000 points, but most surveys will only award you less than 50 points ($0.50).
As you can see in the screenshot below, some surveys take 16 minutes to complete and pay only $0.20 – $0.24.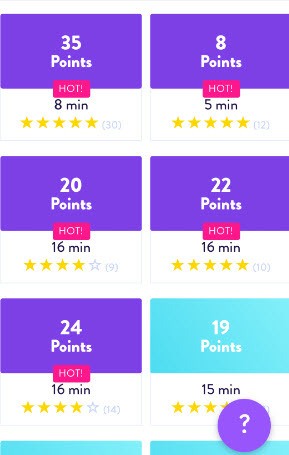 I completed a survey and received 26 points right away! However, some companies take longer to confirm your participation and send your credits.

You can check the status of your surveys and offers in the history tab.
Offers
Most opportunities inside MoolaBag are offers, which come in different forms.
In the UK, there is a large selection of offers, so it's possible to earn a significant number of points and withdraw within a relatively short period.
Read the instructions carefully and make sure you meet all the requirements to get rewarded.
Here are some offers that I found:
Amazon Music: Sign up and remain an active user for at least 7 days. Earn 180 points.
Simply Book: Order the free box and pay postage with a valid credit card. Earn 240 points.
HappyBox – Tesco: Fill in your valid details such as same, email, date of birth and phone number. Earn 33 points.
Gamehag: Download the app, install, and collect 500 gems. Earn 160 points.
Now, you are probably wondering how Moolabag can afford to pay you to try these services, and why they do that?
Well, by showing you those offers, MoolaBag is earning revenue from advertisers who want more exposure to their apps, and products.
When you are trying different offers, you may like one product or service that you come across and become a customer.
After you complete an offer, you won't get the points immediately. That's because offer providers may take up to 72 hours to approve your offer.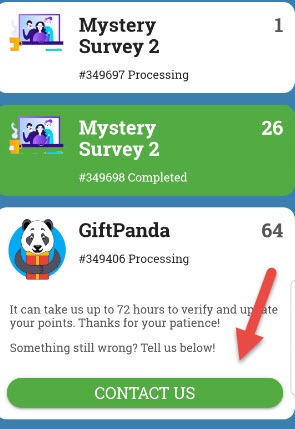 If you don't get credited or you have any problems, you should contact MoolaBag through the form provided inside the app.
If you don't receive any response, I highly recommend posting a user review on Google Play where your problem will be exposed to the public.
They usually respond to complaints there.
User Reviews – Complaints
---
I decided to have a look at some user reviews on Google play app and was shocked by the large number of complaints.
The last 20 reviewers gave it a 1 or 2 stars, which is appalling!
Most people report having completed offers and not receiving their credits.
This situation is very frustrating, especially if you made a deposit or spent hours playing a game!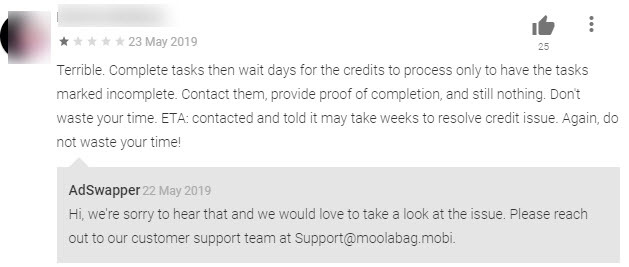 Conclusion – Is MoolaBag a Scam?
---
There is no proof that MoolaBag is a scam, but there is a risk of not receiving points after completing offers.
Many people don't seem to have a positive experience, but that doesn't mean you will have the same problems.
As I mentioned many times on my previous reviews, it's hard to find an app that doesn't have payment issues.
You have to accept the fact that there are no guarantees when using this type of applications.
One thing is for sure, though. You will have to share your personal data with different companies so you can hopefully earn a few bucks after a few weeks.
Your data will be used by different companies to perform marketing research as well as send you promotions via email or phone number. It really depends on the offer.
If you want to earn a bit of extra cash by completing easy tasks, I highly recommend a GPT site called Prizerebel.
There are many ways you can earn with this site, and they always honoured my payments.
How I Make Money Online
I don't complete surveys and offer because I prefer to grow my internet business.
The way I earn money with reward sites like PrizeRebel is by referring people to these platforms.
In the long term, It's more lucrative to invite others to join these sites rather than use them. That's a fact!
However, not many people are willing to invest their time in creating a blog and creating content.
I've made over $25,000 with my blog, which would probably take 50 years as a survey-taker.
So, it was well worth it!

You can build a site around your passions and interests and create an income-generating website. It's not difficult, but it doesn't happen overnight.
What I love about this way of making money is the freedom that it provides.
It's possible to earn a full-time income working from whenever and wherever you want!
But first, you need to learn effective strategies to rank high on Google and get traffic.
If you are like me, and you are prepared to put in the time and effort to eventually break free from the 9-5 trap, check out my #1 recommendation.
It's the same platform that helped me start and grow my internet business.
Final Words
Thank you for taking the time to read my Moolabag app review! I hope it has given you some helpful information.
If you want to share your experience with this app or you have any questions, feel free to leave a comment below.
I wish you all the best!