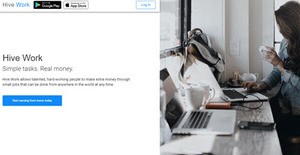 Welcome to my Hive Work review!
You are probably wondering if this is a legit platform to earn a steady income from home.
You have made the right decision is searching for more information.
There are many fake job sites on the internet trying to collect your personal data and waste your precious time.
One deceitful website that I reviewed recently is Eazy Dollars, which promises to pay 10 bucks for every referral you bring to the platform.
From first glance, Hive Works seems legit as they don't make any unrealistic income claims.
However, we should never judge the book by its cover as scams are getting smarter and sophisticated.
That's why I decided to put up this review to explain how Hive Work operates and give you my honest opinion about it.
You may also want to check out the step-by-step training that helped me reach $1,200+ per month working from my laptop (no special skills required). 
Hive Work Review Summary
Name: Hive Work aka Hive Micro
Website: https://hivemicro.com/
Company: Castle Global
Price: Free to join
Membership Eligibility: Worldwide
LEGIT
Overall Rating: 1.5/5
Recommended?

No
What is Hive Work?
Hive Work, aka Hive Micro, is a platform where you can get paid to work on micro-jobs.
If you have never heard about this type of job before, it's simple!
Micro-jobs are simple tasks that usually can't be automated by computers yet.
Most of these tasks are being requested by companies that are developing AI (artificial intelligence). 
For example, if they need a system that automatically identifies dogs in YouTube videos, a human should first show the artificial intelligence what a dog looks like.
That's where micro workers come in.
You may have to draw boxes over objects, categorise items, timestamp videos, label images, identify specific issues, transcribe pieces of audio, and more.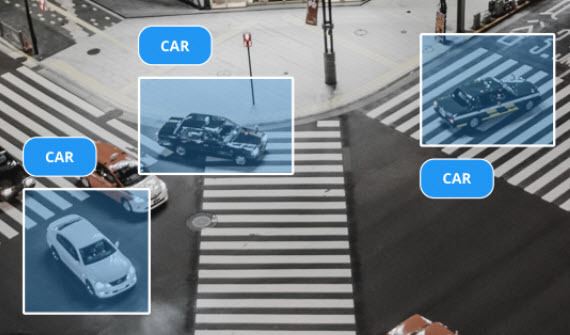 Because these tasks are relatively easy and don't require any special skills, they can be promptly outsourced from all over the world.
As a result, the pay rate is incredibly low, especially for people who live in western countries.
There are similar and more popular platforms where you can complete micro-jobs such as Amazon Mechanical Turk, Clickwork, and Remotasks.
You may want to check those out as well!
Is Hive Work a Scam?
After careful research, I concluded Hive Work is not a scam by any means.

I have read many user reviews on Google Play and didn't find many complaints about payments.
So, they honour payments.
The main problem is the incredibly low rates of pay!
The pay is so bad that someone labelled these jobs as "modern slavery", and said that collecting cans was more profitable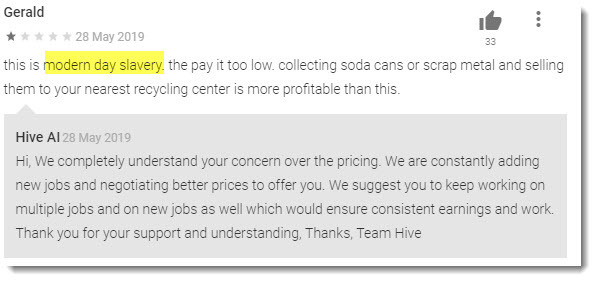 Many tasks can take 1-2 minutes and pay only $0.001 or less.
Therefore, you can work 8+ hours per day only to make less than $1.
RECOMMENDED: Click here to see my no.1 recommendation for making money online.
Pros and Cons
Pros
Easy jobs.
There are plenty of tasks.
Get paid via PayPal.
It's available in 200+ countries.
You can retake the tests as many times you need if you don't pass.
Cons
The pay rate is abysmal.
Repetitive / Tedious job.
You need to maintain a high level of accuracy, or you will be banned from tasks.
There is no FAQ.
The referral program is restrictive.
How Does it Work?
You can complete tasks either from your computer or mobile device through the Hive Work App.
To access the tasks on your computer, visit hivemicro.com.
Now, if you are planning to use Hive Work from your phone or tablet, you can download the app on Google Play or App Store.
Registration
The registration is free and straightforward.
You just need to provide your full name, email address, country and language.
Micro-tasks 
After you log in, you will see a list of micro-tasks with the respective description, number of tasks available, and pay rate.


The pay rate is shown as dollars per 1000 tasks.
To start working, you should first pass a qualification test, which is very time-consuming!
First, they will explain and give you essential guidelines on how to perform the task.
The instructions may include helpful videos!
I completed the test for the Bounding Box Polygon task, where I had to draw up to 2 polygons around residence rooftops.

This reward platform is going viral! Cash out via PayPal, Visa, Gift Cards, and in-game currencies - Click here to find out how to generate an extra $10+ per day!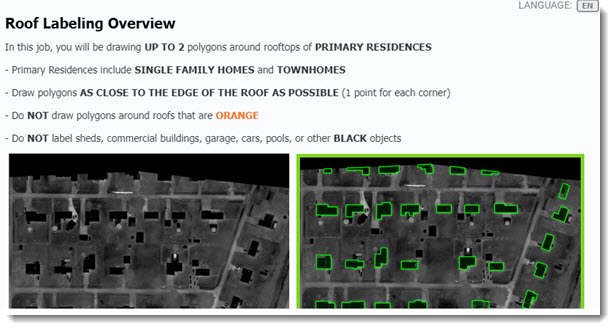 There were 27 tasks and I had to complete correctly at least 19 tasks to pass.

I thought it would be easy, but this one required extreme attention for detail.
Keep in mind that if you quit during the test, all the remaining tasks will be marked incorrect, and you will have to retake the test from the beginning.
The good news is, you can do the test multiple times until you pass!
BUT…
Once you pass, and you start the actual job, you must maintain a high level of accuracy.
Many people report being banned from tasks because of their low accuracy level.
One thing I didn't like about Hive Work is that there isn't a FAQ to learn about the rules.
How Much Money Can You Make?
The highest-paid job I found on Hive Work was the rooftop polygon drawing, which was $5 per 1000 tasks.
The lowest-paid job was the receipt categorisation, at just $0.10 per 1000 tasks!!! 
Other tasks that I came across at the time of writing this review was:
Determine if the driver's eyes are opened or closed – $0,15 per 1000.
Does the text match the image? – $0,15 per 1000.
Does the text match the frame – $0.20 per 1000.
Name the tv promotion in the short video clip – $0.55 per 1000.
Fix the highlighted roof polygon – $0.50 per 1000.
Drag the start time to the beginning of the NFL broadcast – $0.85 per 1000.
If you look at the Hive Work's homepage, they say over 2 Billion tasks were labelled, and over $2 Million earned.
So, on average, we can assume that people are making $0.001 per task, or $1 per 1000.
In reality, the average is much lower!
The Leaderboard – VERY DISCOURAGING FIGURES
I found some shocking numbers on the Leaderboard.
This page lists the top 50 daily, weekly and all-time earners along with their total earnings and number of tasks.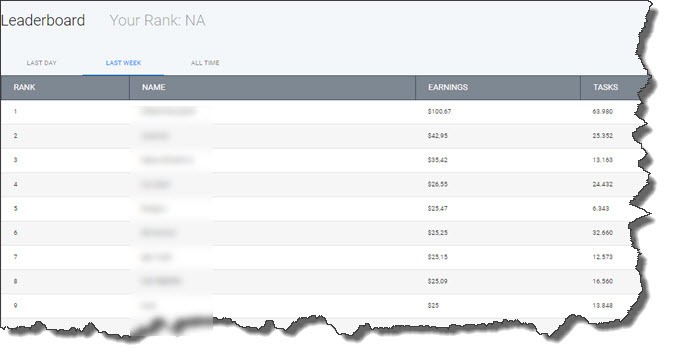 Last week, the top earner made $100,67 by completing 63.980 tasks.
That's approximately $0.0015 per task, which resonates closely to the estimation above.
Even though these people are on the top 50, most of them made less than $21 last week.
Now, when we consider the All-time top earnings, we can see that the average pay rate drops to $0.0003 – $0.0006 per task.
That's insane!
Unless you live in a country where a minimum wage job pays you less than $4 per day, you will probably feel very discouraged to put in all the time and effort.
Payment
Once you reach the minimum payout threshold, you can withdraw either via PayPal or Bitcoin.

The minimum payout is set at $10, but you can lower to as low as $2.
To receive the payment, you must configure your PayPal account, even if you want to get paid via Bitcoin.
I don't know why they need your PayPal to pay you in Bitcoin, but that's how it works.
Referral Program
I bet you would be better off promoting Hive Work than actually completing tasks.
But again, you will not earn much even if you refer hundreds of people!
With the referral program, you will get $1 for every $5 that your referral earns.
Before you can invite people through your affiliate link, you must first earn your first $2 by completing tasks.
Another downside is that you can only earn up to $5 per referral.
Conclusion
There is no reason to believe Hive Work is a scam.
It's a safe platform, and you will get paid.
However, you must be willing to complete thousands of tedious tasks for less than $1.
You may think that it's easy to get paid for drawing boxes before, but…
How long can you withstand being in front of the computer doing the same darn thing for hours on end?
Also, could you do it on a daily basis?
You have to think carefully about all the other options because Hive Work offers one of the lowest pay rates on the internet.
If you pay for your energy and internet data, I suspect that you won't even be able to cover those costs.
Verdict: Legit – Not Recommended
How I Made $1,200/mo While Traveling
People do whatever they have to do to put food on the table.
That includes completing 1000 tasks for less than $1.
But what if I told you you could earn much more while working much less?
For example, this month, I made over $1,200 in affiliate commissions while travelling to Portugal and the English countryside.
Here is a screenshot of some of my recent commissions: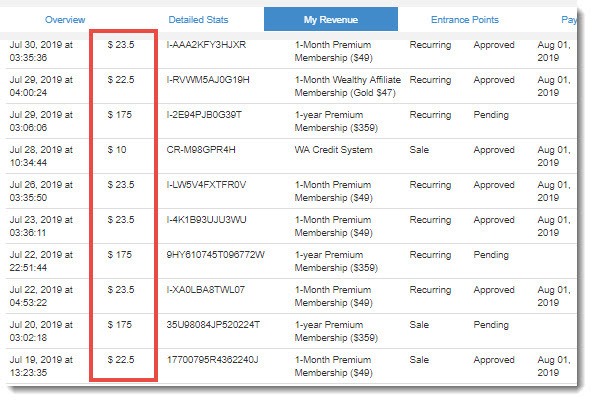 I worked for 2 weeks and travelled for the other 2 weeks.
Still, I kept making enough money to cover all my living and travelling expenses!
So, how did I do it?
Well, I have an online business which operates 24/7 and generates passive income.
That means, even if I stopped working for a couple of months, I would still make money.
Anyone can build this type of business!
However, I would be lying if I told you that anyone could achieve fast results.
It took me almost 3 years of consistent work to reach this income level.
Some people achieve this in 1 year because they are not full-time employees. They live with their parents or have other income sources.
They have all the time in the world to grow their online businesses.
Well, not me…
I had to grow this business while still working for my boss 40 hours a week.
However…
Had I worked for Hive Work or any other GPT platform during this period, I would be still trading my time for less than minimum wage.
So, if you want to learn how to build a profitable internet business, check out my top-rated training here.
After following this training, many people were able to quit their jobs and become full-time internet marketers.
The good news is, you can start today for free!
Final Words
Thanks for reading my Hive Work review, and I hope it helps you make an informed decision.
If you wave questions or want to share your results with Hive Work, feel free to leave us a comment below.
I wish you all the best.
Stefan