BFast BFree Review – Scam or Legit BTC Earning App?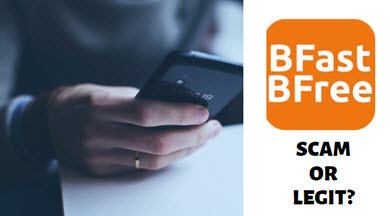 Welcome to my BFast Bfree App review!
I've just come across the BFast BFree app, which is offering an easy way to earn bitcoins from your smartphone.
Now, you probably know many deceitful apps will collect your data and make you waste your precious time. You want to avoid all that crap!
Like you, I am always very sceptical of any site or app that make such claims.
So, you may be wondering if you can really make money with Bfast BFree app. Is it a scam or legit opportunity? How does it work?
I've put up this review to answer your questions and address your concerns.
While you are here, you may want also want to discover my #1 recommendation, which helped me build an internet business from scratch and earn a full-time income online. It's free to get started and 100% newbie-friendly!
BFast BFree App Review
---
Name: BFast BFree
Website: No website available.
Developers: B Programmers
Price: 100% Free
Membership Eligibility: Worldwide
Overall Rating:

1.6

/5
What is BFast BFree All About?
---
BFast BFree is a mobile application that will give you point rewards just for watching videos.
After you accumulate the minimum number of points required, which is currently 5500, you can redeem for Bitcoins through Coinbase.
The app is only available for Android devices, and you can only get paid if you have a Coinbase account.
Is BFast BFree App a Scam?
---
After reading lots of user reviews on the Google Play store, I found many people who received the payment but also those who didn't get paid.
It seems like the app has frequent issues with payment, which prevent people from cashing out.
The most common issue that people report is the supposed "lack of energy" when trying to claim the Bitcoins.

The problem is that the company doesn't explain what is this energy all about.
It seems to me that this is a lame excuse to avoid payments and maintain profits at a higher level.
However, I have no proof of that, so I can't claim the app is a scam based solely on the information that I have.
No Terms of Service!!!
---
Another thing that found intriguing is the fact that the app doesn't provide a Terms of Service.
Most people never read this page, but it's crucial because it gives you a better picture of what to expect from using the app.
For example, most apps will tell you about the rules to avoid having your account banned, and many other things.
BFast Bfree app doesn't have any of that, so they can simply forfeit your points, or ban your account for any reason whatsoever.
If you still want to use the app, beware that you may not get paid.
Before I explain how this app works, let's have a look at the pros and cons.
Pros and Cons
---
Pros
No work involved.
Free to join.
Cons
Pay is extremely low.
There is no FAQ.
They don't tell you the bitcoin value of one point.
There is no "Terms of Service" page.
It drains your battery and consumes lots of internet data.
The ads are very repetitive.
There is no information about the company or the creators.
How Does it Work?
---
Installation and Registration
You can download the app for free on the Google Play store.
When you open it, BFast Bfre will ask permission to access your photos, media, files and location.
According to the developers, permission is only used to improve the ad experience. However, we will never know what is being done behind the scenes.
Next, you must enter your email linked to your Coinbase account. If you don't have one, you have to create an account, which is free of charge.
Coinbase is the most popular platform to buy, sell and store Bitcoins and other cryptocurrencies.
Although it's free to use, there are transaction fees every time you sell BTC to dollars.
RECOMMENDED: Click here to see my no.1 recommendation for making money online.
Referral code
Before using the app, you can insert a referral code of a friend. Usually, reward apps will give you an initial bonus or a percentage of your friend's earnings if you have a code.
BFast Bfree doesn't explain what you will earn if you insert a code. I entered a code that I found on the Beermoneyforum and haven't received any points so far.
Earning Points
You will see this orange screen with different numbers and a "GO" button below.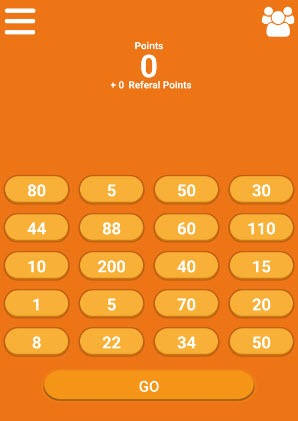 When you tap "GO", the app will select a random number from that list, which corresponds to the number of points that you will earn in the current round.
You have to watch the video ad until the end to win the reward. Most ads last 30 seconds and are usually promoting a cash app or game.
Some ads require you to play a quick trial game from another app.
After trying it for a while, I noticed that even if you watch the entire ad, you won't always get the points.
I watched 6 consecutive ads and didn't collect any points, which was very disappointing!
When you finish watching the ad, they will redirect you to the Google Play store to download the app.
It's quite annoying because you have to close that window every time to continue.
Another downside is that the ads are repetitive. So, it's a draining and tedious experience.
Payments
You can only request a payment to your Coinbase account once you have accumulated at least 5500 points. 
The problem is that BFast BFree developers won't tell you the value of a point, so you never know how much BTC you will get after the conversion.
How Much BTC Can You Earn?
---
I didn't reach the minimum cashout threshold because that would probably take an entire day.
Instead, I went to the Google Play store to see what people were saying.
One person claimed that he used the app for a whole day and got paid only 0.00000373 BTC (31,500 points).

Currently, 0.00000373 BTC is $0.03 USD.
Even if you live in a country where the dollar has a strong purchasing power, the pay rate is abysmal.
Another person pointed out that collecting 10000 takes about 3 – 4 days, so in that case, you would make $0.01 per day.

What's even worse, there is a risk of not getting paid due to any reason they come up with.
Referral Program
---
You will earn 5% of your friend's points when he or she downloads the app and use your referral code.
5% is incredibly low, especially considering the extremely low pay rate provided.
If your friend makes 3 cents per day, you will be left with $0.0015, which is close to nothing!
Is Bfast BFree App Even Profitable?
---
Let's not forget when you are using the app and watching tons of videos, it's draining your battery and internet data.
Therefore, if you have to pay for your energy and internet plan, you will be at a loss because combined, these costs can be higher than what you earn.
Way higher to be honest!
Conclusion
---
In my opinion, if you are desperate to make money, Bfast Bfree app will do you more harm than good.
Again, I can't tell you whether BFast Bfree is a scam or not because I don't have any proof.
The pay rate is one of the lowest I have ever seen in any app or website.
Unless you use public energy and wifi, you will probably lose money because watching ads won't cover your bills.
Even if the BTC price skyrocket, that wouldn't make any difference because they would almost certainly lower the value of one point.
But wait! It gets worse! Many people report having issues with payments, so there are no guarantees you will be able to cash out.
BFast BFree lacks a FAQ section and the "terms and conditions" page, which is an absolute must, especially for this type of money-making application.
Because of all these negative factors, I don't recommend wasting your time with this app.
Not Recommended 
My Humble Advice
---
If you want to get paid for watching ads, the best platform that I recommend is Hideout.TV within a GPT site called Prizerebel.
However, you will realise that you can make more money by taking surveys and completing offers.
Surveys usually pay one-third of the minimum wage in your country, which proves my point.
The reality is that it's almost impossible to make a living by doing easy tasks online.
If you are serious about making money online, I highly recommend a business model called affiliate marketing.
Hordes people are taking advantage of affiliate marketing to work remotely. Many of them quit their jobs and are now digital nomads or stay-at-home parents.
If you are willing to put in the work, check out my #1 Recommendation so you can take the rights steps to build a profitable affiliate site.
This platform has helped thousands of one entrepreneur to succeed during the past 12 years, and it's still the best option out there.
The best part is that you can get started today for free!
Final Words
---
Thank you for reading my BFast Bfree app review. I sincerely hope that it has answered all your questions and concerns regarding this app.
If you think the information you found here was helpful and interesting, kindly share with other people on social media.
Also, if you want to share your experience using Bfast Bfree app or you have any questions, feel free to use the comment box below.
I wish you all the very best!
Your friend,
Stefan