Welcome to my BFast Bfree App review!
BFast BFree is a mobile application that offers a simple way for you to earn free bitcoins from your smartphone.
You probably know there are many deceitful apps that will collect your personal data and make you waste a significant amount of time.
I am always very skeptical of websites and apps that promise fast and easy money online. However, BFast Bfree surprised me with an overall rating of 4.8 out of 5, making it one of the top-rated reward apps on Google Play.
You are reading this review to make sure you can really make some money with the Bfast BFree app. Is it a scam or legit opportunity? How does it work?
Let's find out!
While you are here, you may want also want to discover my #1 recommendation, which helped me build an internet business from scratch and earn a full-time income online. It's free to get started and 100% newbie-friendly!
BFast BFree App Review
Name: BFast BFree
Website: https://www.facebook.com/bfastbfree
Developers: B Programmers
Earning Potential: Extremely low
Price: 100% Free
Membership Eligibility: Worldwide

LEGITIMATE

Overall Rating:

2.5/5
What is BFast BFree?
BFast BFree is a unique mobile application that allows you to spin the roulette and earn points ranging from 1 to 200. Once you accumulate 5000 points, you can redeem for Bitcoins through your Coinbase account.
It's a very simple app that will give you free spins for watching sponsored videos on your phone. That' all you have to do!
The BFast BFree app is available on Android devices and has been installed over 100,000 times from people all over the world.
If you prefer earning Etherium rather than Bitcoins, the company has another identical app called EFast EFree.
Is BFast BFree App a Scam?
No, I don't think BFast BFree is a scam. After reading lots of reviews on Google Play, I noticed that most people collect points and receive payment with no issues.
There is nothing suspicious about the way this app operates. Just like other reward apps, they are just sharing a tiny percentage of advertising revenue with users.
When I reviewed this app over a year ago, it had frequent issues with payment. Well, not anymore!
The most common issue people report nowadays is the "lack of energy" when trying to use the Roulette. This lack of energy means lack of commercials.

No Terms of Service!!!
Another thing I find intriguing is the fact that BFast BFree does not provide a Terms of Service. Most people never read this page, but it's crucial as it gives you a better picture of what to expect from using the app.

For example, most apps will tell you about the rules, your rights, or the lack thereof. Unfortunately, the BFast Bfree app doesn't have any of that, so they can delete your points, or ban your account for no reason. If you still want to use the app, beware that you may not get paid.
Before I explain how this app works, let's have a look at the pros and cons.
Pros and Cons
Pros
It doesn't require any work.
Instant withdrawals.
Easy to use.
It's free to join.
Cons
The point – BTC conversion rate is exceptionally low.
BFast BFree does not show you the current conversion rate.
There is no FAQ.
There is no "Terms of Service" page.
It drains your battery and consumes lots of internet data.
You must watch teh clip every time you click on the menu.
There is no information about the company or developers.
How Does BFast BFree Work?
Installation and Registration
The Bfast Bfree app is only available for Android users, so you can install it for free on Google Play.
When you open the app, BFast BFre will ask permission to access your photos, media, files, and location.
According to the developers, permission is only used to improve the ad experience. However, we will never know for sure what is really going on behind the scenes.
Next, you must enter your email linked to your Coinbase account.
Coinbase is the most popular platform to buy, sell and store Bitcoins and other cryptocurrencies. Although it's free to use, there are transaction fees every time you sell BTC to real-world currency.
RECOMMENDED: Click here to see my no.1 recommendation for making money online.
Referral code
Before using the app, you can insert a referral code of a friend. Usually, reward apps will give you a startup bonus or a percentage of your friend's earnings if you have a code.
BFast Bfree doesn't explain what you will earn if you insert a code. I entered a code that I found on the Beermoney forum and didn't get any points.

How to Earn Points
When you open the Bfast Bfree app, you will see this orange screen with different numbers ranging from 1 to 200 and a "GO" button.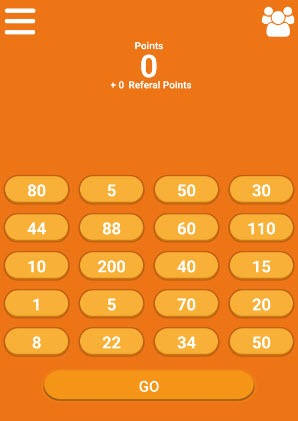 When I first installed this app, I did not understand what these numbers meant until I pressed the "GO" button". Then, I discovered this was a roulette!
When you tap "GO", BFast BFee will encourage you to watch a video to get 1 ENERGY point.
After you click ok and watch the video, the app will select a random number, which corresponds to the number of points that you will earn.
Some videos are interactive and require you to play a quick trial game from another app.

This reward platform is going viral! Cash out via PayPal, Visa, Gift Cards, and in-game currencies - Click here to find out how to generate an extra $10+ per day! 
You can only play the roulette if you watch the commercial until the end. Most of them take 30 seconds and are usually promoting another reward app or mobile game.
When the video ends, they will redirect you to Google Play so you can download the app in the advertisement.

You don't have to install it if you don't want to. Simply close the window to return.
It's annoying because you have to watch and close the window all the time. It's a draining and tedious experience.
When I first used Bfast Bfree 1 year ago, I watched 6 consecutive videos and didn't collect any points, which was very disappointing. But I reinstalled the app a few months ago, and it worked!
Energy Points 
The ENERGY points differ from the points you get by playing the roulette. You never accumulate energy points because they are consumed as soon as you press "GO". I think the developers should remove them to avoid confusion.
Sometimes, you may get a message saying you've run out of energy. That's because there is no vide od available by the time you are trying to collect points. In that case, you should try again later.
How Much Money Can You Make?
I didn't reach the minimum payout threshold because that would take many hours. Instead, I went to the Google Play store to see what users were saying.
One person claimed he used the BFast BFree app for an entire day and redeemed 31,500 points for just 0.00000373 BTC. At the time he left his review, that amount of BTC was equivalent to 1.60 PHP (Philippine pesos) or $0.03 USD.

As you can see, even if you live in a country where the dollar has a strong purchasing power like the Philippines, the pay rate is abysmal.
Another person said he was making 10000 ($0.01 USD) points every 3 or 4 days.

You will get paid, but is it worth your time and internet data? Well, I know it feels great to make money with no actual work. But the question is: What could you buy with $0.03 USD in your country?
How Do You Get Paid? 
You can only request a payment to your Coinbase account once you have accumulated at least 5000 points. The problem is that BFast BFree won't tell you the value of a point, so you never know the amount of BTC before redeeming your points.
To cash out, click on the menu, watch another video, and then click on the "Claim button". The payment is usually processed within a few minutes.
You can exchange your Bitcoin to your local currency through Coinbase, but you will have to pay a bank transaction fee.
Referral Program
Invite your friends to join BFast Bfree and earn referral commissions. You will earn 5% of all your friends' points when they install the app and enter your referral code.
This commission rate is incredibly low considering most BFast Bfree users don't earn more than $0.03 worth of BTC per day.

Think about it. 5% commission on $0.03 equals $0.0015, which is practically nothing. Heck, even if you invite 100 people, you can only $0.15 per day. There is no point in promoting an app for such an insignificant commission rate.
Is Bfast BFree App Even Profitable?
The BFast Bfree app drains your battery and consumes a significant amount of internet data in return for very little money. Therefore, if you have to pay for your energy and internet plan, your profit will hit the rock bottom. I dare say your earnings will not even cover the extra cost of running this app.
Conclusion
If you are desperate to make money, the Bfast Bfree app will do you more harm than good.
I don't think it's a scam because there are lots of people who get instant payments to their Coinbase account. However, the crucial problem with this app is the low rate of pay.
People watch videos for many hours only to make 1 cent worth of BTC. Even if the price of Bitcoin skyrockets, you should not expect to make a lot of money.
Unless you don't pay for energy or internet, you will probably lose money because of the high data consumption.
Don't use Bfast Bfree if you have limited cell phone data, or your allowance will end quickly.
BFast BFree lacks a FAQ section and the "terms and conditions" page, which are essential for this type of money-making application.
All that being said, I don't recommend wasting your time with this app.
Not Recommended 
Is There a Better Alternative to BFast Bfree? 
Other two apps you can use to collect free Bitcoins are Pitacoin and Cointiply.
Now, if you want to make money by watching video, I recommend using Hideout.TV. This is is a third-party platform available through a GPT site called Prizerebel.
The advantage of Prizerebel over BFast BFree is that the cash incentive is higher, and you don't need to click "Go" and close the ad all the time.
However, you can make more money by taking part in marketing research studies and completing offers.
Surveys usually pay less than half of the minimum wage, which can is discouraging for most people. As you probably know, these platforms can only earn you a little extra money.
How to Make a Full-Time Income From Home
If you are serious about making money online, I highly recommend a business model called affiliate marketing.
Hordes people are taking advantage of affiliate marketing to work remotely. Many of them quit their jobs and are now digital nomads or stay-at-home parents.

If you want to put in the work, check out my #1 Recommendation so you can take the rights steps to build a profitable affiliate site.
This platform has helped thousands of entrepreneurs to succeed during the past 15 years, and it's still the best option out there.
The best part is that you can get started today for free!
Final Words
Thank you for reading my BFast Bfree app review. I sincerely hope that it has answered all your questions and concerns regarding this app. If you think the information you found here was helpful and interesting, kindly share it with other people on social media.
Also, if you want to share your experience using Bfast Bfree app or you have any question, drop them in the comment box below.
Stay safe and peace out!