Welcome to my Pitacoin app review!
I've recently discovered Pitacoin, a Japanese app that gives you free bitcoins for predicting whether Bitcoin price will rise or fall.
You may be skeptical of installing this type of app as you never know what is hidden behind the small prints.
Is Pitacoin a scam or legit application? How much can you earn?
In this review, I am going to explain exactly how it works and give you my honest opinion.
If you want to work remotely and earn a full-time income online, check out my #1 recommendation. This is the same program that helped me reach $1,600 per month and quit my job in 2019. 
Pitacoin App Review
---
Name: Pitacoin app
Website: https://pitacoin.app/
Company: Popshoot Co.
Membership Eligibility: Worldwide
Price: Free
LEGITIMATE
Overall Rating:

3.5/5
What is Pitacoin?
---
Pitacoin is an innovative Bitcoin prediction game developed by a Japanese company called Popshoot Co.
The app was first launched in Japan in 2016 and released worldwide in December 2019 via Google Play.
All you have to do is decide whether the Bitcoin price will go up or down by tomorrow.
Then, simply tap Up or Down to participate.

This reward platform is going viral! Cash out via PayPal, Visa, Gift Cards, and in-game currencies - Click here to find out how to generate an extra $10+ per day! 
It's that easy!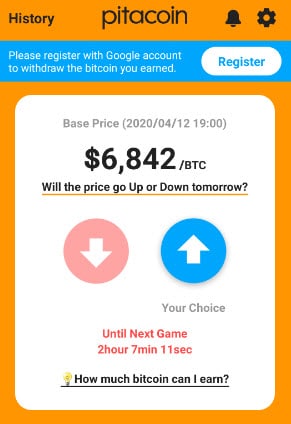 If your prediction is right, you will earn actual Bitcoin that will accumulate in your BTC balance.
Once you earn 1546 satoshi (=0.00001546 BTC), you can withdraw directly to your BTC wallet.
At the same time, you also have the opportunity to learn about cryptocurrency while playing.
Is Pitacoin a Scam?
---
No. I don't think so!
I believe Pitacoin pays without any issues, but the problem is that it takes a long time to earn just $0.06!
You can win some decent prizes if you are lucky, but most people only earn 10 satoshi per day or $0.00067.
That's literally NOTHING!

Now, before I explain in detail how Pitacoin works, let's have a look at the pros and cons.
Pros and Cons
---
Pros
No work required.
No risk.
Earn bonuses for consecutive hits.
It has a strong reputation in Japan.
You can earn more by getting playing scratch cards and referring friends.
There are not many ads compared to other reward apps.
Cons
Extremely low rate of pay – Earn less than $0.02 per month!
It takes a long time to cash out!
There are some glitches.
Will You Get Paid?
---
Yes, you will get paid, but you have to be patient.
The minimum withdrawal requirement is too high, so it takes a long time to cash out!
How Does Pitacoin App Work?
---
Just like most mobile applications, Pitacoin app is entirely funded by advertisers.
That means Pitacoin is earning money by showing you ads and sharing part of the advertising revenue with you.
Installation and Registration
Pitacoin is available worldwide for Android users.
You can install the app on Google Play and start playing immediately.
However, you should register with Google Account to be able to withdraw your bitcoins.
You will earn 100 satoshi as a gift, which is worth less than 1 cent! 

Predicting the Bitcoin Price
Simply press up or down depending on what you think the Bitcoin price will be in the next 24 hours.
You can change your mind any time within the voting time.
How Much BTC Can you Earn?
If your prediction is right, you will earn 10 satoshi (=0.00000001 BTC).
In addition, you will earn bonus bitcoins for consecutive hits.
3 Hit bonus – 100 satoshi
5 Hit bonus – 500 satoshi
7 Hit bonus – Split 0.01 BTC with every user that also got 7 hits.
Now, if your prediction is wrong, you can still earn 10 satoshi for watching an Ad.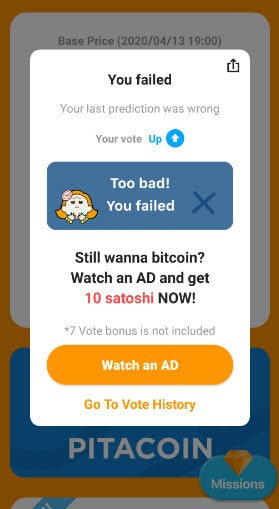 You will also earn a bonus of 100 satoshi for voting 7 days in a row.
How Much is 10 Satoshi in USD? 
1 satoshi is equal to 0.00000001 BTC, which is currently worth  0.000067 USD
Therefore, 10 satoshi equals 0.00067 USD.

Let that sink in for a moment…
If you earn 10 satoshi per day (without the bonuses), that means you will earn $1 after 4 years!
Pita Jackpot
Every week, Pitacoin holds sweepstakes where you have a chance to win a lot of bitcoins.
There are different prizes including the jackpot of 100,000 satoshi. You can get free tickets entries by watching 3 short commercials.
The more tickets you have, the higher your chances of winning!
Mission Bonus
If you complete all the daily missions, you will get a bonus of 10 satoshi.
The 4 missions are easy to complete. Here are them:
Vote up or down.
Watch an Ad at the ticket center
Pita jackpot entry
Lucky scratch pick
Invite Your Friends – Give and Get 1000 Satoshi
Share your invitation code with your friends and when they complete daily missions, both of you will receive 1000 satoshi.
You can enter my invitation code to earn free 1000 satoshi:
INVITATION CODE: ktOLPr
Conclusion
---
Pitacoin is a legitimate mobile app to earn free bitcoins!
I like the fact that I don't need to waste time completing offers or watching a ton of ads.
Nevertheless, I think very few people will have the patience and determination to collect 1546 satoshi in order to cash out.
It can take you 4 – 5 months to collect the equivalent to 0.06 USD, which is insane!
I have reviewed over 100 reward apps, and I can assure you that Pitacoin is the one that pays the least.
Verdict: Legit 
How to Earn A Full-Time Income from Home
---
If you want to earn a decent amount of money on the internet, you need to forget about sites and apps that are funded by advertisers.
Instead, I suggest building your own website that will work for you 24/7!
I am currently making over $1,600 per month with my affiliate site.
My "job" as an affiliate consists of creating helpful content and promoting other people's products through my website.

That's called affiliate marketing, a solid business model that has been working like a charm for over 2 decades!
If you want to learn how to build a profitable niche site from the ground up, check out my #1 recommendation.
Then, take massive action, rinse and repeat until you reach your financial goals!
Final Words
Thanks for taking the time to read my Pitacoin app review. I hope it was helpful!
If you have any questions, feel free to drop me a comment below.
Stay safe!