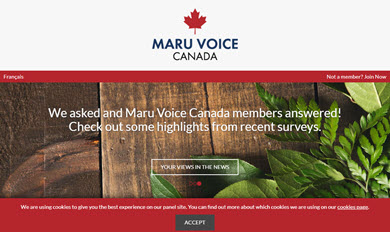 Welcome to my Maru Voice Canada review!
If you live in Canada, you may have heard about this marketing research panel called Maru Voice Canada.
The company claims you will get rewarded for sharing your honest opinions about products and government policies.
After reviewing hundreds of survey sites, I discovered many of them are not worth joining for various reasons.
Therefore, I recommend doing some careful research before providing your personal data to any marketing research company.
My mission is to cover everything you need to know about Maru Voice Canada and give you my honest opinion.
Is it a scam or legit site? How much money can you earn? Will you get paid?
We'll find out soon!
TOP RECOMMENDATION
If you want to work remotely and earn a full-time income online, check out my #1 recommendation. This exact step by step program helped me reach $1,600 per month and quit my job in 2019. 
Maru Voice Canada Review
---
Platform: Maru Voice Canada (former Angus Raid Forum)
Website: https://www.maruvoice.ca/
Company: Maru/Blue
Membership eligibility: Canada (+18)
Price: Free to join
Minimum Payout: $50
Similar sites: LEO, Branded Surveys, Tellwut
LEGITIMATE
Overall Rating: 2.5/5
What is Maru Voice Canada?
---
Maru Voice Canada is a survey panel owned by a leading data services firm called Maru/Blue.
The company also operates in the UK as Maru Voice UK and in the United States as Maru Springboard America.
As a member of Maru Voice Canada, you will share your opinions that will have an impact on business and policymaker's decision.
According to the homepage, respondents have earned a total of $58,060 in March 2020.
That is much higher than the £3,191 earned by UK residents in the same period. That means the Canadian counterpart is a lot more active!
Pros and Cons
---
Pros
It's a trustworthy panel.
Decent pay compared to other survey panels.
Redeem your points via PayPal, Physical and Virtual, and various eGift cards.
Cons
Very slow earnings – It takes a long time to cash out.
The minimum cashout requirement is way too high.
In many cases, you will just earn entries for prizes.
It's usually closed for new participants.
There are not many surveys.
How Does Maru Voice Canada Work?
---
Registration
Maru Voice Canada is only open for Canadian residents who are 18 years of age or older.
The registration is very straightforward.
However, it's not always open to new applicants.
The company prefers to limit the number of participants so that everyone get a decent number of survey invitations.
In my opinion, that's a sensible approach!
If you can't open an account right now, you should visit the site regularly as they recruit throughout the year.

In the meantime, you can get complete daily surveys with my top-rated GPT site here.
Complete Your Profile
After signing up, Maru Voice Canada will ask you a few profiling questions about your age, gender, education, etc.
The company will use your profile to match you with surveys that are right for you.
Take Surveys
Maru Voice Canada will send you an email whenever a new survey matches your profile.
Surveys usually take 15 – 25 minutes and pay between 0.50 CAD (50 points) and 2.50 CAD (250 points).
Prolific Academic pays much more! Their surveys are shorter and you won't get disqualified!
Unfortunately, many surveys at Maru Voice Canada award entries into prize draws.
In that case, your chances of getting paid for your time are significantly low.
Personally, I would avoid such surveys because you want to make sure you get paid!
You should expect to get 1 – 2 surveys per week and earn less than 5 CAD per month.
Keep in mind that you must complete at least one survey every three months.
Otherwise, the company may terminate your account and forfeit all of your past earnings.

Survey Disqualifications
If you are new to surveys, it's important to know that you won't qualify for every opportunity.
Although your profile matches the survey, additional screening questions might indicate that you are not the right candidate.
That's pretty standard.
However, some survey panels tend to disqualify panelists more than others.
Some companies go as far as canceling the survey after people have been through all the questions.

This reward platform is going viral! Cash out via PayPal, Visa, Gift Cards, and in-game currencies - Click here to find out how to generate an extra $10+ per day! 
That can happen with you at Maru Voice Canada.

User Reviews – Complaints
---
I have seen some complaints about frequent survey disqualifications.
At Survey Police, one person said he was not able to complete the last 15 surveys!
Another member complained that he didn't get credited after completing a lengthy survey.
According to Maru Voice, that happened because the study had reached its quota before he finished the survey.
How Do You Get Paid?
---
Once you have 5,000 points, you can withdraw $50 via PayPal, Visa and gift cards.
In my opinion, the minimum amount required to cash out is too high compared to other panels.
Most survey and GPT sites have a minimum requirement of $5 or less!
For example, the minimum payout on Prizerebel is $5 and the minimum on Offernation is only $1.
Conclusion
---
Maru Voice Canada is 100% legit, but it doesn't stand out from more popular survey sites.
The main downside is that it takes a long time to cash out!
There are not many invitations even though the company limits the number of new respondents.
In my opinion, there are better sites that you can use to complete surveys such as Prizerebel and Prolific.
But…
At the end of the day, only you can decide if Maru Voice is worth joining based on your own research.
Verdict: Legit
A Much Better Strategy… $1,600/mo!!!
---
I've given up surveys a long time ago and I don't regret my decision!
Yes, I understand it can be the only solution for many people who urgently need the money. That's fine!
But as you spend more and more time on surveys, you are leaving behind other methods that can really transform your life.
You can reach your fullest potential and make a lot more money if you focus on the right strategies.
I am currently making over $1,600 per month by creating helpful content and advertising other people's products through my website.
That's called affiliate marketing, a solid business model that has being working like a charm for over 2 decades!
If you want to learn step by step how you can build a lucrative website, check out my #1 recommendation.

Then, take massive action, rinse and repeat until you reach your financial goals!
Final Words
Thanks for taking the time to read my Maru Voice Canada review. I hope it was helpful!
If you have any questions, feel free to drop me a comment below.
I will be more than glad to help! 😊
All the best
Stefan