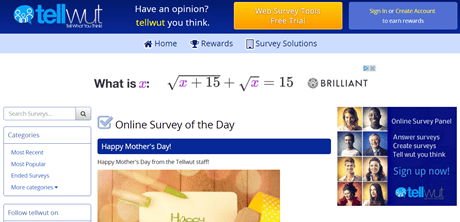 Welcome to my Tellwut review!
If you live in the US or Canada, you may have found Tellwut and the opportunity to complete quick surveys for cash.
The internet is full of survey panels where you get paid to share your opinions with marketing research firms.
The problem is that most of them disqualify participants regularly, making you waste a significant amount of time.
Unlike other survey sites, Tellwuts surveys are short and don't disqualify people based on their answers.
Now, you are probably wondering…
How much money can you earn with Tellwut? Is there any catch? Is it a scam or a legit site?
In this review, I will show you exactly how Tellwut works and give you my honest opinion about it.
Top Work From Home Opportunity
If you want to work remotely and earn a full-time income online, check out my #1 recommendation. This is the same program that helped me reach $1,600 per month and quit my job in 2019. 
Tellwut Review
---
 Platform:

Tellwut – "Tell us What you Think"

Company: Tellwut Corp.
Website: tellwut.com
Strategy: Online Surveys
Membership eligibility: US and Canada (18+)
Price: Free to join
Similar Sites: Myiyo
Rating: 4/5
What is Tellwut?
---
Tellwut is a survey website operated by a well-established market research firm in Canada.
With over 400,000 members in North America, the company provides valuable insights and market research solutions to businesses, institutions, and students.
Tellwut stands out from other survey sites because members get paid not only to take online surveys but also to create them. 
Another great thing about Tellwut is that members can engage in discussions about any survey and send messages to each other.
It's a kind of social media network that pays for your opinions about different topics and products.
In my opinion, it's a very innovative platform!
Is Tellwut a Scam?
---
No. Tellwut it's definitely not a scam! The company is BBB (Better Business Bureau) accredited since 2013 and has an A+ Rating. Which is excellent!
I found five user complaints on the BBB's website, but they were not convincing enough to damage Tellwut's reputation.
In one instance, Tellwut stated that the person was banned for not paying attention to questions and clicking randomly.
In other words, the person apparently violated the terms and conditions and, as a result, couldn't withdraw his/her $25.
Here is one example of a tricky question that, if answered incorrectly, can get you in hot soup:

How often do you travel to planet Jupiter?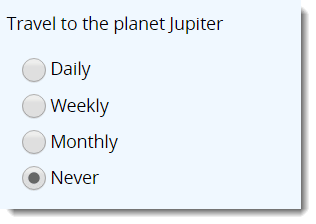 People who are rushing through the survey may not give the right answer, and thus, can get penalized.
Pros & Cons
---
Pros
Free to join.
Trustworthy.
The public surveys are quick, easy, and even fun sometimes.
Earn points for creating surveys.
You can complete surveys from either your desktop or mobile phone.
Cons
It pays significantly less than many other survey sites.
It only rewards residents of the United States and Canada.
You can't cash out via PayPal.
You can't create more than two surveys per week.
The referral program is not very generous.
it takes a long time to cash out.
How Does Tellwut Work? 
---
Point System
As an active member, you will earn points that you can redeem later for various gift cards such as Amazon.
I will explain more about rewards later, but for now, it's important to know that 1 Tellwut equals $0.0025.
Registration
The first step is to create your account and click on the confirmation link in your email.
You will earn 100 sign up points ($0.25) after submitting your name, gender, and date of birth.
Then, you will get an extra 150 points for answering a few more personal information.
It's important to answer those profiling questions as they will help Tellwut target surveys that are of interest to you.
Be aware you can't create a second account in your household.
If you do, Tellwut will identify two different accounts linked to the same IP and will cancel your membership.
Next, you should answer as many profiling questions as you can.

These questionnaires will help Tellwut select a particular survey to the right candidate according to their demographics (age, gender, income, education, etc.).
So, make sure you complete the following three sections:
There are three ways to make money with Tellwut:
1.Taking Surveys
---
Tellwut provides two different types of surveys:

This reward platform is going viral! Cash out via PayPal, Visa, Gift Cards, and in-game currencies - Click here to find out how to generate an extra $10+ per day! 
External Surveys
External surveys are provided by third-party companies such as Cint, Samplicio among others.

These are leading marketing research companies that recruit panelists in many other survey and GPT sites.
On Tellwut, you can find external surveys both in your inbox or in the "available survey" section.
I have to confess I was very impressed with the number of surveys available on the platform.
Click on "load more surveys" and you will see what I am talking about!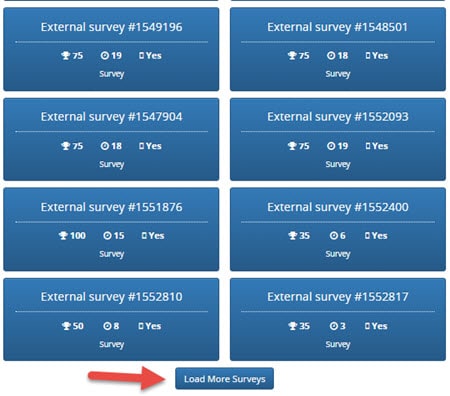 Most surveys take 10 – 20 minutes to complete and pays anywhere between 50 and 100 points ( $0.12 – $0.25)
Surveys that pay 200 ($0.50) points usually take 30 minutes or more.
I have reviewed hundreds of survey sites, and I can tell you that Tellwut pays significantly less than many other competitors in the industry.
For example, most surveys at Prizerebel pay more than $0.80 for a 20-minute survey.
Public Survey
These are short polls created by members and separated in various categories. You will earn 25 points for answering these quick surveys.
Here is one example that I found in the travel category:

These polls sometimes spark big discussions in the comment section. What's cool is that after taking the survey, you can see the number of votes and percentages.

2. Creating Surveys
---
There are not many sites out there that pay for creating surveys. I can only recall Instant Cash Sweepstakes.
Note that your survey has to pass a quality check, so it gets approved and you get paid.
Read the FAQ carefully and make sure you are following their recommendation for writing a good survey.
Once approved, you will earn 10-20 points ($0.025 – $0.05) per survey.
It's also important to mention that you can only post a maximum of 2 surveys per week. So, there is not much money to be made here.
3. Referral Program 
---
Tellwut has a referral program which pays 25 pts for each person you invite.
In order to get a referral, someone needs to join the platform through your referral link and verify the email account.
The drawback of Tellwut's referral program is that it doesn't pay commissions based on referral's earnings.

The maximum you can get is 25 per referral. That's it!
GPT platforms like Prizerebel, Cashcrate, and Swagbucks offer a much better referral program.
Rewards
---
You can only redeem points in Gift Cards from popular stores such as Amazon, Wallmart, Starbucks, Subway, and a few others.
Once you reach 4,000 points, you can exchange for an Amazon Gift card worth $10.
Unfortunately, there is no Paypal or check payments.
You have to wait between 10 to 15 days for your order to be fulfilled plus shipping time that varies depending on your location.
Keep in mind that Tellwut may ask for an ID and address proof before you can redeem your points.
Final Thoughts
---
Tellwut is a legitimate and enjoyable survey website for Americans and Canadians.
I like the fact that you can get paid for creating surveys, but I think the reward should be a bit higher.
Earning just 5 cents for creating surveys is very discouraging!
The pay rate for answering both external and public surveys is also very low compared to other panels.
I would expect to earn at least $0.80 for a 20-minute survey, not $0.18!!!
Another downside of Tellwut is they still don't process cash payments via PayPal.
Not everyone wants to complete surveys for hours only to spend everything in pre-selected stores.
In conclusion, you can trust Tellwut, but don't expect to make lots of money with it.
Verdict:
Legitimate
How to Earn A Full-Time Income from Home
---
Many people are working from home and making a full-time from home thanks to a business model called affiliate marketing. 
You can start by creating a blog and promoting related products that your audience can benefit from.
That's how my website generates over $1,600/month in passive income.
Some top affiliates earn over 10k per month by promoting other people's products.
As you can see, this type of business can be very profitable and life-changing!
If you want to learn how to build your own online business and promote products as an affiliate, then I highly recommend you check out my #1 recommendation! 

They have an excellent step by step program that is helping many people build highly profitable websites.
You don't need any experience in website creation as the training will guide you every step of the way through video lessons.
There is also a very supportive community of members that will answer all of your questions in no time!
Final Words
Have you tried Tellwut? What do you think about this platform?
Feel free to leave us your thoughts in the comment section below!
Your opinion is very important!
Thanks for reading, and I'll see you next time!
Stefan