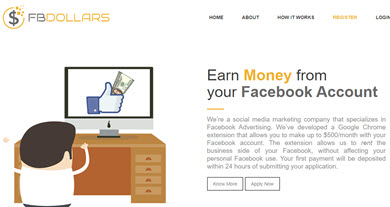 Welcome to my FB Dollars review!
I have recently FB Dollars, a website where you can supposedly make $500 per month by renting your Facebook Ad account.
You just have to install a browser extension and wait for your first payment within 24 hours.
You may be very skeptical, but at the same time, tempted to go ahead and collect this free money.
After all, the world economy is collapsing, and $500 can still put a lot of food on the table.
But, be careful!
Is FB Dollars a scam or a legit website? Will you get paid? What are the risks involved?
I urge you to read this review and think carefully before applying for this rather dubious business.
My #1 Work from Home Recommendation
If you want to work remotely and earn a full-time income online, check out my #1 recommendation. This is the same program that helped me reach $1,600 per month and quit my job in 2019. 

This reward platform is going viral! Cash out via PayPal, Visa, Gift Cards, and in-game currencies - Click here to find out how to generate an extra $10+ per day! 
FB Dollars Review
---
Name: FB Dollars
Website: http://fbdollars.com/
Company: ?
Membership Eligibility: Worldwide (+21)
Price: Free
Similar Sites: LazyBucks, fbrenters, Rent Us Your FB and Ads Magnet.
Recommended?

No

Overall Rating: 0/5
What is FB Dollars?
---
FB Dollars is a website that promises to pay you for renting your Facebook business account.
There are other similar websites offering the same opportunity such as LazyBucks, Rent Us Your FB, fbrenters, and Ads Magnet.
FB Dollars is owned by a supposed social media marketing company, whose name is kept secret from the public.
Not only we don't know the name of the company, but FB Dollars doesn't explain why they are willing to pay 500 bucks for your Facebook account.
Even if you visit the Terms and Conditions page, you will not find the information you need to make an informed decision.
The lack of transparency is a big red flag for anyone who wishes to make money online.
In the next section, I am going to expose the business model and explain how FB Dollars actually works.
How Does FB Dollars Work?
---
FB Dollars claims that you will earn $500 per month for renting the business side of your Facebook ad account.

That's totally unrealistic!
After you create your account, you will be asked to install a browser extension.
The extension will grant advertisers access to the Business Manager tool without the need for your password.
Apparently, FB Dollars won't have access to your personal account, so they can't share or send messages on your behalf.
Keep mind that your FB account should meet the following requirements:
At least 1 year old.
At least 100 friends.
The account must be yours.
You should have never opened an Ad account.
You must be over 21 years old.
Once FB Dollars approve your application, you will be allowed to rent your Facebook ad account.
Why Do They Need Your Ad Account?
Marketers want to have total control of your Facebook Business Manager.
The Business Manager is a powerful tool that allows individuals and companies to create marketing campaigns.
With this tool, internet marketers can create a Facebook page in order to run and track advertising!
It's important to know that in order to run Facebook ads, users must adhere to strict Advertising policies.
For example, many ads get rejected because they are misleading, or promote prohibited products and services.
Users who do not respect the Ad policy, lose their Facebook Business account forever.
And by now, you probably already know what I am getting at!

The same advertisers who lost their FB accounts or want to avoid losing it are now renting other people's accounts through platforms like FB Dollars.
By renting your FB account, you will grant strangers full access to your manager account so they can do whatever they want in YOUR NAME.
That means they can run unlimited ad campaigns and break any rules on your behalf.
Scammers promoting get-rich-quick schemes are in love with this loophole!
What Are the Risks of Using FB Dollars?
---
There are 2 main risks involved!
1. You can lose your Facebook ad account
Your Facebook account can be suspended or terminated.
In my honest opinion, they won't bother respecting the terms of service!
Why? Because if Facebook blocks your account, they can simply move on to another account and continue breaking the rules forever.

2. The software poses huge security risks
If you want to install any software on your computer, you need to make sure it's operated by a reputable company.
The reason is that you never know exactly what the program is doing with your computer and personal data behind the scenes.
The browser extension can track all your internet behaviour and even collect your bank account details.
So, I don't recommend installing the FB Dollar browser because it's not worth the risk.
Will FB Dollars Pay You?
---
No! I don't think FB Dollars is willing to pay $500 per month!
That's very unrealistic!
After some research, I didn't find anyone showing proof of payment.
But even if I did, I wouldn't believe that, especially if the person shared his/her affiliate link in the end.
What's worse, FB Dollars promise to pay you via GoLance, which is a freelance platform. WHAT?
That means you can only use the money to purchase gigs on the platform.
That's useless!
People want money in their pockets and not as a fund to spend on a freelance website!
Conclusion – Is FB Dollars a Scam?
---
FB Dollars doesn't look like a legitimate business to me.
It's a clever way for unscrupulous advertisers to bypass Facebook restrictions and hide behind the unwary.
If you search online, you will learn that the scheme is known as ad-laundering.
Marketers who rent your account will probably ignore Facebook guidelines in order to maximize profits until you get banned.
But hey, maybe you don't care about your Facebook account anyway!
Well, in that case, I am sure you care about the risks of installing a browser extension that can access critical data.
To top it all off, you won't get paid $500 per month as advertised!
So, why would you take the risk?
How To Earn Over $1,000+ /mo Working From Home! 
---
In 2015, I discovered a great business model that allows me to work remotely and generate over $1,600 per month. 
It's called affiliate marketing!

As an affiliate, your job is to provide content for people all over the world through your website.
You will earn commissions by promoting other people's products via affiliate links or banner ads that you place on your posts.
Successful affiliates make over 10K per month!
Depending on your country, you may live a very comfortable life by having an affiliate site generating revenue 24/7.
If you want to learn how to build a profitable niche site from scratch, check out my #1 recommendation.
That's the exact affiliate marketing program that gave me in-depth training, support, and tools to grow my own internet business.
Then, take massive action, rinse and repeat until you finally reach your financial goals.
Learn more about my #1 recommendation here and take your first steps today!
Final Words
Thanks for taking the time to read my FB Dollars review. I hope it was helpful!
If you have any questions or thoughts, feel free to leave us a comment below!
I will be more than glad to help! 😊
Stay safe!