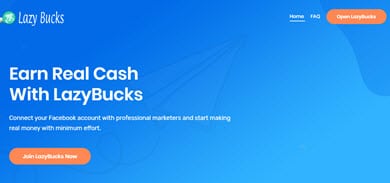 Welcome to my LazyBucks review!
I have recently found a website called LazyBucks, where you can supposedly make money by renting out your Facebook ad account.
According to the homepage, you can make serious cash with minimum effort.
Everything looks very suspicious, so I decided to join and make a thorough research to understand exactly how it works.
Is LazyBucks a scam or a legit opportunity? What are the risks involved?
Check out my review, and don't install any software on your device before reading this.
IMPORTANT: If you want to work remotely and earn a full-time income online, check out my #1 recommendation. This is the same program that helped me reach $1,600 per month and quit my job in 2019. 
LazyBucks App Review
---
Name: Lazybucks
Website: https://lazybucks.co/
Company: ? (maybe it's operated by an individual)
Minimum Payout: $10
Membership Eligibility: Worldwide
Similar Sites: FB Dollars, FB verhuur, Ads magnet, Rent Us Your FB, fbrenters
Overall Rating:

0

/5
What is LazyBucks?
---
LazyBucks is promising to pay you for giving marketers full access to your Facebook ad account.
After 5 years of writing reviews on this blog, I confess I had never heard of this method before.
But after a quick search, I found a couple of similar sites such as FB Dollars, Rent Us Your FB, Ads magnet, fbrenters among others.
According to the website, internet marketers will use your account to test different advertising campaigns.
Therefore, they will create ads and promote products and services using your Facebook account.
The sign up is 100% free, and you will need to install a browser extension.
Once your account gets approved, LazyBucks will pay you every day for as long as you keep the add-on extension running on your computer.
It's a very enticing opportunity because there is no work involved!
However, I must draw your attention to the dangers of using LazyBucks.
Next, I am going to explain how it works and why it's a big risk to install that browser on your computer.
How Does LazyBucks Work?
---
After you create a free account, LazyBucks will ask you to download and install the browser extension.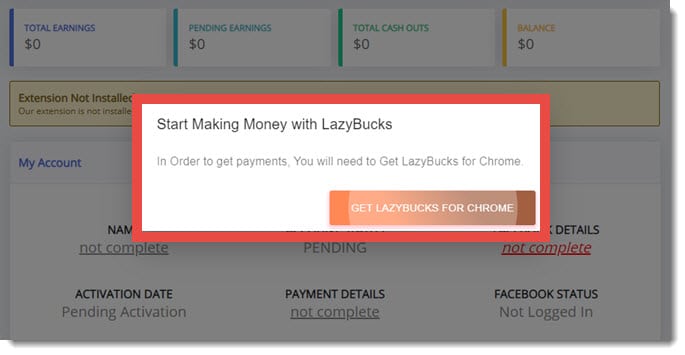 The extension only works on Google Chrome.
Next, you must provide your Facebook credentials (username and password), your name and PayPal ID.
Then, you should just wait for the approval.

Keep mind that your Facebook account should meet the following requirement:
It should have been created more than 2 years ago.
Have at least 100 friends.
Your profile should have a real picture of you.
You should not have created an Ad account before.
When your account is approved, your status will be set as "Active", and you are eligible to start making money.
All you have to do now is sign into your Facebook account and keep the LazyBucks extension installed.
How Much Money Can You Earn?
---
Unfortunately, EasyBucks doesn't mention how much money you will earn per day.
So, without any income guarantee, it's possible that you can eventually earn $0, Zero, Nada!
Is LazyBucks a Scam?
---
There is a high chance LazyBucks is a scam.
It's important to know that there are many internet marketers who have been banned from the Facebook ad program.
These people were banned for a good reason! They may have advertised prohibited products or ignored advertising guidelines.
So, now, they want to rent your account via sites like LazyBucks and continue with their shady business practices.
Other internet marketers are not banned, but they will use sites like LazyBucks to promote scammy products.
With LazyBucks, these marketers can create a new Facebook page and start running ads immediately.
As a result, you will be held responsible for whatever they advertise under your name.

It's a clever scheme because they can bypass Facebook restrictions and hide behind your account.
You are basically being used as an ad-mule by unscrupulous internet marketers.
If Facebook catches you renting your account, don't worry, you won't go to jail!
But maybe you wouldn't like to lose your personal Facebook account in exchange for a few dollars.
Heck, maybe you won't even get paid!

This reward platform is going viral! Cash out via PayPal, Visa, Gift Cards, and in-game currencies - Click here to find out how to generate an extra $10+ per day! 
The Risk of Installing the Browser Extension
---
In addition, installing the browser plugin poses a huge security risk on your computer.
No one knows how it's operating behind the scenes.

They can track your internet behavior and gain access to personal information on your computer.
In my opinion, it's always better to stay on the safe side!
So, I'd avoid installing any software if it's not created for legitimate purposes.
Referral Program
---
Lazybucks also promises to pay you for referring friends.
You can supposedly earn $10 for each person who joins the platform through your affiliate link.
In my opinion, this is a very high commission rate and I am very skeptical that anyone is able to cash out.
Payment
---
You can choose to get paid via PayPal or Payoneer.
However, the site doesn't inform users about the minimum payout threshold nor about the average waiting time.
Conclusion
---
LazyBucks is operating a type of business known as ad laundering, which lets marketers rent your Facebook ad account.
They can use misleading advertising, promote prohibited products and do other things against the Ad policy.
But who will get the blame?
YOU!
If your Facebook account is suspended or terminated, the marketer will simply jump to the next account and continue doing business as usual.
In addition to losing your FB account, your computer and privacy will be at risk if you install the Chrome extension.
Another problem is that LazyBucks still don't have lots of reviews on the internet.
So, there is still not enough evidence that users are receiving the payment.
Verdict: Not Recommended
How To Earn a Full-Time Income From Home
---
Lots of people are searching for legitimate sites to make money online.
What most people are not aware of is that they can create their own websites.
It's so much better than joining a reward site or a mobile app that pays very little for your time!

In 2015, I discovered a great business model called affiliate marketing.
As an affiliate, your job is to create helpful content and help solve people's problems.
You will make money by inserting links on your articles.
People will read your posts, click on your link and eventually buy products related to the topic of your article.
Now, because they purchased a product through your link, you will earn a commission of up to 50%.
It takes time and hard work, but anyone can build a profitable affiliate site with the potential to generate a full-time income. 
My Advise?
This excellent training program helped me set up a website, rank articles on the top Google positions and reach over $1,600/mo.
You can sign up for free and start your first 10 lessons!
Learn more about my #1 recommendation here and take your first steps today!
Final Words
Thanks for taking the time to read my LazyBucks review. I hope it was helpful!
If you have any questions, feel free to ask in the comment box below!
I will be more than glad to help! 😊
All the best
Stefan