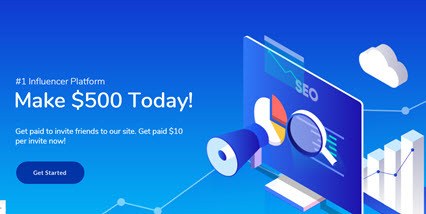 Today, I would like to warn you guys about another deceptive website called Kids Earn Cash.
If you are thinking about joining Kids Earn Cash, please don't do it before you read this post and understand the risks involved.
In this short review, I am going to expose the scheme and prove to you why it's a complete scam.
By the way, if you want to learn the same method that earns me $1,000+/mo from my laptop, check out my #1 recommendation here! It's 100% newbie-friendly and free to get started!
Kids Earn Cash Review
---
Name: Kids Earn Cash (aka Kids Paid Money)
Website: www.kidsearncash.com
Price: Free to join, but you will work for free
Owner:

Unknown

Recommended? No

Overall Rating:

0/5

[yasr_overall_rating size="medium"]
Using Different Names
---
Yesterday, I found a website called kidspaidmoney.com through the Beer Money Forum.
However, when I tried visiting this site, I was redirected to Kids Earn Cash, probably because Kids Paid Money was already getting a significant negative reputation on the internet.
After further research, I discovered it was also operating as Kids Get Money at kidsgetmoney.co.
So, both addresses will redirect you to Kids Earn Cash, which proves they are the same.
You see, that's what scammers do when they are exposed. They simply rebrand their site to exploit more unsuspecting victims.
Then, they rinse and repeat the process, just changing the domain name, logo and design to make it seem another opportunity.
The Hype
---
The first sentence I read when I visited Kids Earn Cash was:
"Make $500 today! Get paid to invite friends to our site. Get paid $10 per invite now!"
Followed by…
"$25 signup bonus" and "get paid for using social media".
Well, I have reviewed many similar websites that promise to pay a ridiculous amount of money just for inviting others.
In one recent review, I exposed MyWorkingHour, which uses the same unethical tactic to entice people to give their personal information and even work for free!
Also, it reminded me of other similar scams I have reviewed such as:
They say all you have to do is share your referral link with friends on Social Media and earn a ton of money!
However, this type of "business" doesn't sell any product or service, and the only thing traded is your personal information.
WARNING!

Dangerous URL Blocked
---
Another serious issue is that my anti-virus blocked Kids Earn Cash due to the threat of data loss, which means this is not a secure website.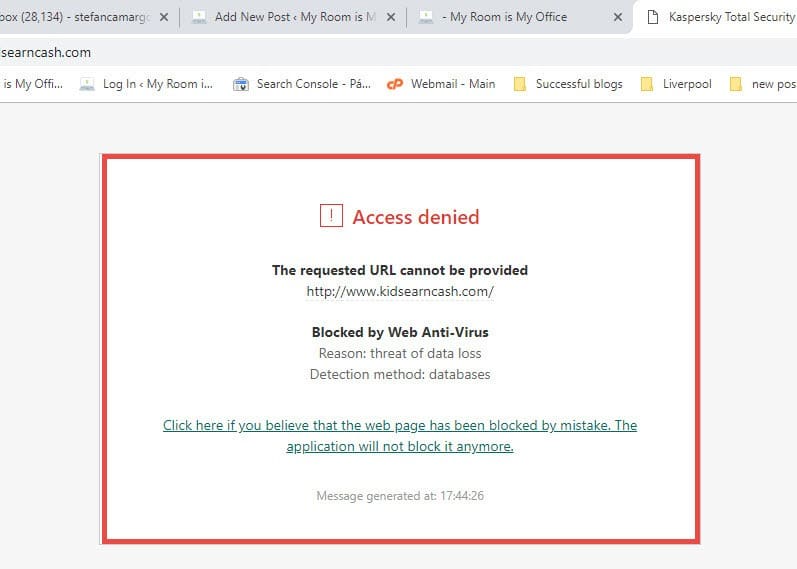 Using another computer, the anti-virus identified it as a Fishing URL.
Because I don't use that second computer for banking or work, I decided to proceed.
What is Kids Earn Cash?
---
Kids Earn Cash is another misleading website that claims you will get paid $2 every time someone clicks on your link and $10 for every people that signs up.
All you must do is share your referral link on the internet in hopes people sign up through it.
However, you won't get paid because no affiliate program pays such a high commission for a simple free sign up.
Besides, they are not selling any product or service that would allow them to generate a commission for you.
Think about it. Money is not created out of thin air!
How Does it Work?
---
Kids Earn Cash is trying to collect as many leads (email addresses) as possible with the promise of easy money.
I know that these emails as sold like hotcakes on the internet for a high price. Why? Because they are used by internet marketers who love sending spam emails.
Their only intention is to collect your personal data (name and email) as well as encourage you to work for free.
That's right!
When you share the link on social media, you are promoting Kids Earn Cash to other people, who will deliberately hand their name and email without anything in return.

Don't promote their link because you won't get paid!
After signing up, you will see your referral link and your current balance, which starts at $25.
WHAT?
The truth is that no legit reward platform will give you $25 as a sign-up bonus.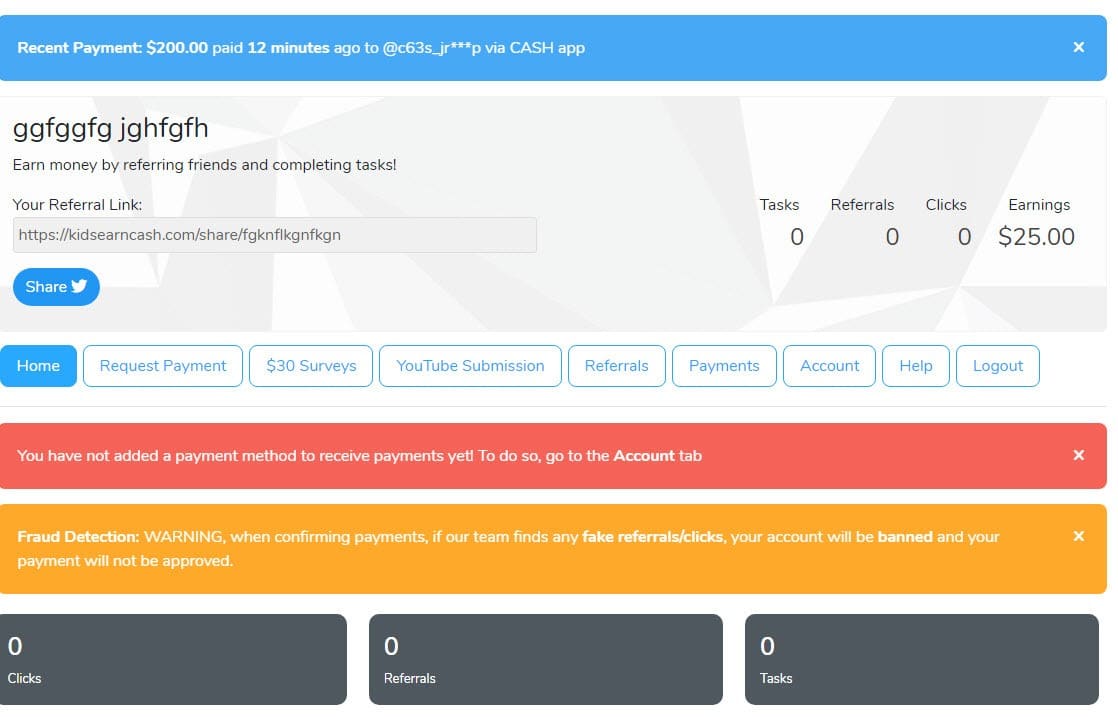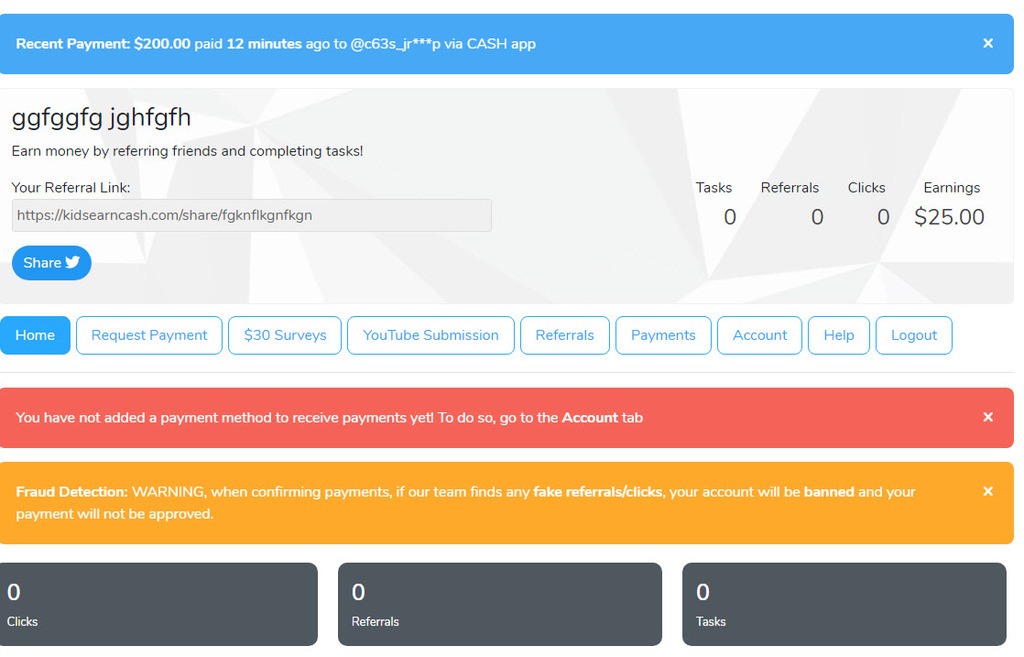 This reward platform is going viral! Cash out via PayPal, Visa, Gift Cards, and in-game currencies - Click here to find out how to generate an extra $10+ per day! 
So, the main task is to share your link. However, many forums and Facebook groups will ban you for spamming, so you are limited to sharing your link with your family and friends.

$30 Surveys – NOPE! 
In the dashboard, you will also see the $30 survey tab, which has nothing to do with online surveys.
Those are all offers that require you to enter your name, email and phone number to participate in prize draws.
They say each offer is worth $50, which is ridiculous!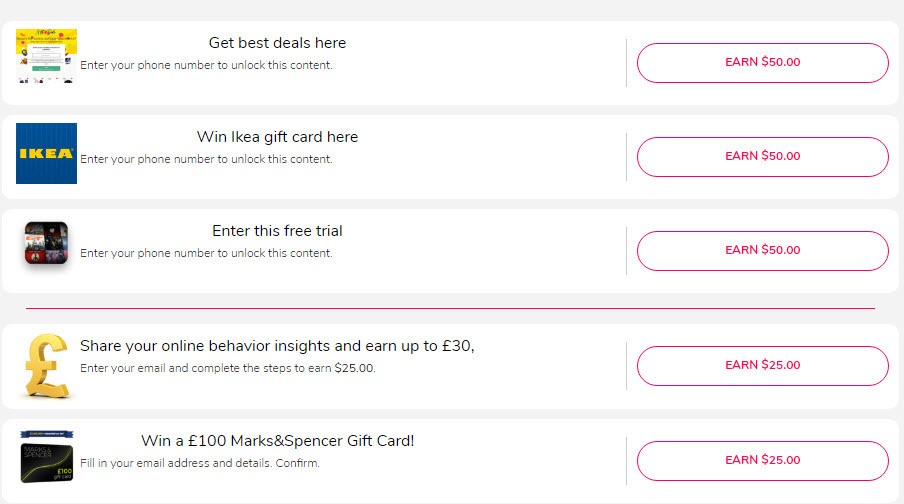 YouTube Submission
They also encourage you to submit a promotional YouTube video talking about Kids Earn Cash.
You will supposedly earn $50 for that, which is also totally unrealistic guys!
Unscrupulous YouTubers
---
Greedy Youtubers have recorded videos trying to convince people to sign up, without realising they would be the ones getting scammed out of their time.
One girl (I am not going to mention her name, but if you search KidsPaidMoney you will find her) didn't even cash out but decided to brag on camera about how she made $4,000 in the last 48 hours.
She looks so confident on the camera, but I feel sorry for her and for all her followers who believed in her words.
Later she created another video saying "oh, I guess we were all scammed, at least no money was taken."
However, as I showed previously, the site is unsafe and may be stealing personal information that can later be used for serious stuff, such as getting access to bank and email accounts.
This is serious!
She didn't even bother deleting her previous video with all her affiliate links!
I spend some time reading some comments below her video, and this is what I found:
Conclusion – Is Kids Earn Cash a Scam?
---
Yes, it is!
I hope you don't join Kids Earn Cash, but if you already did, I highly recommend you don't waste your time with it as you won't get paid.
Also, If you have used the same password you use on your online banking or email account, you must change that immediately!
Avoid Kids Earn Cash at All Costs! 
What I Recommend
---
If you want to get paid for easy tasks online, my top recommendation is Prizerebel.
They provide many ways to make money online, including surveys, offers, and tasks.

The downside of choosing the easy road is that you are not going to earn a lot of money.
Now, if you are like me and you dream about working 100% from your laptop, one of the best strategies is to build your own internet business.
There are many strategies, but affiliate marketing is a great business model!
In 2015, I found an excellent step by step program that showed me how to set up a website, grow an audience and earn affiliate commissions.
Before you follow this path though, you need to understand that it takes time and effort to grow and start generating revenue.
The good news is that an online business is very cheap to start, and you can earn residual income even if you are travelling or enjoying more time with your family.
I hope my Kids Earn Cash review was helpful to you. If you have any question, drop me a comment below, and I will be more than glad to help! 😉
Stay safe and peace out!