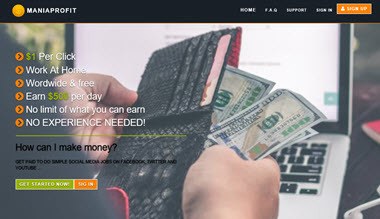 The owner of Mania Profit is claiming you can $500 per day just by doing simple social media jobs on Twitter, YouTube, and Facebook.
Moreover, you don't need any experience to start earning unlimited money. It seems the perfect solution for those who are unemployed and in a difficult financial situation.
So, is Mania Profit a scam or a legit website? Can you really trust them?
This review will expose everything!
By the way, if you want to learn the same method that earns me $1,000+/mo from my laptop, check out my #1 recommendation!
Mania Profit Review
---
Name: Mania Profit
Website: maniaprofit.com
Price: Free, but you will work for free!
Overall rating:

0/5
First Impression
---
Right off the bat, I was very skeptical because of the insane income claims and unprofessional homepage.
Another thing to consider is that Mania Profit doesn't have the 3 essential pages that all legit websites must have – the Privacy Policy, the Income Disclaimer, and The About Us page.
Therefore, you have no information about the site owner or company operating this site.
As importantly, the owner can do whatever he wants with your personal data, such as sell your email to third-parties.
What is Mania Profit?
---
Mania Profit is a website that promises to pay you paid just for sharing your referral URL on social media, forums, blogs, etc.
They say you will earn a $1 commission whenever someone joins Mania Profita through your link.
According to the FAQ, you can make $100 – $500 per day by working just 2 or 3 hours per day, which is totally unrealistic.
Is Mani Profit a Scam?
---
Yes, Mani Profit is a scam because they advertise the possibility of earning a lot of money when in reality the website doesn't pay.
It's similar to another deceitful website I've recently reviewed this week called MyWorkingHour.
You can see money in your balance account, but you won't cash out.
I am going to prove this to you in the "Terms and Conditions" section, where they explicitly say Mani Profit is just an "example website".
If Mania Profit was trusted, everybody would be promoting it on Youtube and other blogs, including myself. But as you can see, instead of sharing my link here, I am advocating against using it.
WARNING!

Mania Profit Contains Malware!
---
When I clicked on the button "Get $3 signup bonus now" my Anti-virus identified malware and blocked the website.
The warning is in Portuguese because that is the language set on my computer.
It says the site ahead contains Malware, and that invaders can try to install harmful programs to steal or delete your data.

Malware is malicious software used by hackers to monitor your computer's activity and collect critical information such as credit card credentials, messages, pictures, etc.
Just for this reason, I would highly recommend avoiding Mani Profit at all costs!
But there is more!
The Terms And Conditions are Atrocious! 
---
If you proceed, you will see the signup page, where you will find the link to the Terms and Conditions.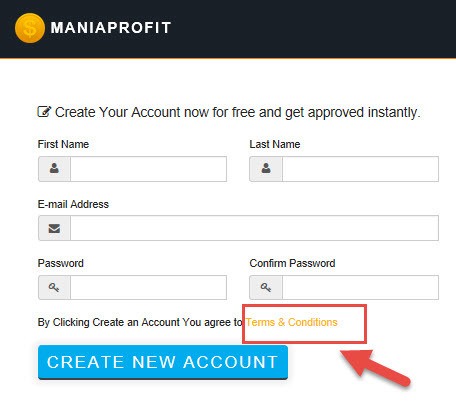 The terms and conditions basically put you in a situation where sharing your link using most methods will cause a termination of your account.
Next, I am going to copy and paste all the relevant clauses of this document:
3- You must not Spam in other websites or communities.
"9- You must not Encourage people to click on our links"
I am not sure how you are supposed to get referrals if you can't encourage people to click or spam other sites.
For me, it's either one method or the other!
If you can't do either, then you are limited to posting your link on your Social media profile without any call to action, which is very ineffective!
To be honest, I don't know why requirement n.9 exists. Maybe an excuse to terminate your account and avoid payments? Think about it…
"19- We may terminate your access to the Site, without cause or notice, which may result in the forfeiture and destruction of all information associated with your account."
So, that is the proof they can terminate your account at any time and avoid your payment.
And here is another ace up their sleeves:

20- We deserve the right to decrease the number of valid clicks and/or total earnings in your account at any time.
Of course, if they can terminate your account, they can also reduce your earnings to ZERO at any time.
I left the best part to the end, check this out!
1- This website is an example website to make money created for a commercial purpose and you cannot get paid from it.

2- This website for sale and not to make money.
It's outrageous, guys!
Why didn't they tell us upfront that Mani Profit was just an example website that doesn't pay? Why hide this information right at the bottom of the ToS where nobody goes?
So, there you have the ultimate proof that Mani Profit is a complete waste of your time!

This reward platform is going viral! Cash out via PayPal, Visa, Gift Cards, and in-game currencies - Click here to find out how to generate an extra $10+ per day! 
More Threats!
---
I decided to sign up to mania Profit and take to the ultimate consequences.
This is the dashboard:

In the tasks tab, there is a list of different paid offers worth less than $2 each.
After clicking on some offers, my anti-virus blocked the page again due to a possible threat of data loss.
This reminds me of suspicious survey websites like such as Survey Sheep, Survey Momma, and Opinion City, which were all blocked by my anti-virus software.
Conclusion
---
Mania Profit is a pernicious website that will collect your data (name, email, and IP) without any respect for your privacy.
Here in Europe, this site is clearly infringing GDPR regulations.
What's worse, it's full of malware and other threats that can steal important information from your computer.
They want to harvest as many email addresses as possible to sell and/or spam them.
Furthermore, they make people promote their dubious website for free in hopes to earn $1 commission per referral.
The truth is hidden in the last sentences of the terms and condition, which says the website is for sale and not to make money.
Avoid Mania Profit at all costs! 
What I Recommend
---
If you want to get paid for easy tasks online, my top recommendation is Prizerebel.
This platform provides many opportunities to make money online, including online surveys, offers, and micro-jobs.
The drawback of any GPT site is the incredibly low-income potential!
Now, if you dream about working 100% from your laptop and earn a job-replacing income online, one of the best strategies is affiliate marketing.
In 2015, I found an excellent training program that showed me how to set up a website, grow an audience, and earn affiliate commissions.
Before you get started, you need to understand that it takes time and effort to build a successful internet business. You will need to nurture your site and have the patience to let it grow.
I hope you found my Mania Profit review helpful. If you have any questions, drop me a comment below, and I will be more than glad to help! 😉
Stay safe and peace out!