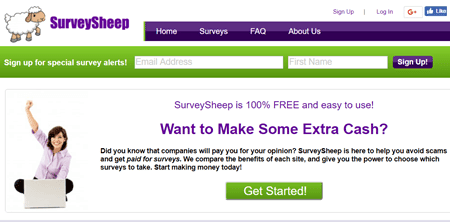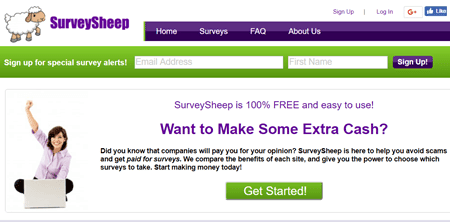 I've discovered another website for people who want to get paid for taking simple surveys. Is SurveySheep a scam or legitimate?
I decided to investigate this site and give you my honest opinion about it.
By the way, online surveys won't pay you much for your time and effort. If you want to follow the same strategy that I use and earns me $900+ per month check out my #1 recommendation.
SurveySheep Review
---
Name: SurveySheep
Website: surveysheep.com
Price: Free
Overall Rating: 1.4/5
First Impression
---
SurveySheep's website looks a bit oldfashioned, but what I like about it is that they address the most frequent questions on the front page. They explain briefly how SurveySheep works and why companies are willing to pay for your thoughts and opinions.
Another positive aspect is that SurveySheep doesn't make misleading claims. Many sites urge people to join with the promise they will make over $5 per survey. You will never make more than $5 for a simple questionnaire, trust me!
What is SurveySheep?
---
SurveySheep is a website that provides a list of survey companies for you to join. It's only a directory of survey panels, which means it doesn't send you any surveys or rewards.
Pros and Cons
---
Pros
Cons
Just one survey company on the list for UK residents.
The only survey platform is untrustworthy.
Online Surveys are good for pocket money, but they don't have the potential to change your life.
You have to create an account with the company(s) they recommend and complete your profile separately. The platform not centralized.
How Does it Work?
---
Simply sign up for free, and you will get instant access to the list.
Choose the survey panels you want to join and register with each one of them to start getting survey opportunities.
The size of the list usually varies according to your country. I am not sure about other countries, but here in the UK, I just saw one survey platform available.
Yep, just one! And to my disappointment, it was Survey Downline, which I reviewed a couple of months ago.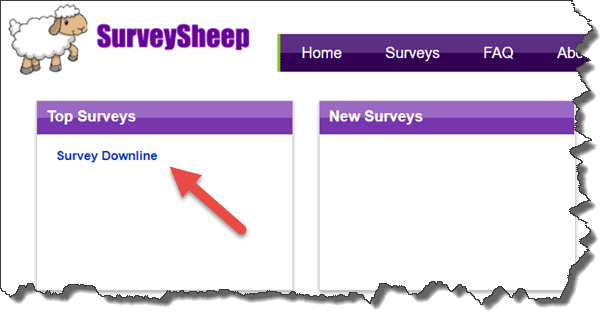 As you can see from my Survey Downline review, I gave it a bad rating due to few surveys available, high cashout requirement and many complaints regarding payment. 
There are many great survey panels to join, so it's a shame Surveysheep is not referring you to the best ones.
Is SurveySheep a Scam Then?
---
No, it's not a scam. If you think carefully, SurveySheep is just like any blog that recommends survey platforms in exchange for affiliate commissions. I have reviewed many similar sites such as Top10BestPaidSurveys.com, SurveyCompare.com, and SurveyMomma.com.
The problem with SurveySheep is that it just selected one survey platform for UK residents, which by the way, is terrible! SurveyDownline is a not a good choice!
In my opinion, you are better off performing a google search and finding reliable platforms by yourself! Better yet, I can give you some recommendations: PrizeRebel, Cashcrate, Swagbucks, and OneOpinion are some of the best!
Verdict: Legit / Not Recommended

My #1 Strategy to Make Money Online
---
One of the worst things about surveys is getting rejected after answering pre-qualification questions. What a waste of time!
I understand that, for many people, the extra cash is a blessing, and I am not here to say that you shouldn't take surveys. Who am I to tell you what you should or shouldn't do?
Nevertheless, I feel compelled to share my experience and tell you that it's possible to make 5x, 10x, 100x more with affiliate marketing. 
When you build an affiliate marketing business, you have the power to go from $0 to $10,000/mo in a few years, quit your job and live life on your own terms! How about that?
Online surveys will never give you this possibility!
If you want to know more about my story and the platform that helped me build a successful affiliate site, click here and check out my #1 recommendation. 
I started with zero knowledge two years ago, but this training platform showed all I needed to do, step by step to achieve incredible results.
Well, I am making over $700 per month, and I am on the verge of quitting my job at the coffee shop!
You can reach the same results or even better results as long as you treat this as a real business (not a hobby) and take massive action.
Click Here and Check Out My #1 Recommendation Review!
Thanks for checking out my SurveySheep review! I hope this helps you make an informed decision. If you have any questions, feel free to ask in the comment section below.
Your friend,
Stefan