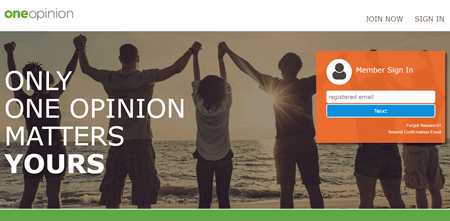 Welcome to my One Opinion review!
One Opinion is a website that claims you can participate in marketing research studies and get paid for your opinions.
Completing surveys is one of the easiest ways to make money online, and there are many legit sites you can join.
However, you can waste a significant amount of time if you choose the wrong panel.
Is One Opinion a scam or legit panel? Will you get paid?
In this review, I am going to cover everything you need to know about One Opinion and give you my honest opinion.
You may also want to discover the step-by-step program that helped me reach $1,300/mo from my laptop. 
One Opinion Review
---
Platform: One Opinion
Website: onenpinion.com (USA), oneopinion.co.uk (UK)
Strategy: Online Surveys
Price: Free to join
Membership Availability: USA, UK
LEGITIMATE
Rating: 

8/10
What is One Opinion? 
---
One Opinion is a survey panel owned and operated by Dynata LLC, a leading marketing research company who runs many other panels such as
In the past, One Opinion was open for residents in Canada, France, Germany, Australia and Italy.
The site closed down in those countries and is now only available for US and UK residents.
By joining One Opinion, you can complete surveys that will help top brands make better products and services.
Every time you take a survey, you will earn points that can be traded in for PayPal cash, Amazon and Visa gift cards.
The currency value of 1000 points is $1.
Is One Opinion a Scam?
---
No, it isn't. One Opinion is a legit website, but that doesn't mean you won't experience issues while completing surveys and receiving payments.
I was reading lots of reviews on Survey Police, and more than 30% of them are negative.
Some people complain about not receiving credits and payments.
Also, some people report that One Opinion suspended their accounts even though they claim they have done nothing wrong.
Regardless of whether you are right or wrong, the company will always have the final word.
If they decided to ban your account, there is nothing you can do except stop using their platform.

Pros and Cons
---
Pros
Get paid via PayPal and gift cards.
It's operated by a reputable company.
Easy access to the support team.
Cons
The pay rate is very low.
It's hard to qualify.
The minimum payout threshold is very high.
There are not many survey opportunities.
There are too many complaints.
How Does One Opinion Work? 
---
Registration
One Opinion is 100% free to join. The registration is very straightforward and doesn't take more than two minutes.
After you click on the "Apply now" button, a virtual assistant called Emily will walk you through the registration process.
She will ask a few questions such as your name, surname, email, date of birth and address.
Then, you will be asked to open your email and click on the confirmation link to activate your account.
Keep in mind that if One Opinion doesn't see any activity in your account in 90 days, they will terminate your account and delete all your points.
Survey Invitations
You will receive an email invitation whenever a new survey becomes available.
On the dashboard, you can also find all the survey opportunities that are currently open.
When I joined One Opinion and logged in for the first, I was disappointed by the lack of surveys.
There was a message saying that there were no surveys at this time and that I should try again in the next 2 -3 weeks.

On the following week, I received only 3 surveys on my inbox.
Sometimes, you will click on the invitation link and receive a message that there are no surveys available.

It's Hard to Qualify!
Usually, survey panels ask you to complete your profile with basic questions about your education, household income, marital status, etc.
Unlike most survey panels, One Opinion doesn't have a profile section.
However, you will always have to answer a few screening questions before completing surveys.
The reason is that marketing research studies are almost always targeted at a very specific group of people.
For example, a company that sells toys for kids is only interested in hearing the opinions of parents who have children.

This reward platform is going viral! Cash out via PayPal, Visa, Gift Cards, and in-game currencies - Click here to find out how to generate an extra $10+ per day! 
Disqualifications are common, but some panels are pickier than others.
Many people complain that it's very hard to qualify for One Opinion surveys. This is what some members have to say about survey disqualifications:




The reality is that you can waste more than half an hour trying to qualify for one survey that will pay you $1 or less.
That's why I gave up surveys in 2015 and built my own online business. Check out my results here.
Taking Surveys
Most surveys take between 5 to 20 minutes to complete and will give you less than 1000 points ($1). 
Take time to read and answer all survey questions carefully and thoughtfully when participating in One Opinion surveys. Survey panels don't like that participants speed through surveys.
Also, I advise you to avoid providing false information as you may risk contradicting yourself.
If One Opinion suspects you are not giving honest answers, they will probably suspend your account.
After you finish a survey, you should get credited immediately. If you don't receive any points, contact the support team so they can investigate the issue for you.
Payment
---
You need a minimum of 25,000 points to trade them in for PayPal, Amazon or Visa gift card. There are both physical and digital visa gift cards.
The physical gift card will be delivered to you via USPS, and you can use it anywhere major debit cards are accepted.
You can also opt for receiving a gift code instead of waiting for the debit card to arrive by mail. With this gift code, you can make any purchases online.
To redeem your points for rewards, you must set up 2-step verification by providing your phone number and entering the security code.
Support
---
I have read a lot of positive reviews about the support team. It's easy to get in touch in case something wrong happens. You can send a support ticket or even give them a call at any time.
They do an excellent job in this respect!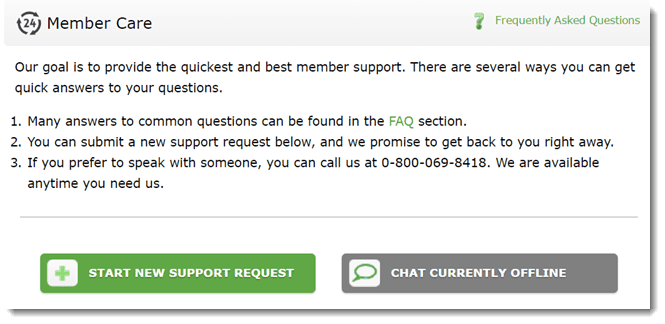 Final Thoughts
---
One Opinion is technically a legit survey panel, but many people report issues with payments and missing points.
The negative reviews don't surprise me as I have seen similar problems with 100s of survey sites.
But…
I am always wondering why these survey companies make so many mistakes?
Is this negligence? We will never know.
What I know is that people who spend hours answering surveys deserve to get paid for their time and effort.

Unfortunately, no company can guarantee that if you follow the rules, you will get paid.
In my opinion, One Opinion is not great, not terrible!
Verdict: Legit
If you want to complete surveys and offers for some extra cash, I highly recommend Prizerebel.
The minimum payout is only $5, and there are many opportunities to make money on a daily basis.
Now, if you are sick of the low pay rates and frequent disqualifications, pay attention to what I have to say in the next section.
How I Make a Full-Time From Home
---
In short, I have my website where I publish helpful content and promote products as an affiliate.
During the last four years, I've built an affiliate site that generates over $1,300 per month.
In my opinion, affiliate marketing is one of the best ways to make money online business because:
You can earn residual income: The work you put in today will pay you for months and years!
It offers unlimited income potential: You can earn $1,000s and even $10,000s per month.
You can build an online asset: Depending on the size of your audience and revenue, you can sell your website for 5 or even 6 digits.
You can achieve time and location freedom: You can set your own schedule and work whenever and wherever you want.
If you are want to build a profitable affiliate site, check out my #1 recommended program for beginners.
Keep in mind that this is not a get-rich-quick scheme, so be prepared to put in a lot of time and effort.
Thanks for reading my One Opinion review! I hope this post was helpful to you.
If you have any questions or want to share your experience with One Opinion, please leave us a comment below.
See you next time!
Stefan