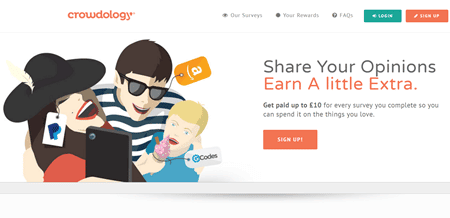 I just found another platform to make money online called Crowdology. At first, I thought the site was only available to USA residents via crowdology.com, but then I discovered the UK version ( crowdology.uk) as well.
Discover what Crowdology is and what I think about it within my review below.
If you want to learn the ropes of the business model that earns me over $600 per month in passive income, check out this training.
Crowdology Review
---
Platform: Crowdology
Websites: crowdology.com (USA), crowdology.uk (UK)
Strategy: Online Surveys
Price: Free to join
Rating:

7.0/10

My Opinion? If you want to make money with online surveys, this is a good site.
What is Crowdology? 
---
Crowdology is an online survey panel owned by a market research company called Morar Consulting Limited (VIGA). The company is part of Nexus15 group and has offices in London, New York, and San Francisco.
Through Crowdology,  you can take online surveys in exchange for some extra cash. Your demographics and opinions will be used for marketing research studies to help improve products and services. That's why you get paid for it.
Pros and Cons
---
Pros
No point system. Earn in cash straight away!
The minimum cashout requirement is only £4.
Accept payments via PayPal and Amazon vouchers.
Surveys usually don't take more than 10 minutes
Cons
It's safe, but not an effective way to make money online.
There are too many unpaid profile questions.
You can waste a lot of time trying to qualify for a survey. This negative aspect is common in almost every survey panel. Paidviewpoint.com is one exception to this.
How Does it Work? 
---
After signing up, you should visit your email inbox and click the confirmation link/button.
If you are lucky, your first survey will be available for you as soon as you log in. I completed my first survey and earned £0.24 for a 5-minute survey.

After that, there was no other survey available because I didn't complete my profile. The more profile questions you answer, the more likely you are to receive invitations.
The profiling questions are designed to help them select the most suitable candidate for a given survey.
There are many categories as you can see from the screenshot below.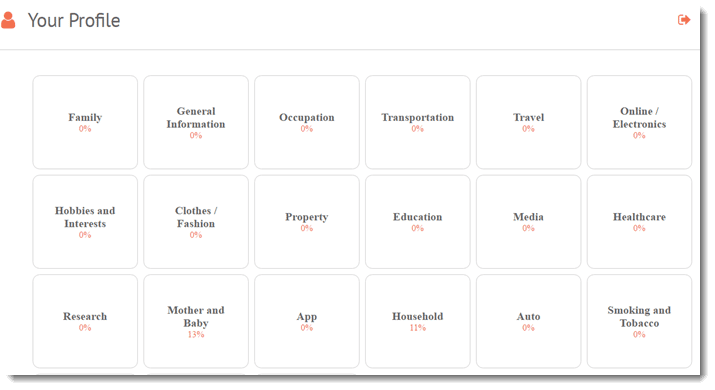 According to the FAQ, surveys are far from boring. You can expect questionnaires about everyday topics such as celebrities, the environment and the pains people go through to look "good". There are more serious surveys about retirement, employment, and politics as well.
They also ask people to take part in phone interviews and focus groups from time to time. These opportunities usually pay more but they are rare.
New opportunities are sent via email, and you need to act fast to secure your spot.
Pre-qualification
Usually, there are pre-qualification questions before you start the survey. So, you can get rejected after answering them and not get paid for that.
It's annoying to get rejected many times. But, clients are paying a high price to get the right audience for their studies. That's how online surveys work.
Surveys and Earnings
Most surveys take between 5 to 10 minutes to complete and pay less than £2.

The website states that you can earn up to £10 or even more, but such high rates are only for focus groups.
Prize Draws
Crowdology releases competitions and prize draws every month or two. In the most recent prize draw, the person had to complete at least 1 survey before the end of April for a chance to win an ODEON Limitless pass.

Cashing Out
---
As I already mentioned, you can get paid via Paypal when you have a minimum of £4 in your account. Alternatively, if you want to withdraw via Amazon Gift Card, the minimum is £10.
It's important to note that your Crowdology email must be the same as your Paypal email. Otherwise, there is no way to get paid.
Final Thoughts
---
Crowdology is a legitimate and respectable survey panel. If you want to earn some extra cash with surveys, then this platform might be a good option for you.
However, if you are not happy wasting lots of time for pocket money, then I highly recommend you build your own online business.
An online business can help you grow an alternative source of passive income in your spare time.
You can grow at your own pace, and with hard work and perseverance, it can eventually pay more than your 9-5 job! Imagine having the freedom of working whenever and wherever you want! 
This is a reality for many online entrepreneurs around the world. For step by step training, expert support and awesome tools to build your business, check out my recommendation.
I hope this article was helpful to you. If you have any questions, feel free to leave a message below!
See you next time!

Stefan