PaidViewPoints Review
---
Product Name: PaidViewPoints
Website: www.paidviewpoints.com
Price: Free 
Money Making Strategy: Online Surveys
Owner: Umongous, Inc (co-founder – David Handel)
Recommended?

For pocket money, yes! 

Score:

8.3/10
What is PaidViewPoints?
---
PaidViewPoints is a survey website operated by an innovative market research company called Umongous, Inc. The site has been growing significantly in popularity since 2011, and I am pretty sure it's because of what I am about to say in the next section.
Umongous also operates AYTM (Ask Your Target Market) and another great survey platform I reviewed in February 2016 called Instant Cash Sweepstakes.
I really like the quick and easy surveys of that website, but the downside is that you are rewarded mostly with sweepstakes entries.
Different from InstantCashSweepstakes, PaidViewPoints will reward you in cash for every survey you take.
Big companies are paying this platform to collect your opinions, demographics, and perform marketing studies. So, it's fair that you get paid every time and not just with your entries for prizes that may never come.
Pros & Cons
---
Pros
Easy and quick surveys
It won't screen you out
Get paid for every survey
Cash out with Paypal
High reputation
High transparency
Awesome user-experience
High referral commission (20%)
Cons
Low-income potential
There is a maximum number of surveys a member can take each month
Cap of $25 per referral
You can only receive 20% from referrals when they cash out (unless you have 100+ active referrals)
Why is It Different From Most Survey Websites?
---
I have lost count of how many times I was screened out trying to complete surveys.
Come on. It's so annoying and frustrating to waste 5-10 minutes only to hear you are not a good match. I understand that they want the perfect candidate for their specific studies, but don't you think it's disrespectful when all you earn is a big "THANK YOU"? Not a single penny as a compliment? That's one of the reasons I have given a mediocre score for all survey websites so far… PaidViewPoint is different!
Once invited, you will get paid for every questionnaire
They will never screen you out
It will match your interests and demographics beforehand, and provide you with the correct survey.
Let's say they want opinions from a parent. But they know you don't have a kid because you already answered that question in another survey.
They will not ask that again unless you are answering trait surveys, which are questions used to better know you, and to make sure you are consistent with your answers.
Trait surveys are used to pre-qualify you to the surveys ordered by the clients. The different from another survey website is that you will always get paid to answer them, and they are not extensive.
Surveys are quick and friendly
A challenge for every marketing research company is to gather reliable information to improve their products and services effectively. But many people just want to tick the boxes as quickly as possible, they don't care, right?
Long and boring surveys will always get people to lose interest and jump reading. That's why you will hardly ever see an exhausting survey at PaidViewPoint.
According to the FAQ, surveys usually take 5-6 minutes or even less, and there are limits to the number of characters in questions and answers.
Check out this example: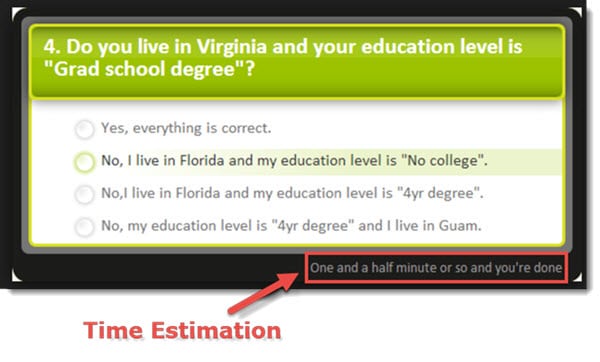 This is a common question you will find, straight to the point! Below, you will find a realistic estimation of how much time you have left to end the survey, which is nice because you know what to expect.
I really like the way they care about people taking the surveys. It seems like they are really interested in making the experience as pleasing as possible.
Now, let's take a closer look at how it works, from the sign-up to the cashout process, shall we?
How Does it Work? 
---
Signing up – making money from the beginning 
The registration is simple and will earn you $1 upon completion.
Answer a couple of simple questions, provide your email address and confirm it using the code sent to your inbox.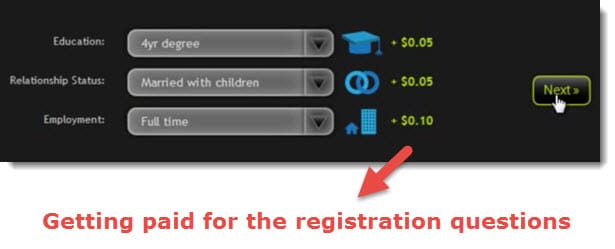 You will also need to confirm your phone number, but don't worry because they will not use it for marketing purposes. It's just requirement to prevent people from creating multiple accounts and exploiting the system.
Taking Surveys 
A couple of traits and personality surveys will be available from the start. Every new survey opportunity will be notified in your dashboard and you can also choose to be notified by email and SMS.
I highly encourage you to activate the email and the SMS notification because there is a limit to the number of panellists they accept for each survey. Once the quota is filled, the opportunity is closed. So, you need to be fast!
There is a maximum number of surveys a member is permitted to take each month, but they don't specify how many. Although this will put a limit on your income potential, I believe it helps spread opportunities evenly for everybody.
Surveys are around 10 questions long and as easy as pie. It's not uncommon to get 3 minute surveys, and usually, the longer it takes, the higher the payout. Fair enough!
Now, let's talk about an interesting feature.
The TraitScore
TraitScore is an assessment system that gives you points for being consistent answering questions about your demographics, traits and opinions.
Being consistent means you are giving similar answers to similar questions, which is a strong indication you are honest in you responses.
Therefore, you will increase your TraitScore every time you answer surveys in a consistent manner. Any survey will increase your points, but trait surveys are used specifically for that, and will get you more points as a result.
If you contradict yourself a lot, you will be considered an evil survey taker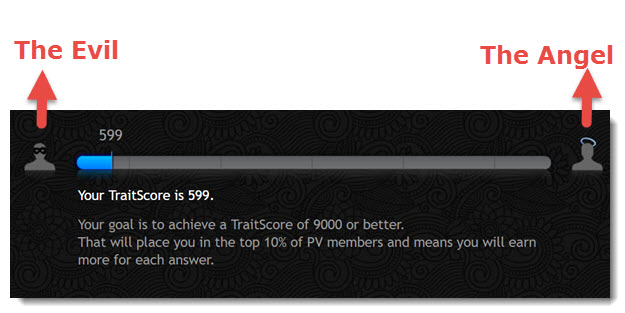 What do you get from a higher TraitScore? Basically more survey opportunities and higher payouts for each answer.
But here is my advice, don't just give positive answers to every question to simplify your life. The will get suspicious and place you on the black list.

How Much Can you Earn? 
---
It depends on every survey and the level of your TraitScore. You can get anywhere from 3 cents to a little bit over $1 with this platform, although the majority of surveys will pay around 10 cents.
Cashing Out
---
Paypal is the only payment method and you need to have a minimum balance of $15  in order to cashout. Payments will be processed within 72 hours.
I haven't reached the minimum payout yet, but I promise to come back and print my PayPal balance for you.

This reward platform is going viral! Cash out via PayPal, Visa, Gift Cards, and in-game currencies - Click here to find out how to generate an extra $10+ per day! 
Referral Program 
---
Referring someone is basically inviting people to join PaidViewPoint through your referral link. Everyone has their own referral link upon joining the website, and you just have to copy this link and share it wherever you like (social media, website, blog, email etc.)
In case you are sharing via social media and email, they have automated options for that.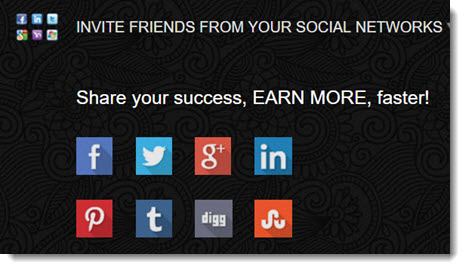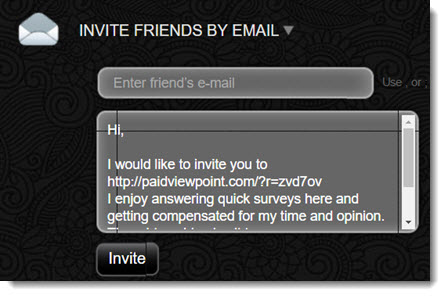 When people click on this link and start earning money, you will get 20% from them. 20% is awesome!
However, a big drawback is that there is a cap of $25 per referral. Besides, you have to wait for people cash out before you can get your 20%.
There is a way around it for TOP affiliates, though. If you have 100+ active referrals, you will be able to collect your 20% before they cash out.
Being able to refer so many people is the key to making a substantial income online. An online business allows you to refer thousands of people not only to one product or platform but to hundreds or thousands! The income potential is huge, and that's how many people are making a living online right now!
Bottom Line
---
When it comes to online surveys, PaitViewPoint is the icing on the cake. Although it won't make you lots of money, it's still a good opportunity to earn easy cash. Different from other companies, you won't waste your time for being screened out. They will pay you for every survey!
Verdict: Legitimate – Great Survey Website! 
So, have you tried PaidViewPoint? What do you think about it? Feel free to share your experience with us!
By the way, don't forget to check out my #1 recommendation if you are serious about making money online. This is the same platform that helps me grow an online business and earn over $700 per month in affiliate commissions.
See you next time!
Stefan