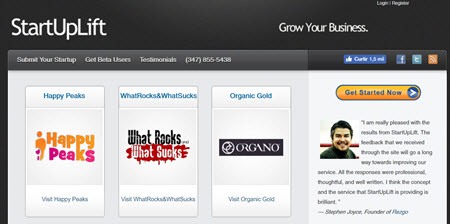 Can you get paid just for providing feedback on websites? Is StartUpLift a scam or a legit site? Check this brief review and discover all you need to know about it.
Alternatively, check ou my number 1 recommendation and learn the method I use to earn passive income online.
StartUpLift Review
---
Product Name: Startuplift
Website: startuplift.com
Strategy: Get paid to provide website feedback
Price: Free
Overall Rating: 

6.0/10
What is StartUpLift? 
---
StartUpLift is a simple platform that provides crowdsourcing feedback for startup companies. It's running since 2014 and has headquarters in New York.
One one side you have the startups that want to know what people think about their websites or apps. On the other side, you have members willing to provide a constructive feedback and earn some extra cash.
Is StartUpLift a Scam? 
---
No, it's legitimate. I didn't find any serious complaint about it on the internet. But you need to have realistic expectations and understand that you won't get many opportunities on a daily basis. So, unfortunately, you can't count on StartUpLift to pay the bills.
Pros and Cons of 
StartUpLift
---
Pros
$5 per feedback.
Reliable.
You will get paid every Monday via Paypal.
Cons
There are not too many opportunities available.
Low-income potential.
Startups can reject your feedback if they think it doesn't meet their expectations.
How Does 
StartUpLift Works?
---
The first thing you need to do is scroll down to the bottom of the page and click on "Get paid to provide feedback($)."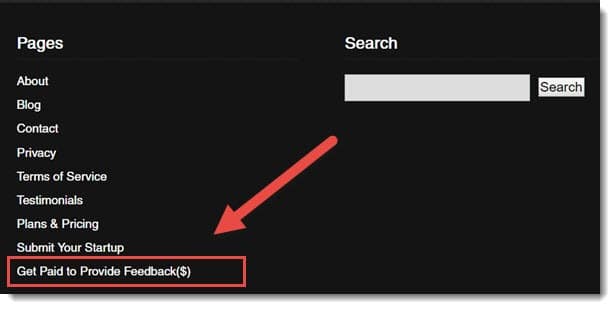 Read all the information on the page and click the link to register. Then, create your free account and sign up using the username and password you've chosen. You don't need to verify your email account.
By clicking the "your account" link, which is on the top right corner, you will open the "opportunity dashboard" page:

If there are any opportunities available, you will see a button that says "Submit Feedback." Otherwise, there will be a message saying there are currently no opportunities available.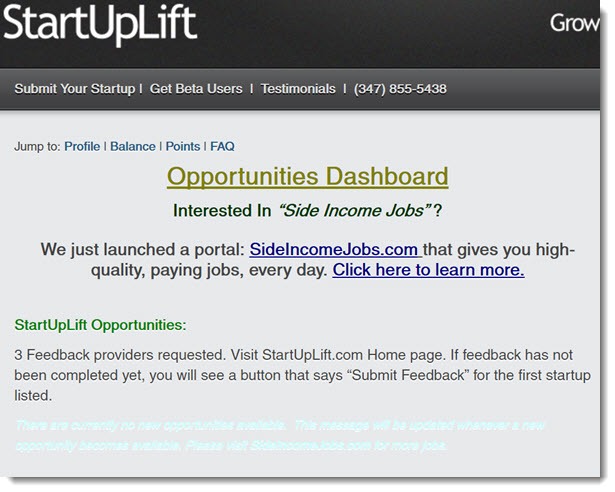 Be aware that opportunities are accepted on a first-come-first served basis. So, it can be hard to get accepted considering there are much more users than startups. And as you won't receive an email alert, you will need to visit the page constantly to secure your spot. That's a negative point.
Once you find an opportunity, it doesn't mean you will get accepted right away. Sometimes you also need to match the profile ( age, gender, location, income, etc.) they need.
Providing The Feedback
---
Different from usability testing sites like UserTesting.com, What Users Do, and TryMyUI, StartUpLift doesn't record your screen and audio while browsing the website. Instead, you just have to read the task instructions, browse the site/app, and provide useful written responses.
Take a look at this real example: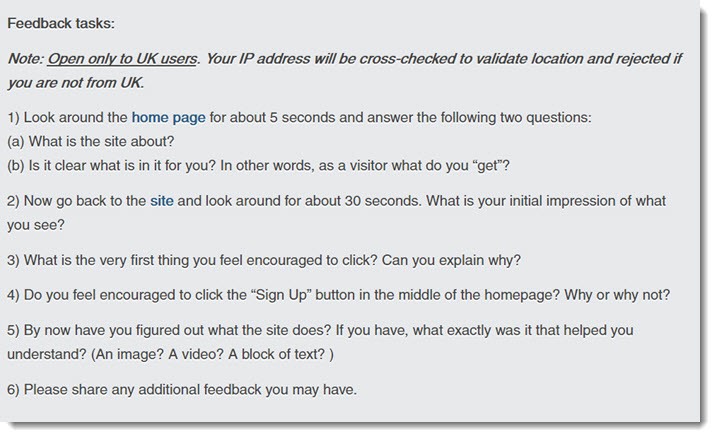 When you are proving a feedback, you need to be as thorough as possible. There is no minimum number of words required, but the more thoughts you put into it, the higher your chances to get accepted.

Try your best to offer a high-quality feedback, or you risk wasting precious time.

The site recommends that you don't take more than five tests a day so that you don't get overwhelmed and let quality drops.
Payment
---
Payments are processed every Monday via Paypal, and there is no minimum cashout requirement. So, as long as you have $5 in your account, you will get paid.
PayPal is currently the only payment method available.
Final Thoughts
---
StartUpLift is not a scam. It's another way to make some extra cash online performing easy tasks and giving you opinions about websites and apps. I think $5 is a fair reward for your time and effort.
My only concern is that some people might get rejected even if they believe they did a good job. I don't know how the company deals with system's abuse. But in my opinion, they should review the user's feedbacks to decide if they deserve the $5 reward or not.
Verdict:
Legit
My Recommendation
---
If you want to make decent money performing easy tasks, you need to sign up to many similar platforms. Still, there are no guarantees you will get new opportunities regularly. Not only that, the time vs. reward is not encouraging…
For those searching for a smart strategy to make money online, I highly recommend you build your own online business.
An online business allows you to earn money passively after you put in the time and effort.
For example, I worked hard during the last one year and a half, and now I reap the rewards of all my efforts and make around $500 – $600 per month. It builds up month after month!

Even if I decided to take a long holiday and don't touch my business, the money would still keep coming for months or years.
It's awesome because I have the freedom to choose my own schedule and to work from wherever I want!
If you want to know more about this proven strategy, don't forget to check my #1 recommendation review below.
I hope this article was helpful to you. If you have any question, feel free to leave a message below!
See you next time!
Stefan

This reward platform is going viral! Cash out via PayPal, Visa, Gift Cards, and in-game currencies - Click here to find out how to generate an extra $10+ per day!