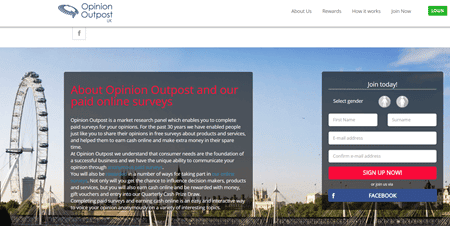 I used to take surveys almost every single day back in 2015, and I remember Opinion Outpost was my favourite panel due to the highest payouts.
Unfortunately, the site has been getting lots of negative reviews during the last 2 years. What's going on?
In this review, I am going to show you all you need to know about Opinion Outpost give you my honest opinion about it. Is it a scam or legit?
By the way, don't forget to check out my #1 recommendation if you want to discover the strategy that earns me $1000+/month from my laptop. 
Opinion Outpost Review
---
Product Name: Opinion Outpost
Website: opinionoutpost.co.uk (UK); opinionoutpost.com (US); opinionoutpost.co (Canada)
Price: Free to join
Type: Online Survey
Membership Eligibility: UK, US, Canada, 18+
LEGIT
Score: 2.6/5
[yasr_overall_rating size="medium"]
What is Opinion Outpost?
---
Opinion Outpost is a survey panel owned and operated by a marketing research firm called Dynata (formerly known as Survey Sampling International).
The company also operates many other sister sites such as iPoll, Survey Spot, Surveyon, Quick Thoughts, MyOpinions, E-Rewards, SmileCity (NZ), YourVoice and a few others.
By taking part in online surveys, you will earn points that you can redeem for cash or gift cards to popular brands.
1 point equals £0.05 / $0.10.
You get paid to share your opinions, which will help big brands improve the quality of products and services as well as develop innovative ideas.
Who is It For?
---
Opinion Outpost is only available for residents in the UK, United States, and Canada.
Any person of 18 years of age or older can join Opinion Outpost and start taking surveys for cash.
Pros & Cons
---
Pros
The minimum cashout requirement is only £2.50.
There are lots of surveys.
Redeem via Paypal, e-gift cards and physical vouchers.
Cons
There are lots of complaints about frozen accounts and frequent disqualifications.
Extensive profiling questionnaire.
It can be difficult to qualify for surveys.
How Does it Work? 
---
Registration
You can register very quickly with your email address or Facebook account.
To register with your email, simply fill up the form with your name, surname, email and gender. Using Facebook is much quicker as you don't need to fill up the initial form.
After signing up, you must check your email inbox and click the verification link to activate your account.
Before you start taking surveys, you have to complete a lengthy profile questionnaire, which is used to match you with future surveys opportunities.
It took me around 15 minutes to answer all the questions, and I earned 5 bonus points at the end (£0.25).
Taking Surveys
Opinion Outpost will send you survey invitation via email when new studies become available.
There are limited spots so you should try to start your survey as soon as possible.
You can also check for new surveys by logging into your account and clicking on the "Take a survey" button.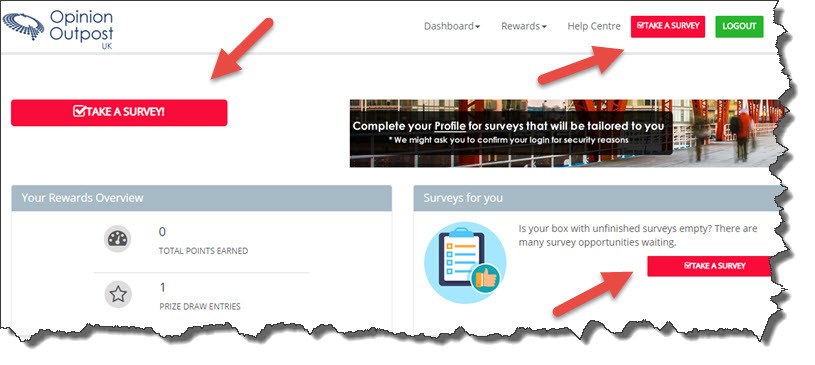 Before you are allowed to complete the actual survey, you have to answer some preliminary questions about your interests and lifestyle.
These questions will determine whether you are the right candidate for the current study or not.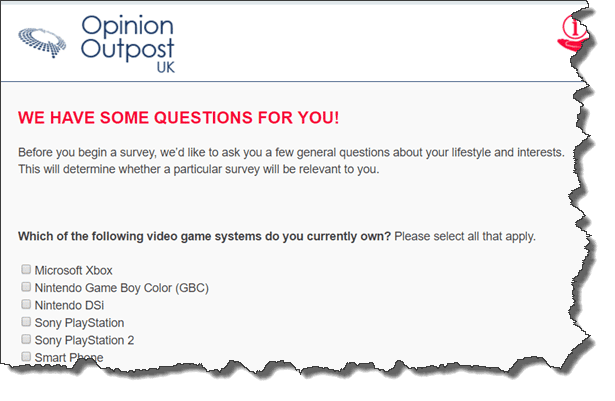 You will collect points only if you qualify and finish the survey.
Be careful because they can repeat questions in different ways to see if you don't contradict yourself.
All your answer is being recorded and will be used to check if you are being honest.
That's why you should always be truthful, even if you think some of your answers might not help you qualify for the survey ahead.
Getting disqualified many times in a row helped me realized I was not the kind of person most companies were looking for.
I don't have a car, I don't own a house, I don't play video games, and I don't watch TV. So, you get the picture.
It was hard for me to qualify because they prefer the opinions of someone who is consuming the product(s) that is(are) part of the marketing study.
As you would expect, I wasted a lot of time for a very little return.
Nevertheless, Opinion Outpost was one of the best options for me at that moment until I discovered affiliate marketing and started my own online business. Click here to learn how I did it! 
How Much Money Can You Make with Opinion Outpost?
Usually, the lengthier the survey, the more points you will get. However, the reward is not always proportional to the length.

For example, while a 32-minute survey was giving 25 points (£1.25), a 10-minute survey was worth 5 points (£0.25).
In both examples, the pay rate is less than the minimum wage.
You will probably find daily opportunities, but it's unlikely that you qualify for all of them.
Depending on your profile and lifestyle, they will reject you many times, lowering significantly your earning potential and your hourly pay rate. 
Some people like to take surveys because they are easy and convenient. However, it seems like most of them get bored and quit after some time. The reason for that has a lot to do with the frequent disqualifications.
At the end of the day, only you can decide if it's worth taking surveys or not.

This reward platform is going viral! Cash out via PayPal, Visa, Gift Cards, and in-game currencies - Click here to find out how to generate an extra $10+ per day! 
Prize Draw Entries
After you complete a survey, you also earn an entry into a Quarterly Cash Prize Draw to win £5,000. So, every time you complete a survey, there are higher chances of winning.

You can also redeem 1 point for every additional entry.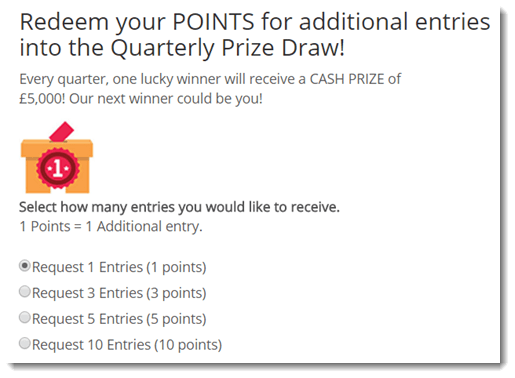 Rewards
---
It's possible to exchange points for e-Vouchers as well as Physical Gift Vouchers from a huge number of stores such as Amazon, iTunes, Argos, Boots, H&M, Decathlon, and many others!
E-vouchers usually arrive in your email inbox within 48 hours, but it can take up to 10 business days. Physical vouchers take longer but should also arrive within 10 working days.
You can also redeem via Paypal when you reach a minimum of 50 points (£2.5).
If you are using PayPal, be aware that the email you registered with Opinion Outpost should be the same as your PayPal's. If it's different, then you should add the PayPal address in your profile.
I tried to add my PayPal email by clicking on "Dashboard" and then on "Profile", but I couldn't find the option for that. So, in this case, I recommend you contact the helpdesk support.
In addition to that, your PayPal account must have the "verified" status.
Will They Respect Your Privacy?
---
Many people worry about sharing their personal information online, and they are right!
So, can you be safe giving all your personal details about your life to Opinion Outpost?
Well, although I can't give you the definitive answer, what I can say is that they are apparently doing the best it can to conform with GDPR regulations. That is a good indication the company is respecting your privacy.
The GDPR sets higher standards for businesses that collect personal data from customers and website visitors.
For example, Opinion Outpost will ask for your consent whenever they collect data from you. You can also exercise your right by asking them to delete all the data they hold about you.
User Reviews – Complaints
---
I had a close look at many reviews at both SurveyPolice.com and Trustpilot.
What I can tell you is there are hordes of people angry at Opinion Outpost, mainly because of frozen accounts and frequent disqualifications. 
I noticed that every survey panel operated by Dynata (SSI) have a large number of reviews that report frozen accounts.
Many people claim their accounts were terminated or suspended for breach of rules and security issues. I was impressed with the number of complaints.
Coincidentally or not, many people claim this happened just when they were about to cash out.
Lorelei from the United States said she had been a member for 15 years when her account was closed due to inattentiveness.
Also, many people complain about being disqualified after answering questions for 5-10 minutes.
Final Thoughts
---
Opinion Outpost is a legit survey panel, but unfortunately, I am not recommending it anymore.
Many people are having their accounts frozen and experiencing frequent disqualifications nowadays.
Imagine wasting hours of your life only to receive a message that your account along with all earnings is gone!

It's heartbreaking to see so many people expressing their frustration.
I do hope that Opinion Outpost improve things and do their best to reward survey participants for their time.
Verdict: Legit
How I Make Money Online
---
I used to take surveys back in 2015, but I was sick and tired of wasting my time for such a small reward.
Then, after reading an article, I came across the possibility of building an online business and making hundreds and even thousands of dollars per month!
There are many strategies, but I decided to get started as an affiliate marketer. An affiliate marketer attracts an audience through his own website and promotes other people's products in exchange for commissions.
It's excellent for beginners because the startup cost is very small, so the risks are significantly reduced!
Bear in mind that it takes time and a lot of upfront work to attract a large audience to your business and start making good money.
This is a long-term strategy that really works for those who are patient and highly committed.  
After three years of working on my website, I started making over $1000/mo. I am not claiming you will reach the same results at the same time.
Maybe you can achieve results faster, maybe a bit slower. I know people who reached $10,000 per month in 3 years!
Each person has its own pace! But you know what? What really matters is that you are making progress day after day towards your goals.
If you want to learn how to build your affiliate site and start making commissions, check out my #1 recommendation here.
The first 10 lessons are completely free and will help you build the foundation for your internet business.
So, what do you think of Opinion Outpost? Feel free to share your experience with this panel in the comment box below.
Stay safe and peace out!