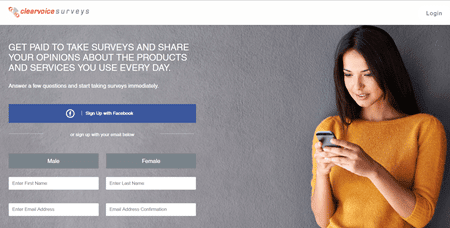 Today's post is all about a platform called Clear Voice Surveys. If you are trying to make money online and you are curious to know whether this one will help you on this journey, then check out my Clear Voice Surveys review below.
I hope you enjoy the reading! Just don't forget to visit my #1 recommendation if you want to discover the strategy that earns me $600+/mo from my laptop. 
Clear Voice Surveys Review
---
Product Name: Clear Voice Surveys
Website: clearvoicesurveys.com
Price: FREE
Business Type: Online Survey
Score:

6/10
What is Clear Voice Surveys?
---
Clear Voice Survey is a survey website owned and operated by ClearVoice Research, a marketing research firm based in the US.
The platform is designed to gather demographics and opinions from people willing to take surveys for cash. The information is precious for businesses that will analyze the data and come up with a strategic plan for their products and services.
Pros & Cons
---
Pros
Reliable survey platform.
Free to join.
Cons
Low-income potential.
Lack of survey opportunities.
It doesn't accept PayPal. The only way to redeem cash is through Payoneer prepaid Mastercard, which charges a monthly fee.
It's hard to qualify.
Reaching the minimum cashout requirement can be tough.
How Does It Work? 
---
The sign up is free and very straightforward. Once you register, check your email inbox and click the confirmation link to activate your account.
The next step is to complete the profile surveys. By answering profile questions, Clear Voice Surveys will be able to match you with the right survey and give you more opportunities.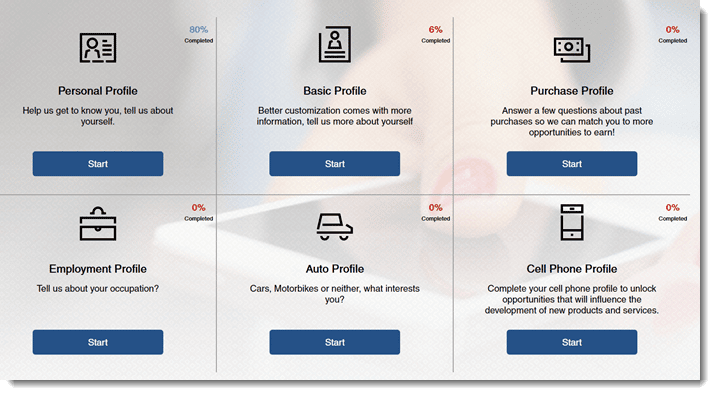 The profile questionnaire is also used to combine information and make sure you are not rushing and being dishonest with your answers. For example, they may ask you the same question in the pre-qualifying phase, and if the answers are different, they will probably reject you.
When survey opportunities arise, they will send you an email invitation. Alternatively, you can click on "Survey Invitation" and then on "Match to Survey" button.

What happens next is they will check if they are any survey that matches your profile.
Your location can impact significantly the number of surveys significantly you will get. As I am in the UK and the company is from the US, it's natural to find fewer opportunities.
At the time of writing this review, I didn't get any survey invitation. It's discouraging because you waste a lot of time completing the profile only to see a blank space and this message: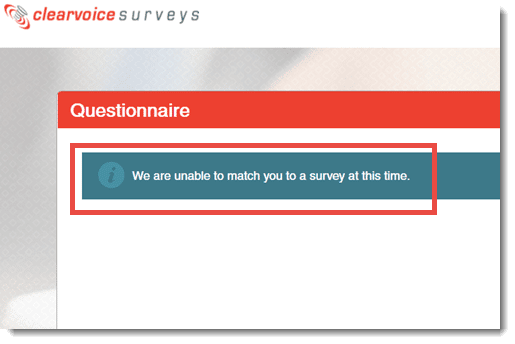 How Much Money Can You Make?
Not much! It actually can be a very frustrating experience.
First of all, there are not many opportunities. When you finally get an invitation, you still have to go through a qualification process, which can easily cut you off.
Finally, after you get accepted and complete the survey, you will usually earn less than $1 for a 10-15 min survey.
Cashing Out
You won't get paid straight away after you complete a survey. The reward comes after the entire survey has closed, which typically takes from 2 to 6 weeks.
Also, you can only withdraw your money when you have at least $10 in your account. It takes time!
Another negative point is they don't accept Paypal. The only payment methods are Payoneer Prepaid Mastercard and Amazon Gift Cards. If you are living in the US, it's also possible to use Dining Dough gift card.
Bear in mind Payoneer charges a monthly maintenance fee for the card. It's ridiculous. You don't earn much, but still, you are forced to pay for a card if you want to redeem in cash.

Complaints
---
I have found some complaints on the internet that are not much different from the ones that most other survey sites get.  Here are the most common ones:
Lack of surveys
Surveys are long and don't pay much.
It's difficult to qualify.
Polls
---
The platform allows members to answer and create polls. However, different from Tellwut, there is no reward for those who engage with polls.
Final Thoughts
---
Clear Voice Surveys is not a scam, but it doesn't offer many survey opportunities. Besides, the fact that you can't withdraw using Paypal is a negative point.
Verdict:
Legit
How I Prefer to Make Money Online
---
Two years ago, I jumped out of my comfort zone and started looking for ways to earn an alternative source of income. I didn't want to depend on a boss for the rest of my life!
That was a huge step for me because, at that time, I was just focusing on my ideal career without realizing the great opportunity the internet had to offer. The opportunity to earn more than what my current job pays me and live life on my own terms. I mean freedom to work whenever and wherever I want!
I discovered how to build an online business and started working very hard on it. Two years later and now I feel very close to achieving 4 figures and quit my job.
I just didn't quit my job yet because I still live in London, which is a very expensive city. But that is about to change as I plan to move to another country and make the most out of my commissions
But enough about my me, and let's talk about you! Would you be willing to learn and work hard towards the same lifestyle?
Would you be willing to learn and work hard towards the same lifestyle? Or maybe you just want an extra income to stop living paycheck to paycheck!
If so, then I highly recommend the same training that I went through.
The step by step training was designed with the complete newbie in mind, so don't worry if you have no previous experience. By the way, it has a 100% free trial membership, so you have nothing to lose!

>> Check out my #1 recommendation to start and grow a successful online business!
So, have you tried Clear Voice Surveys? What do you think of it?
Thanks for reading and I'll see you next time!
Stefan