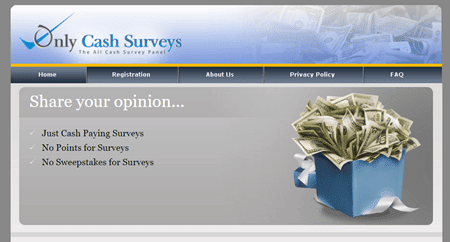 You landed on a website that promises cash surveys and also $5 just for signing up.
Now, because of the sheer amount of scams out there, you start thinking about the risks of signing up. It can be a trap somehow, right?
Is Only Cash Surveys a scam or legit platform? Check out my review below before you join!
If you want to learn the same strategy that earns me $600+/month online, check out my #1 recommendation.
Only Cash Surveys Review
---
Product Name: Only Cash Surveys
Website: onlycashsurveys.com
Price: FREE
Business Type: Online Survey
Score:

2.0/10
What is Only Cash Surveys?
---
At first glance, Only Cash Surveys seems like another survey platform where members connect with marketing research companies and get paid for sharing their demographics and opinions.
The front page tells us that the cash reward is placed on your Only Cash Surveys account. Then, when you reach $50 you are able to redeem for cash. It also tells you that the site doesn't work with points or sweepstakes.
I couldn't find any relevant information about the company or individual behind this website. The "About us" page only provides an explanation of how the site works but doesn't mention who owns it.
How Does It Work? Very Strange! 
---
The platform is very strange. Trust me.
It all starts with the signup process. They only ask for your name and email address. They also don't send the password or any confirmation link to your email.
What happens is that when you try to log in, you must provide a password, which simply doesn't exist! By then, you realize you can't log in with the same email and you are forced to create another account.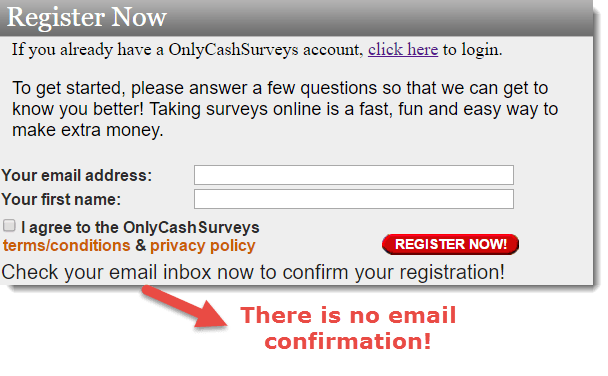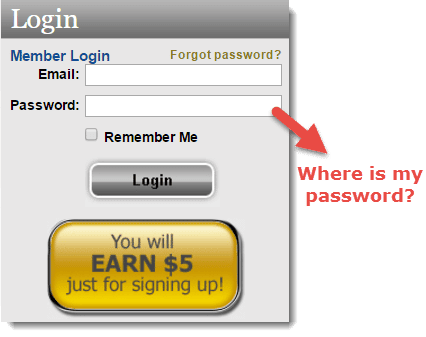 After you create your account, you will see a page that urges you to register with at least 2 companies on the list and click the confirmation link in your email.
Right! This means that Only Cash Surveys is only an affiliate of marketing research companies and survey websites. I have reviewed dozens of similar websites such as SurveyCompare, Top10BestPaidSurveys, and SurveyVoices.
The difference is that those three sites work, while Only Cash Surveys doesn't!
If you take a look at the simplistic menu, you will see that there is no option to check your account and withdraw your money.

By way, where is the $5 sign up bonus?
There is no bonus here.
But that's not all.
There are well-known survey panels in that list such as Ipsos i-Say, MySurvey, Harris Poll, Survey Savvy, and a few others. However, the links are broken, and you will notice they are trying to direct you to other sites.
Also, when I clicked on one of the links, my antivirus detected a Phishing link and blocked that page.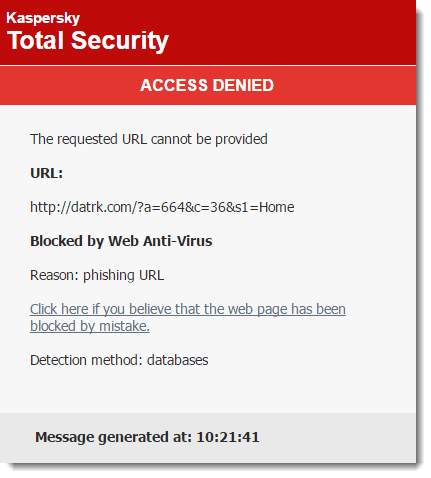 A phishing website tries to steal confidential information such as username and password, by tricking you into believing you are on a legitimate website. So very careful with that!
The only survey panel that actually worked was MySurvey.com.
Conclusion – Is Online Cash Surveys a Scam? 
---
Only Cash Surveys is a poorly managed platform. It will make you waste your precious time by directing you to broken links for reasons unknown.
I am not sure if it's a scam, but it a website I don't recommend.
Verdict:
Not Recommended
There are many good options out there for those who want to complete surveys and simple tasks. CashCrate, InstaGC, Irazoo, and Swagbucks are legit and very popular options.
You can try those, but the thing is: Will you be happy taking surveys that are boring to death in exchange for a few cents?
Also, let me ask you one question. How many surveys do you need to take in order to make a $30, or $100? I hell lot, right? And what about all those failed attempts to qualify?
It's discouraging!
How I Prefer to Make Money Online
---
In 2015 I gave up on online surveys and started my own online business.
I have already made thousands of dollars, but because of the high prices of living in London, I still can't afford to go full-time with this. However, I feel that I am very close to achieving my goal, which is to quit my job and dedicate 100% to my business.
Imagine the possibility of earning hundreds or even thousands of dollar per month without having to report to a boss or be stuck in an office! What would you do with your time?

You might be thinking: Stefan, this must be very difficult! I don't have the knowledge, skills and also the money to do that!
Well, I am here to assure you that ANYONE is capable of building an online business and reach incredible results. I didn't know anything about online marketing and website creation when I got started. But here I am! Making $500 – $600 per month online!
One important thing to keep in mind is that it takes a lot of upfront work! And it won't happen overnight.
If you want to give it a try and start your online business, you can't go wrong with the same step by step training that I followed 2 years ago. It's called Wealthy Affiliate. The first 10 lessons are completely free and will help you set up the foundation of your business.
Click Here and Check Out My Wealthy Affiliate Review

This reward platform is going viral! Cash out via PayPal, Visa, Gift Cards, and in-game currencies - Click here to find out how to generate an extra $10+ per day! 
That's it for now. I hope this post was helpful to you. If you have any questions or you need help making money online, just leave me a message below.
See you next time!

Stefan