I am always looking for sites and strategies to make money online. Today, I discovered a job search platform called FISH4JOBS, which was listing a home-based opportunity from WeHaveWork4U.uk.
FISH4JOBS is a legitimate site, but I was very skeptical of this particular job advert. It was too good to be true, you know?
I don't know how you found this site, but just take a look at how I did: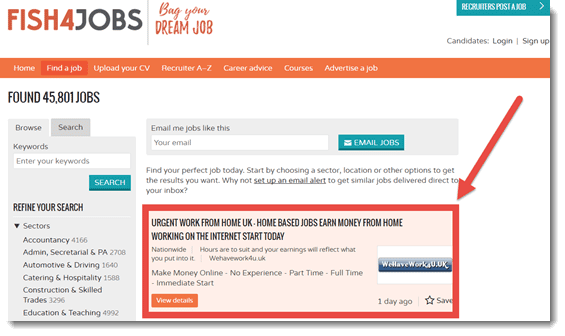 Who doesn't want to work from home?
I knew there was a catch, but I couldn't resist. So, I decided to go ahead and check out the details.
The Dream Job? 
---
I clicked on "View details" and, to my surprise, the job descriptions looked even better! Had I finally found the dream job?
Here are the key points of the job description:
Flexible hours – You can start part-time and then scale up.
No experience required – Training will be provided within online offers.
Work on your smartphone, tablet or laptop.
The job involves completing simple services, tasks and offers on the internet. I heard that before…
Your earnings will reflect what you put into it.
Work whenever you want from the comfort of your home.
Note that the word "offers" appeared twice. But offers are not the same as jobs, right?
Surprise! 
---
I clicked the blue button "Apply now, " and this is where it took me: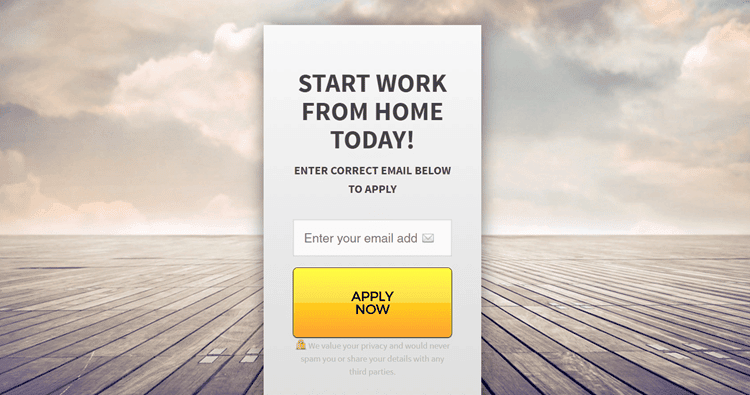 As an online marketer, I am very familiar with such pages – known as squeeze pages.
This type of page is designed to capture people's email through an opt-in form.
Once they get your email, they will probably keep on sending unsolicited messages (spam) from time to time in an attempt to make you sign up for products or services.
How do I know that?
Well, after I signed up, they directed me to a third party website called 20 Cogs, where I should sign up again!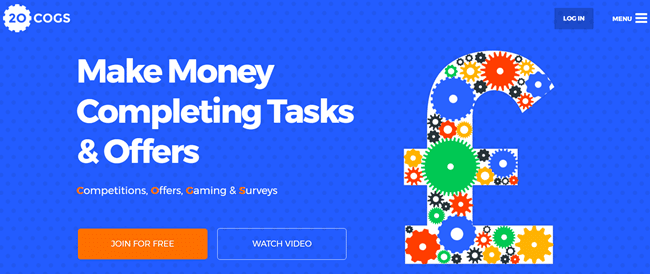 I also discovered WeHaveWork4U leads people to a similar site called PaidOffers.
They earn affiliate commissions for that!
So, the only thing WeHaveWork4U does is capture your email and direct you to a company they are affiliated with.
To be honest, I don't see any other reason why WeHaveWork4U would collect your email except to send spam or sell it to third parties.
Now, what I can say is that 20 Cogs is far from a job opportunity. It's a website where members get paid to complete a total of 26 offers.

In my opinion, offers can be very tricky sometimes, and you need to be extra cautious to avoid unnecessary charges to your credit card.
You should check out my full 20 Cogs Review before you decide to join.
Is WeHaveWork4U a Scam Then? 
---
It's a difficult question.
I don't have a strong reason to call it a scam, but it makes you think you are applying for a proper job, which is not the case.
WeHaveWork4U is a simple squeeze page that directs people to 20 Cogs, PaidOffers, and probably other similar sites. When you complete offers on these websites, the owner(s) of WeHaveWork4U will make generous affiliate commissions.
Yes, you can make money, but completing offers should never be regarded as a job. The reason being that you are not providing any value. Besides, there is a limited number of offers available. So, it's not sustainable!
20 Cogs and PaidOffers are not Scam, but WeHaveWork4You is using a very misleading job post to promote them.
FISH4JOBS should be more careful when allowing particular types of job adverts.
Do You Still Want to Work Remotely? 
---
If you are still interested in working from home, I recommend you to look for respectable freelancing platforms like Upwork, and Fiverr.
Another real opportunity to work from home can be found at WeWorkRemotely.
Now, if you are sick and tired of working for other people and want to learn how to make money on your own terms, then check out my recommended step by step training.
This is the same training that helped me go from $0 to $630/month in passive income online.

Click here to understand how it works!
Thanks for reading and I hope this article was helpful to you. If you have any questions, just leave me a message below.
See you next time!
Stefan

This reward platform is going viral! Cash out via PayPal, Visa, Gift Cards, and in-game currencies - Click here to find out how to generate an extra $10+ per day!