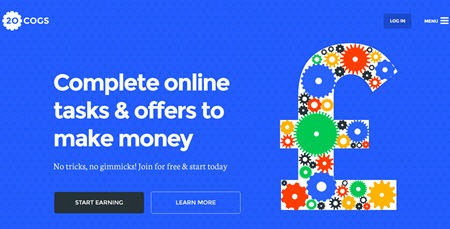 This review is all about 20 Cogs, a website where you must complete 20 offers before cashing out.
There are many legit platforms out there, but you need to be careful.
The number of people wasting time and money with offers is scary. Unfortunately, I was one of them, but I learned the lesson!
So, is 20 Cogs a scam or a legitimate platform?
Before you read this review, I need to say that completing offers is not my favorite method of making money online. If you are interested in the platform I use to make $2,000+/month in passive income, check out my #1 recommendation.
20 Cogs Review
---
Platform: 20 Cogs
Website: 20cogs.co.uk
Price: Free to join, but many offers require a deposit
Strategy: Offers
Overall Rating:

3/5
First Impression – Is 20 Cogs a Scam?
---
20 Cogs is owned by Submission Technology, the same company that created Paid Offers, which was shut down a while ago. On this site, you had to complete 26 offers to get paid a lump sum at the end.
I haven't seen any serious complaints about the 20 Cogs. In fact, I've seen many positive reviews, which is a good indication that the website is not a scam. 
What is 20 Cogs?
---
As you already know, 20 Cogs is a website that rewards you for completing offers. An Offer is a general term that mainly includes:
Trying out products and services – Online TV, Credit Report, APPs, etc.
Competition entries – Enter your details (name, address, phone) for a chance to win prizes.
Site registrations – Sign up for free on online survey platforms
When you complete an offer, 20 Cogs earns a commission from advertisers. So, you simply get a share of it.
When you accept an offer, you need to read the terms and conditions carefully. Otherwise, you pay for stuff you don't want.
Pros and Cons
---
Pros
Free to join
Good reputation
You can cash out via Paypal or BACS
You can check out all the offers beforehand
Cons
You need to complete all 20 offers before cashing out
Offers can be tricky, and you may be charged if you're not organized
You may have to provide your credit card details and make payments
Low-income potential
How Does it Work? 
---
Sign up process
The sign-up is free is very quick. All you have to do is provide your name, email, and password. Or you can use your Facebook account if you like.
The 20 Cogs 
As soon as you log in, you will bump into 20 Cogs representing different offers. You need to complete all of them to get paid.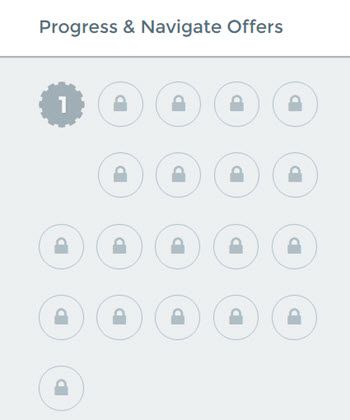 Each Cog usually contains two different offers that you can choose from. So if you don't fancy the first one, you can pick an alternative.
At first, I thought you weren't allowed to see what the next offer was. But if you click on "take offer" and "continue," they will unlock the next one.
So, if you really want to make money with 20 Cogs,  I encourage you to look at all 20 offers and see if you have the guts to complete them.
Highly Recommended: Click here to learn the strategy that allows me to make money online while traveling the world.
 100% free training available here
Be Extremely Cautious!
You need to be extra cautious when completing some offers that ask for your credit card details. Please read the terms and conditions carefully and don't forget to make a note so you don't lose track of them.
That's because many offers will automatically turn you into a paid subscriber after the free trial period. And as you gave them your credit card details and accepted their terms and conditions, they have the right to charge you for the product or service.
For example, the first offer I saw was from toucanBox.com.


This company charges a fortnight subscription (£3.95 + 98p postage) for delivering creative craft boxes to children. When you accept their offer, you get the first box for free. However, if you don't cancel your subscription, they will automatically charge you for the following box.
You can also come across offers intended to collect your contact details (phone and email address) and other personal information. However, if you don't like receiving telemarketing calls daily, this offer might not be the best deal for you.
Check out this testimonial I found on the internet:

Waiting for Validation 
You can only validate an offer if you follow the steps correctly.
The status will typically appear pending (amber color) within 48 hours when you complete an offer. Once the company confirms you followed the instructions correctly, the Cog will turn green. It can take up to 30 days, depending on the offer.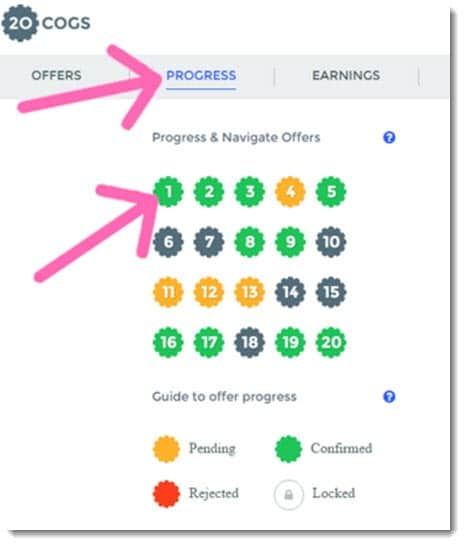 In our previous example, touxanBox will only validate the offer once you have received your first free box.
Can Much Money Can You Make? 
---
I was curious to know how much I could earn after completing all Cogs, so I unlocked all of them.
Many offers are paying £30 or more. Good money for a single offer, right?
But there is a trick.
You have to deposit £10 or more for these high-paying offers, which reduces your profit.
Even so, you can expect to earn more than £200 for completing all the 20 Cogs, which is not that bad.

Conclusion
---
20 Cogs has a good reputation as it doesn't mess up with payments and tries to solve issues promptly. So, it's not a scam!
If you need some extra cash, 20 Cogs can be a short-term solution for you.
Just be careful and organized to avoid unnecessary costs. Here are some other reputable platforms that you can complete offers and other simple tasks:
Verdict: Legitimate

This reward platform is going viral! Cash out via PayPal, Visa, Gift Cards, and in-game currencies - Click here to find out how to generate an extra $10+ per day! 
If you are not happy wasting your time for just a hundred bucks, the next section is for you. I am going to show you a strategy that has the potential to earn you a full-time income online.

How to Earn a Full-Time Income Online
A powerful strategy is called affiliate marketing. In affiliate marketing, you earn commissions by promoting other people's products on your website, which is pretty awesome!
The beauty is that you don't need to handle physical products or provide customer service. Your job is to write helpful articles and recommend quality products as an affiliate.
Affiliate marketing allows you to work independently from your computer on something you're passionate about.
Many people dream of making lots of money online but don't know how to get started.
I am currently making a full-time income thanks to the step-by-step training I found in 2015. It still works like a charm since it's based on solid practices!
Click here to read my review about this excellent training platform, and claim your free starter membership to give it a try.
I hope this article was helpful to you. If so, feel free to share it with your friends and leave me a comment below if you have any questions.
Your friend
Stefan