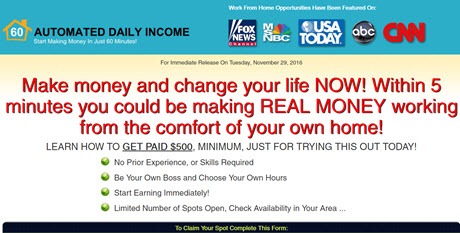 Automated Daily Income is claiming you can work from the comfort of your home and start making real money online within 5 minutes. Also, they say can make $500 just for trying out this system, which is very hard to believe. So, is Automated Daily Income a scam or a real opportunity?
Let's find out!
Automated Daily Income Review
---
Product Name: Automated Daily Income
Website: automateddailyincome.com 

Price: $49 + lots of upsells
Recommended?

No

 
What is Automated Daily Income? 
Automated Daily Income is a website that promotes MOBE (My Internet Business Education).
Do you remember reading MOBE on the sales page somewhere? Neither do I! Besides, when you reach the checkout page, the product is being advertised as Automated Daily Income, not as My Top Tier Business (MTTB) – the real name of MOBE's product.
I know that MTTB is the exact product you will purchase because that's what you get when you pay the enrollment fee of $49 to become MOBE's affiliate.
Then, you will get access to this 21-Step Training Center, which further attests that it's the same product. Here is a screenshot of the 21 steps training (MTTB) offered by MOBE.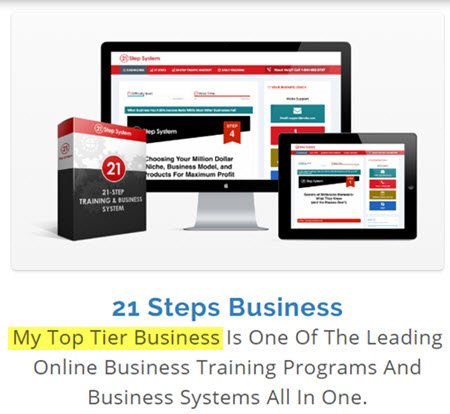 Here is the proof that MOBE owns Automated Daily Income. Scroll down to the bottom of the page and click on Terms and Conditions.
This is what you will see:

Making Money Posting Links – Is it Really Possible?

 
The website tries to make you believe that making money posting lists is something very easy and profitable. This is what it says:
[pullquote align="normal"]To post one link takes between 3 to 4 minutes. To be conservative, let's say it takes 4 minutes. Well, if you post one link every 4 minutes, and you do that for 60 minutes, that amounts to 15 links in just 60 minutes. And the average amount you make per link posted is $15. Let's do the math: 15 links for $15 each equals $225. That's $225 for 60 minutes of work! [/pullquote]

This reward platform is going viral! Cash out via PayPal, Visa, Gift Cards, and in-game currencies - Click here to find out how to generate an extra $10+ per day! 
Trust me. It's not as simple as copy and paste!
You can post links on the internet 24/7. But if people don't see the links, don't click on them, and don't buy the products you are promoting, you won't make any commissions!
They are just trying to make it seem easy because that's what most people want to hear. But sorry to disappoint everyone, there is no magic formula, there are no shortcuts to success!. Only hard work will get where you want to be.
About Mobe
MOBE is similar to MLM company, and it provides training for people who want to build an online business. Here are some drawbacks:
The training is geared towards promoting the platform itself.
You need to own the product if you want to earn commissions for promoting it: As with any MLM company, you need to invest big money to make decent money. This is very risky for beginners.
The products are overpriced: The initial $49 is just the entrance price. But, once you are in, you will be enticed to buy much more expensive memberships. The Platinum Mastermind, for example, costs, $17,162, which is insane!
Conclusion 
Yes, you can make money with MOBE. However, it's not as simple as going to Facebook and posting the links on "make money online" groups. It's much more than that!
You will have to work hard to achieve results, as there are no shortcuts.
Mobe is not a scam, but I don't recommend it.

What I Recommend
The most efficient way to get people to see and click on your affiliate links is to have a website. You have little chance of success without it.
Once you build a website, the next step is to attract a good audience to it. You do that by writing content and genuinely helping other people.
Take a look at this post you are reading right now. I am helping you avoid scams and showing you a reliable strategy to make money online. You can apply the same strategy to any topic you choose and help your audience.
For example, if you talk about healthy food, you may help people finding the best kitchenware to prepare a healthy meal.
Then, you can place the links leading to where people can buy these products. Amazon is a great example. When someone buys from Amazon after clicking on your link, you earn a generous commission for that sale. Amazon usually pays 6%-10% of the retail price.
The benefits of owning an online business are definitely worth your time and effort. This month I earned over $500 in affiliate commissions, and the business keeps growing month after month. I'm pushing hard to achieve a full-time income and quit my day job in 1 year from now. I know it's possible and I know you are highly capable as well.
So, how can you kickstart your online business and follow the same path? First of all, you need proper training, support from experts, and a reliable place to build your site.
Wealthy Affiliate is my #1 recommendation. That's the place where I build my own business and help highly motivated individuals develop theirs.
I hope this article was informative and enjoyable. If you have any questions, don't hesitate to leave me a message below. Thank you for reading!
Your friend
Stefan