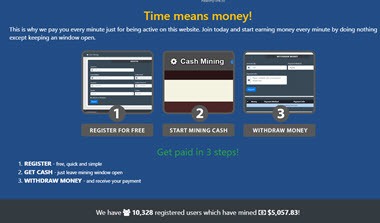 I stumbled across a website called Fast Cash Mining while searching for easy methods to make money online.
This site claims you can get paid for doing absolutely nothing except leaving your internet browser open.
How is it even possible? Is Fast Cash Mining a scam or a legit opportunity?
In this short review, I am going to help you understand how it works, and if you can really get paid.
Fast Cash Mining Review
---
Name: Fast Cash Mining
Website: www.fastcashmining.com
Price: Free to join (basic membership)

LEGITIMATE

Similar alternative: Prizerebel is an incredible GPT site if you want to get paid for easy tasks.
Overall rating:

3.7/5
What is Fast Cash Mining?
---
Fast Cash Mining is a reward website that pays you mainly for using an auto-surf feature, which redirects you to different sites automatically.
All you have to do is leave the window open to generate traffic (page visits) to their advertisers.
The longer you keep surfing, the more money you will make!
They also have other methods to earn cash, such as tasks, referral program, and contests.
Fast Cash Mining was created in December 2018, and it's growing fast! Currently, it has over 10,000 members who have mined a total of $5,000.
RECOMMENDED: Click here to see my no.1 recommendation for making money online
Is Fast Cash Mining a Scam?
---
I have reviewed lots of similar platforms on the internet, and in my opinion, Fast Cash Mining is not a scam.
However, many similar websites are operated by unscrupulous business owners who do dodgy things to avoid payments.
I am not saying the owner of Fast Cash Mining is cheating because I have no proof. BUT, you should always be cautious and always search for what other members are saying on the internet.
Pros and Cons
---
Pros
Earn money passively through the auto-surfing feature.
No minimum cashout amount.
Payments are processed via PayPal, Payoneer, and BTC.
It's available worldwide
Cons
Slow earnings – Auto-surf pays only $0.01 per hour.
It's a relatively new platform, so it's still not as reputable as other reward sites.
How Does it Work?
---
First, it's important to understand that Fast Cash Mining is primarily an advertising platform, which is providing traffic (visitors) to website owners.
Website owners pay as low as 0.0005 per visit, and in turn, the platform pays you a small percentage every time you visit a page.
The registration is quick and 100% free, but you have the option to upgrade your membership for more benefits and higher earnings.
Once you log in, you will see the red button called "Start Mining Cash". Just click on it to open the auto-surf and leave the window open.
That's all you have to do!
A new website will open every minute, and you will earn $0.00015 per visit.


You can use your computer for other purposes while the auto-surf is working, which means you are not wasting your time on the platform.
Be aware Fast Cash Mining doesn't allow VPNs or multiple accounts per household. If they catch anyone in breach of the "Terms and Conditions," they will block all the accounts and freeze payments.
Is it Worth it?
The problem is that you will earn a measly $0.009 per hour – not even 1 cent!
Maybe Fast Cash Mining doesn't even pay the energy cost of leaving your PC running.
So, it's not worth it unless you are using your computer for another reason.
Now, there are other more effective ways to make money on the platform, so you may leave the auto-surf open just to boost your earnings. In that case, it's worth it!
RECOMMENDED: Click here to see my no.1 recommendation for making money online
Tasks
Just like other GPT sites like Prizerebel and Beer Surveys, Fast Cash Mining has partnered with third-party providers, allowing you to complete offers, take surveys, and do other simple tasks.
There is much more money to be made with Offer Walls such as MyAdsWall, SuperRewards, AdscendMedia, AdWorkMedia, ClixWall, among others.
Jobs
In this tab, you will find different "jobs" such as:
Promote Fast Cash Mining on Forums – Earn $0.05.
Make a promo post on Facebook – Earn $0.02.
Write a blog post about Fast Cash Mining – Get 7 days of Silver membership.
Make a promotional video on YouTube – Earn $0.10.

Referral Program
---
You can refer other people to join Fast Cash Mining and earn a 10% commission on all their earnings for life.
To get referrals, you should share your referral link via different social media platforms, forums, etc.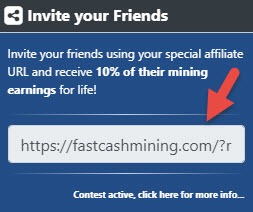 If you are not an influencer or you don't have a blog with massive traffic numbers, you are not going to refer lots of people. If you want to learn how to build a site and attract a large audience, click here!
Visit Shortlinks
Fast Cash Mining pays you to manually visit websites by clicking on any of the shortlinks on the list.

This reward platform is going viral! Cash out via PayPal, Visa, Gift Cards, and in-game currencies - Click here to find out how to generate an extra $10+ per day! 
The payout ranges from $0.0001 to $0.0006.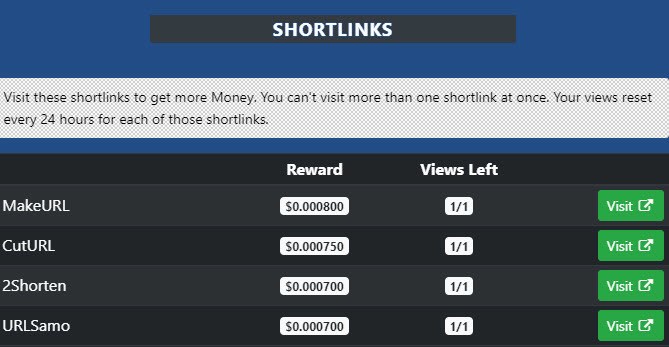 Weekly Sweepstakes
You can buy tickets for the weekly sweepstakes, which costs $0.15 each. The prize fluctuates each week, although it is generally less than $10.
Memberships
---
Fast Cash Mining has 4 paid memberships that give you more perks and allow you to increase your earnings.
The most expensive membership (Platinum) costs $9.99/month, which pays $0.00045 per minute instead of $0.00015.
Here is the comparison table: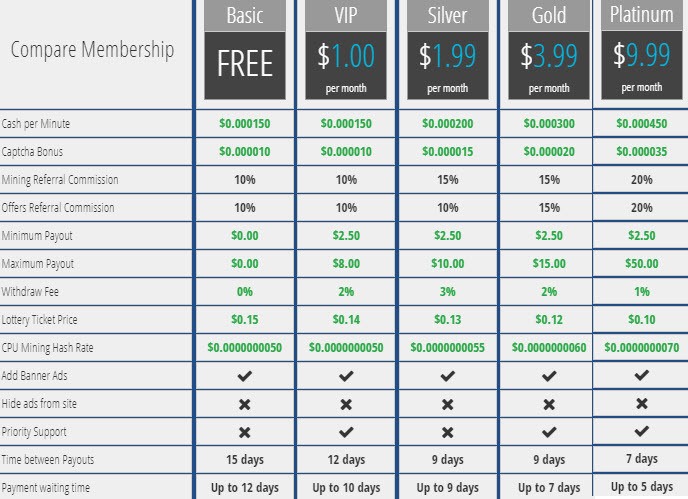 Cash Out
---
You can request a payout via PayPal, Payoneer, and Bitcoin once you have mined for at least 15 minutes.
The good news is there is no minimum payout amount!
Conclusion
---
Fast Cash Mining is a legit site that is paying as of the time of writing this review.
Bear in mind the platform is still 4 months old, so only time will tell whether you can really trust the platform.
I will keep an eye on it and update this post if I discover anything suspicious.
All in all, I think Fast Cash Mining is a decent platform, but as with other reward sites, the pay rate is too low!
Depending on your country, this site can really help you, though!
You can make more money online using other strategies, and in the next section, I am going to explain the one I personally use to bring in an extra $1,000/mo.
Verdict: LEGITIMATE
My TOP Recommendation
---
I know how frustrating it is to earn less than the minimum wage online. It's like swimming against the tide!
In 2015, I was living paycheck to paycheck and decided to take online surveys to supplement my income.
Well, I quickly realized it was not worth my time and effort.
Fortunately, I discovered an affiliate marketing training that was free to join!
At the end of the 10th lesson and after meeting lots of successful members, I was blown away by the possibility of earning a full-time income from home.
I worked hard to achieve my goals because I was seeing other members achieving theirs. This interaction gave me hope and motivation to strive for success.

Fast forward 4 years later, I am still a member of this incredible community and still growing my business, which went from $0 to $1,000/mo!
Click the button below to learn more about this platform and how it can help you achieve YOUR success!
Check Out My TOP Recommended Program HERE
Are you a Fast Cash Mining member? Did you get paid? Let me know your thought about this new website in the comment section below 😉
If this post was helpful to you, share it with your friends who can also benefit. Thank you!
Stay safe and peace out!