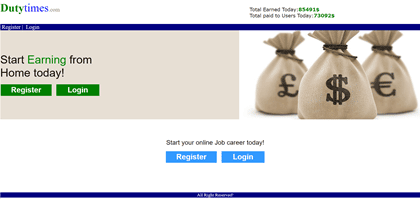 The owners of onlinetaskpay.com, Money4task.com, and dollarcell.com are back again with another clone site that promises $10 per referral. Is Duty Times a scam or a legit opportunity?
Let's see.
By the way, check out my No.1  recommendation and discover a real strategy that earns me over $900+/mo from my laptop.
Duty Times Review
---
Name: Duty Times
Website: www.dutytimes.com
Price: Free to join but there is a catch.
Owner: Unknown
Recommended? 

No

Overall Rating:

0/10
What is Duty Times?
---
Duty Times is a website that promises to pay you $10 every time you invite someone to join their platform.
All you have to do is copy the link and send to as many people as you can. Then, in theory, you would make $10 every time someone signed up for Duty Times through your link. Pretty easy, right?
Well, if that were true, we would see thousands of blogger and youtubers becoming millionaires overnight by promoting it. Duty Times would undoubtedly be the most popular affiliate program on earth!
The reality is that no company can afford to pay so much for a simple sign up.
Apart from the unrealistic payout, there are other red flags that you should be aware of.
Identical to Other Sites! 
---
Duty Times is very similar to other sites such as Online Task Pay, Money 4 Task, and Dollar Cell. The layout changed a bit, but the business is basically the same.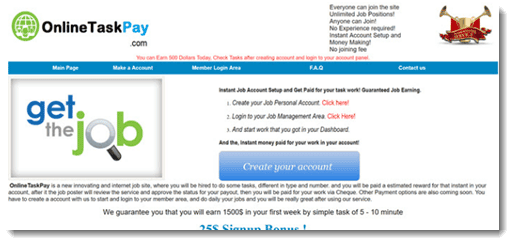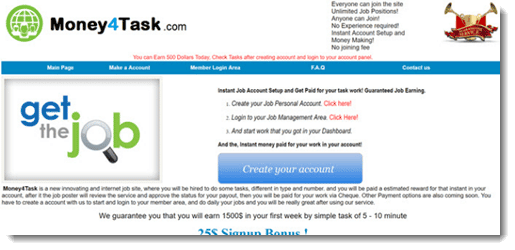 If you search the internet, you will find many people who reached the minimum withdraw requirement of $300 and didn't get paid.
No Terms and Conditions, Privacy Policy or About Us Page
---
If you scroll down to the bottom of the page, you will see the link to the Terms and Conditions. But if you click on it, you will discover the page doesn't exist!
Duty Times also doesn't have a Privacy Policy or an About Us page, which means they want to hide their identity and run their business without any responsibility.
Grammatical Errors
---
Duty Times website is full of grammatical errors. If they can afford to pay $10 per sign up, why can't they just pay $5 for a translator on Fiverr and make their business more professional?

How Does it Work? 
---
Duty Time owners claim to get paid for the traffic (visitors) that they bring to their advertiser's websites. That's how they can afford to pay you.
At first glance, this doesn't seem to make sense because there is no advertising of any kind there.
So, how are they generating traffic to their business partners?

Initially, the idea is to make you spend your time promoting Duty Time to others with the $10 per referral promise. Many people will copy the link and start promoting on Facebook, Instagram, etc.
But Here is the catch…
When you finally reach $300, Duty Time will come up with some paid offers that you need to complete in order to unlock your payment. That's when you realize how they are generating the traffic and making profits.
You see, whenever you complete an offer, Duty Time will get a commission for that.
The problem is that many of these offers require a payment.
Many people will be tempted to go ahead and open their wallet in hopes they will be able to withdraw the $300. After all, they spend a lot of time sharing the link.
Well, the thing is, I haven't seen anyone who claimed to have received their money.  
Conclusion – Is Duty Time a Scam? 
---
I can't say it's a scam because I haven't been through the process and I never will.
But in my opinion, you should never trust a website that promises high payouts for simple tasks. Never!
If you are serious about making money online, one of the best ways is to build a website and promote other companies as an affiliate marketer.
Everyone can get started with no technical skills and a small startup capital. In fact, my No. 1 recommended platform gives you excellent step by step training and allows you to kickstart your business for free and without any strings attached.
I was a complete newbie 2 years ago, but I watched all the lessons and took massive action to build a website that is now generating around $900/month in passive income. The training works, guys, but you have to put in the work. 
I hope this Duty Times review helps you make an informed decision. If you have any questions, feel free to ask in the comment section below.

All the best
Stefan