I discovered Money Cube yesterday while searching for more opportunities to make money from my phone.
There are hundreds of similar apps on the Play Store, but many of them steal points and ban users for no reason.
Is Money Cube a scam or legit application? How long does it take to break the ice cube and earn $50?
In this review, I am going to expose everything and give you my honest opinion about it.
By the way, if you want to learn the same method that earns me $1,000+/mo from my laptop, check out my #1 recommendation here! (newbie-friendly training and free to get started)
Money Cube App Review
---
Name: Money Cube
Price: Free
Developer: FunGoo

LEGITIMATE

Recommended?

No

Overall rating: 2.3/5
What Is Money Cube?
---
According to FunGoo, Money Cube is the easiest and fastest way to make money online.
In the Play Store description, they say all you must do is break the cube, which has $50 inside.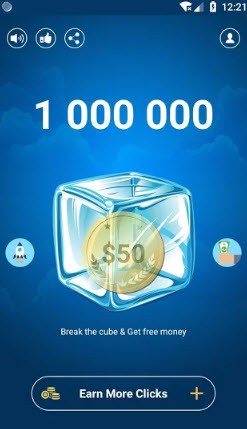 However, to break the cube and cash out $50, you must click 1,000,000 times and watch hours upon hours of videos. 

This reward platform is going viral! Cash out via PayPal, Visa, Gift Cards, and in-game currencies - Click here to find out how to generate an extra $10+ per day! 
Other smaller payout amounts are available though, starting at $2.
You can also earn more clicks (points) for:
Installing and using other apps
Inviting other people to join Money Cube.
Check in everyday.
Is Money Cube a Scam?
---
Apps like Money Cube can afford to pay users because the money they receive from advertisers is higher than the rewards, or probably MUCH higher.
So, they pass a percentage of earnings to users and still make a profit.
This business model is used by lots of app such as App Flame, AppKarma, FitPlay, AppLike, Cashpirate and more!
I believe Money Cube is not a scam. However, some people claim that they didn't get paid after breaking the ice.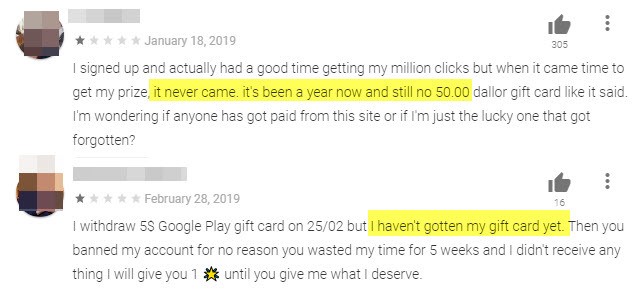 Imagine tapping on your screen 1 Million times and watching hundreds of advertising without any return!?
You already know that time is the most valuable asset you have!

RECOMMENDED: Click here to see my no.1 recommendation for making money online
No Terms and Conditions
---
Another issue is that Money Cube doesn't provide the terms and conditions page.
Sites and apps that display ads and run these type of money offers must have this important page.
For example, App Flame's terms and conditions say that they have the right to terminate your account for no reason.
Well, the same thing can happen with Money Cube, but there are not providing this information before you join. So, people don't know what to expect!
They Have Access to Your Files!
---
If you click on "permissions" in the Google Play store, you will discover that when you install Money Cube, you are giving them permission to read, modify or delete all the files stored on your phone.
They will also have access to your location, network connection and full network access.
I have no idea why they want full access to the files in our devices, and I think this is too risky. So, I am uninstalling Money Cube right away!
Pros And Cons
---
Pros
It's an easy way to make money.
There are lots of offers to boost your earnings.
Cons
It's not available for iOS devices.
They can access, modify and even delete files in your device.
They don't have a Terms and condition page.
Very little return – approximately $0.30/hour if you only click on the cube and watch ads.
There are no guarantees you will get paid.
How Does Money Cube Work?
---
There is no sign-up form, so you can start using Money Cube straight away after the installation, which is convenient.
However, they should at least ask you to agree with their terms and conditions, which don't even exist!

On the dashboard, you will see a $50 coin inside an ice cube and a countdown starting at 1,000,000.
That means you will need to accumulate 1,000,000 clicks to earn $50.
Every time you click on the cube, you are one click closer to your goal.
The thing is, for every 50 clicks, you will be shown an ad which can take 10 or 20 seconds.
Below the cube, you can see the percentage of all the clicks you have already collected and your current estimated earnings.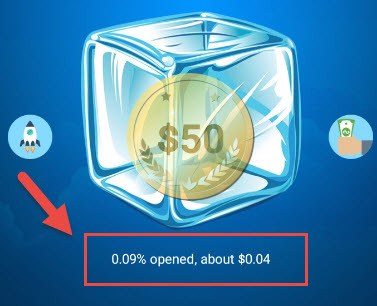 I did a test and spent 4 minutes to complete 0.04% of my $50 goal.
How long should it take for me to reach 100% of my goal? The answer is approximately 166 hours!
$50 divided by 166 hours equals $0.30/hour.
I don't know you guys, but I would never waste my time using Money Cube to earn just $0.30 per hour.

Choose a Smaller Payout
---
Instead of $50, you can select a smaller payout amount starting at just $1 redeemable via Amazon gift card (US store only).
In this case, instead of 1 million clicks, you will need just 50,000 clicks.
I highly recommend you do that to avoid wasting a significant amount of time in case Money Cube doesn't pay you.
Other Ways to Earn Clicks
---
There are other ways you reach your minimum payout goal such as:
Check in
You will earn 20 clicks every day just for clicking in the Check-in icon and watching an ad.
Video offers
Watch more advertising and earn around 4 clicks each.
App Offers
This section allows you to earn lots of clicks at once by using other apps as well as accepting trial offers.
Most apps and games require you to reach a certain level to get the clicks.
There are lots of opportunities, and if you decide to complete these offers, you will achieve your goal faster.
However, pay close attention to the terms and condition of these offers to avoid unnecessary charges.
Invite Friends
Invite your friends to join Money Cube and share your invitation code.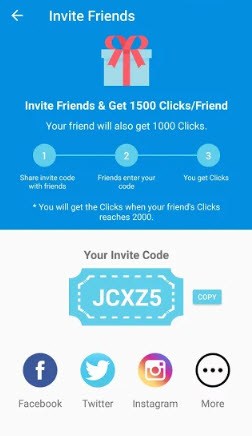 You will earn 1500 clicks when your friend uses your code and reaches 2000 clicks. As an incentive, your friend will get 1000 clicks.
Payment
---
If you live in the US, Money Cube gives you 4 alternatives to redeem your clicks such as PayPal cash, Amazon, Google Play and iTunes gift cards.
Unfortunately, non-US residents can only use PayPal.
The minimum balance requirement is 50000 clicks that can be redeemed for $1 Amazon gift card.
If you want to redeem via PayPal, the minimum is 90000 clicks worth $2.
Once you request the payment, they should send the rewards within 48 hours. At least that's what they say.

Conclusion
---
In my opinion, Money Cube is a legit app, but the pay rate is VERY discouraging!
Reaching the $50 goal would probably take more than 150 hours unless I completed some app offers.
The main problem with Money Cube is that there are no terms and condition, so I don't know if they will pay me or ban my account.
Not to mention they can access, modify and even delete files on my phone., which is unacceptable!
If you are interested in a safe platform to earn easy money online, I recommend Prizerebel.
Prizerebel is my top-rated GPT platform that allows you to take surveys, complete offers and do other easy tasks.
It can help with the bills a little, but you won't be able to earn a full-time income online.
How I Prefer to Make Money Online
---
If you are prepared to work harder, and you dream about working 100% from your laptop, one of the best strategies is to build your own internet business.
There are many strategies, but affiliate marketing is a great business model!
In 2015, I found an excellent step by step program that showed me how to set up a website, grow an audience and earn affiliate commissions.
It's a great community that is full of successful internet marketers and beginners who all help each other.
I started as a complete newbie, but after going through the training and taking massive action, my site is now generating over $1,000 per month.
If you are interested in learning more about this program, click here and read my full #1 recommendation review!
I hope my Money Cube review was helpful to you. If you have any question, drop me a comment below, and I will be more than glad to help! 😉
Stay safe and peace out!