Is Univox a Scam? One Penny Per Minute is Not Nice!
Today's article is all about a survey platform called Univox. Is Univox a Scam or legit platform? Check out my honest review below and discover if it can really help you grow your bank account.
Don't forget to check out my #1 recommendation to discover the strategy that earns me $1,000+ every month from my laptop.
Univox Review
---
Platform: Univox
Website: univoxcommunity.com
Price: Free
Business Type: Online Survey
Score:

6.6/10
What is Univox? 
---
Univox is a survey panel operated by Intellicube Market Research Solutions, Ltd, a marketing research company registered in Delhi. The platform was created in 2012 and currently has 737057 members.
After registering, you will take part in online surveys that will help companies improve their products and services.
What makes Univox stand out from other survey sites is that it allows members to participate in live chats and forums. Through the live chat, members can ask questions to the admin and share experiences with other members.
Is Univox a Scam? 
---
No, Univox is not a scam, but it's not free from problems, either.
I have found many complaints on the internet about this company. Many people feel very frustrated because they find very difficult to qualify for a survey.
You will get 5 points if you don't qualify, which is good considering most panels don't pay anything for pre-qualifying questions. However, the lack of survey opportunities seems to be a big issue as well.
Pros and Cons
---
Pros
Free to join.
Earn $5 for completing your profile.
Earn 5 points even if you get disqualified.
You can interact with members and admin through live chat and forums.
It's possible to cash out via Paypal and Amazon e-gift cards.
Discover the overall rating and what people think about specific surveys before you apply for them.
Cons
Very-low-income potential.
It can be hard to qualify.
Depending on your location, you won't get many survey opportunities.
It's hard to reach the minimum cashout requirement of $25.
No email invitations.
How Does Univox Works? 
---
I thought I would earn $5  just for signing up (for free), but I didn't receive anything as a sign-up bonus. My account was still at 0 right after joining.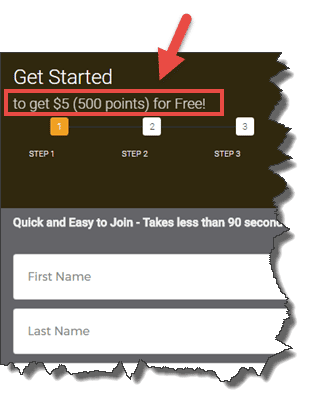 Then, I realized that in order to earn those 500 points ($5), I would have to complete the profile surveys.
Univox will invite you to participate in surveys based on your basic profile information. So, it's important to answer those questions if you want to increase your chances to get more invitations.
The dashboard is full of features that I don't think is worth mentioning here. But at the end of the day, you just want to complete surveys and earn some money.
You will find new surveys opportunities in the "Survey for you" box or by clicking on "My Panel"  in the menu bar.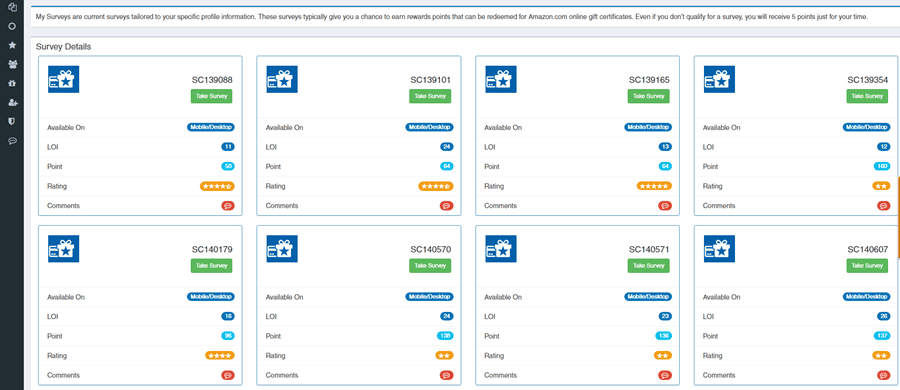 There was no survey available right after I signed up, which made me think Univox was pretty bad. However, a few hours later I got 8 survey invitations as you can see from the screenshot above.
Univox doesn't send email invites, which is a negative point because you need to log in frequently to guarantee your spot.
I like the possibility of rating and commenting on each survey opportunity, though. You can see other people's comments and the overall score, which can give you an idea of what to expect from a particular survey. For example, a bad score usually means people are finding it hard to qualify.
I also like the fact that they provide the estimated length of a survey (LOI) and the number of points you will earn.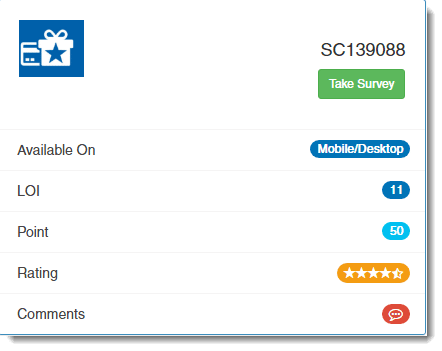 How Much Money Can You Make?
---
You can expect to make less than $1 with most surveys that take between 10 and 20 min to complete. So, it's very discouraging!
One person was mad to find a survey with 25 LOI for just 25 points. Yes, 1 penny per minute or .60 cents per hour!  Here is what she said: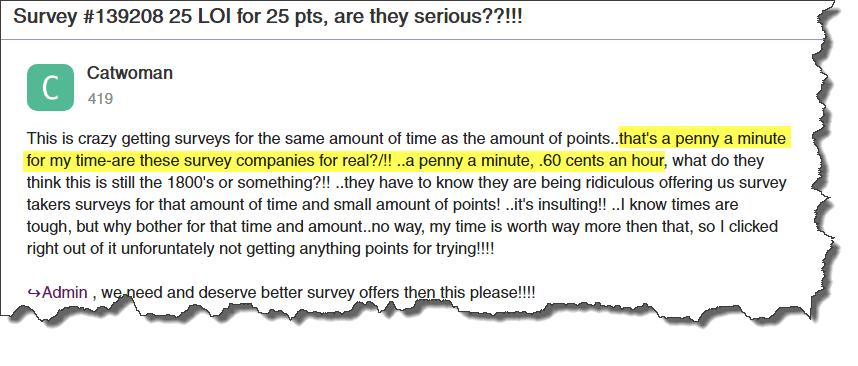 What's even more discouraging is the fact that you will waste lots of time trying to qualify for surveys. I tried to qualify for 5 surveys and was rejected by 3 of them! That's one of the reasons why I don't take surveys.
The positive thing about Univox is that you will get 5 points ($0.05) even if you don't qualify. This means you have to disqualify for 20 surveys to earn $1!
Think about it. If you spend 3 minutes to complete each qualification questionnaire, you will waste 1 hour to make $1.
It's also possible to complete polls and earn 2 points ($0.02) per day.
Now you can see how difficult it is to reach the minimum threshold of $25.
Referral Program 
---
You can also earn money by referring (inviting) other people to join Univox through your referral link.
You will make $1 per signup as well as additional points when the person takes a survey.
Cashing Out
---
As you already know, 100 points equate to $1. When you reach 2500 points, you will be able to withdraw $25 via Paypal, Amazon e-gift card or virtual visa card.
Final Thoughts 
---
Univox is a legitimate survey panel. So, if you want to take surveys for some extra cash, you can do that without worrying too much.
For more survey opportunities, you can also try Crowdology, Tellwut, CrashCrate, and Opinion Outpost.
The problem with Univox and any other survey platform is the low-income potential.
Online surveys will drain precious time out of your life that otherwise, you could be using to pursue something more profitable, and WAY more powerful!
If you are not happy with your current financial situation and you hate taking surveys, keep reading the next section to discover how I prefer to make money online.
Verdict:
Legit 
My #1 Recommendation to Make Money Online
---
Think about it. The same amount of time you are wasting with surveys, you could be using to grow an online business and earn enough passive income to quit your job and live a freedom lifestyle. 
Yep! It's possible, and anyone can accomplish this with the right mindset and perseverance. 
That's why I gave up on online surveys in 2015 and started my journey to financial freedom. I built an online business which is now generating over $1,000/mo. The revenue keeps growing month after month the longer I work on it!
Yes, it takes time, hard work and a strong commitment to reaching that income level. It's not an easy road, but that's why it's worth it!
You need to fight procrastination and have self-discipline because no one is forcing you to do the work. You will be your own boss, so you need to hold yourself accountable for reaching your financial goals.
If you are sick and tired of taking surveys, then I highly recommend you build an online business and start working for yourself. But don't just go out there in search for blogs and free ebooks. You can find useful information out there, but you will get in touch with the worst the internet has to offer as well.
You want to avoid all unnecessary knowledge and misinformation out there and focus on what really matters!
Do yourself a favor and enroll yourself in a serious and actionable training from the beginning!
If you want to learn from the same step by step program that I followed 2 years ago, then check out my #1 recommendation review. The first 10 lessons are completely free and will help you build a rock-solid foundation for your business. It will certainly put you on the right track to succeed online.
So, what have you tried Univox? How was your experience with this survey panel?
That's it for now. Thanks for reading and I'll see you next time!
Stefan