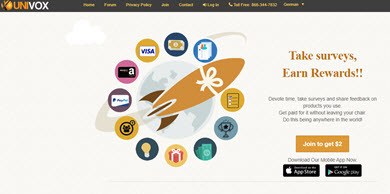 Welcome to my Univox review!
You probably discovered Univox after watching a Youtube video or reading a blog post.
The company promises to pay members for taking surveys and giving feedback on products and services.
Most people who promote Univox on the internet only focus on its positive aspects.
But the fact is that the website has received a ton of complaints on different review sites.
So, is Univox a scam or a legitimate opportunity? Does it pay?
In this post, I will reveal all you need to know so you make an informed decision on whether to sign up or avoid this site.
Don't forget to check out my #1 recommendation to discover the exact strategy that earns me $1,300+ every month from my laptop.
Univox Community Review
---
What is Univox Community? 
---
Univox Community is a survey panel operated by Intellicube Market Research Solutions, Ltd, a marketing research company in Delhi.
The platform was created in 2012 and has over 1 million members worldwide.
As a member, you will participate in online surveys to help companies improve their products and services.
What's cool about Univox Community is that it allows members to participate in the active forum.
Through the forum, members can ask questions to the admin and share experiences with other members.
Is Univox a Scam? 
---
I don't have any proof to claim that Univox is a scam.
However, I can tell you what I have found about this survey site so you can make your conclusions.
There is an incredible number of complaints on the internet about Univox, which concerns me a lot!
For example, 168 out of 234 reviewers (71%) have rated it 1 Star on Survey Police.
Many people feel frustrated because they complete many screening questions and struggle to qualify for surveys.
Disqualifications are common when taking surveys, but for some reason, qualifying for Univox surveys seems like a mission impossible.
They used to award 5 DQ points when members didn't qualify for a survey.
However, some members are claiming they are not receiving these non-qualifying points anymore!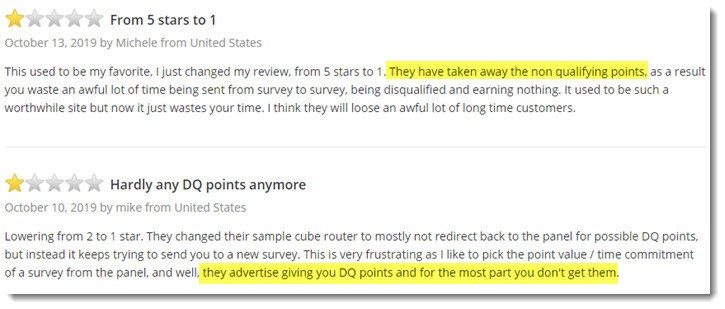 Moreover, there are complaints about payments and blocked accounts.
Again, I can't claim that Univox is committing fraud because I have no proof!
But based on hundreds of reviews, I feel compelled to warn as many people as possible about the risk of wasting lots of time on this site.
I can see that reaching the minimum payout threshold of $25 is a big challenge.
I have been a member of Prizerebel for over four years, and they always paid me very quickly as soon as I reached $5.
Pros and Cons
---
Pros
Free to join.
Earn $2 just signing up and completing your profile.
There are lots of surveys depending on your country.
You can earn 5 points even if you don't qualify.
Univox is available as an app for both Android and iOS devices.
You can interact with members through the Univox Forum.
It's possible to cash out through Paypal and Amazon e-gift cards.
Discover the overall rating and what people think about specific surveys before you apply for them.
Cons
Low pay rate.
It can be hard to qualify.
Sometimes, you won't receive non-qualification points.
Depending on your location, you won't get many survey opportunities.
It's hard to reach the minimum cashout requirement of $25.
No email invitations.
How Does Univox Works? 
---
Registration
If you want to join the community, you must click the "Join to get $2" button and fill out the registration form.
They will ask you a few questions, such as your name, email address, gender, home address, and date of birth.
Univox used to pay $5 just for signing up and completing the profile.
Unfortunately, the bonus has been dropped to $2, which is still a decent incentive.
Install the Univox App
If you want to complete surveys from your mobile device, you can download the app, which is available on Google Play or App Store.

Complete the Profile Surveys
After registration, you will be asked to complete profile surveys regarding your employment, travel, health, etc.
Don't follow the advice of people who recommends ticking all the boxes.
Univox has intelligent systems in place that will detect contradictions in future surveys.
Always be truthful and play on the safe side to avoid losing your account.
Once you finish, Univox will give you 200 points ($2).

This reward platform is going viral! Cash out via PayPal, Visa, Gift Cards, and in-game currencies - Click here to find out how to generate an extra $10+ per day! 
Taking Surveys
Univox will send you survey invitations based on your answers.
The dashboard is full of features that I don't think are worth mentioning here.

You just want to complete surveys and earn some money, right?
You will find new survey opportunities in the "Survey for you" box or by clicking on "My Panel" in the menu bar.

No survey was available when I signed up, which was quite disappointing.
However, I got eight survey invitations a few hours later, as you can see from the screenshot below.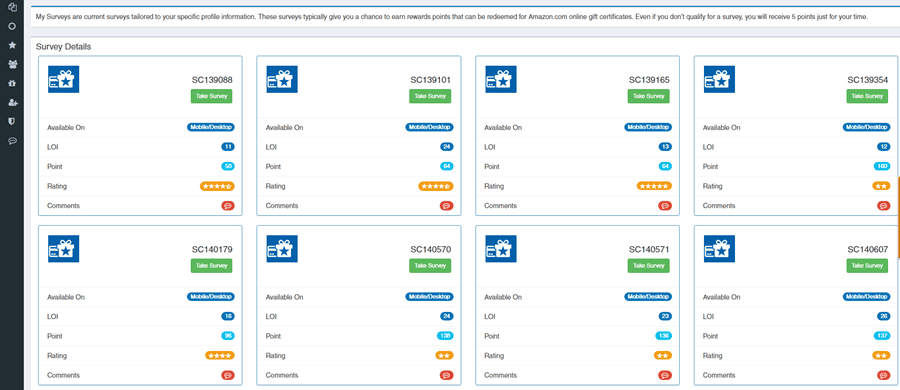 Univox doesn't send email invitations, which is a bummer because you need to log in frequently to guarantee your spot.
I like the possibility of rating and commenting on each survey opportunity.
You can see other people's comments and the overall score, which can give you an idea of what to expect from a survey.
For example, a bad score usually means people find it hard to qualify.
I also like that Univox provides the estimated length of a survey (LOI) and the number of points you will earn.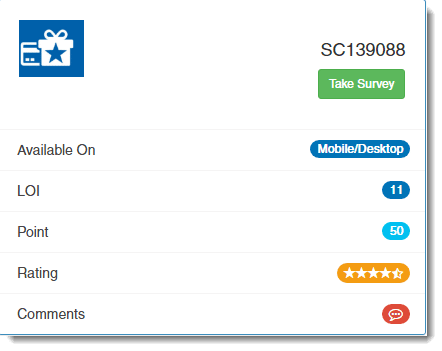 How Much Money Can You Make?
---
You can expect to make less than $1 with most surveys that take between 10 and 20 min to complete. So, it isn't very encouraging!
One person was mad to find a survey with 25 LOI for just 25 points. Yes, 1 penny per minute or .60 cents per hour!  Here is what she said: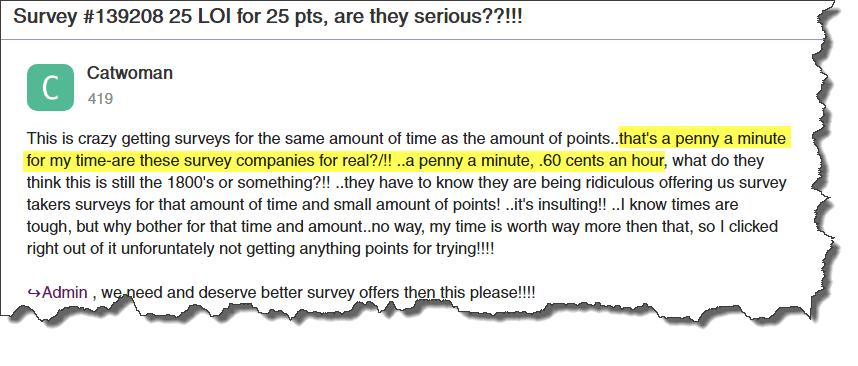 What's even more discouraging is that you will waste lots of time trying to qualify for surveys.
I tried to qualify for five surveys and was rejected by 3 of them! So that's one of the reasons why I don't take surveys.
The positive thing about Univox is that you will get 5 points ($0.05) even if you don't qualify. Unfortunately, this means you have to disqualify for 20 surveys to earn $1!
Think about it. If you spend 3 minutes to complete each qualification questionnaire, you will waste 1 hour to make $1.
Referral Program
---
It's also possible to complete polls and earn 2 points ($0.02) per day.
Now you can see how difficult it is to reach the minimum payout threshold of $25.
Be Careful With Irresponsible Promotions
Many people are attracted by the opportunity to make easy money without leaving their chairs.

So, in search of big fat commissions, some marketers are promoting Univox in a very irresponsible manner.
For instance, one person on YouTube claimed that you could make $2 every 60 seconds by creating multiple accounts with Univox.
That would involve creating multiple accounts using a VPN (Virtual Private Networks) to exploit the signup bonus.
Although you can get the $2 bonus using this method, you won't be able to cash out since you probably don't have multiple Paypal accounts.
Referral Program 
---
You can also earn money by referring (inviting) other people to join Univox through your referral link.
You will make $1 per signup and additional points when the person takes a survey.
How Do You Get Paid? 
---
As you already know, 100 points equate to $1. When you reach 2500 points, you can withdraw $25 via Paypal, Amazon e-gift card, or virtual visa card.
Reaching $25 at Univox is a big challenge as most surveys pay less than $1, and it's hard to qualify.
Therefore, many panelists give up along the way and don't get rewarded for all the personal information and opinions they share.
Final Thoughts 
---
Univox is a survey site that I don't recommend because it's tough to qualify and get paid for your opinions.
Not to mention that the pay rate is meager, and the minimum payout threshold is too high.
You will most likely spend a lot of time for very little reward!
You could dedicate the same amount of time working for yourself and make a full-time income from home.
If you are not happy with your current financial situation and hate taking surveys, keep reading the next section to discover how I prefer to make money online.
Verdict:

Legit 
My #1 Recommendation to Make Money Online
---
Univox is a decent survey panel to earn some extra cash from home. But you can't make a lot of money with it!
An online business has the potential to earn you a full-time income so you can quit your day job.
Anyone can accomplish this with the right mindset and perseverance.
That's why I gave up on online surveys in 2015 and started my journey to financial freedom.
I built an online business that is now generating over $1,300/mo! 
The revenue keeps growing month after month the longer I work on it!
Yes, it takes time, hard work, and a strong commitment to reach that income level. It's not an easy road, but it's worth it!

You need to fight procrastination and have self-discipline because no one is forcing you to do the work.
You will be your own boss, so you need to hold yourself accountable for reaching your financial goals.
If you are sick and tired of taking surveys, I highly recommend building an online business.
But don't just go out there searching for blogs and free ebooks. You can find helpful information out there, but you will get in touch with the worst the internet has to offer.
You want to avoid all unnecessary knowledge and misinformation out there and focus on what matters!
Do yourself a favor and enroll yourself in serious and actionable training from the beginning!
If you want to learn from the same step-by-step program, I followed two years ago, check out my #1 recommendation review.
The first ten lessons are free and will help you build a rock-solid foundation for your business. It will undoubtedly put you on the right track to succeed online.
Final Words
Thanks for taking the time to read my Univox Review. I hope it was helpful and enjoyable!
So, have you tried Univox? If so, how was your experience with this survey panel?
Please leave us your honest review below to help other people out! 🙂