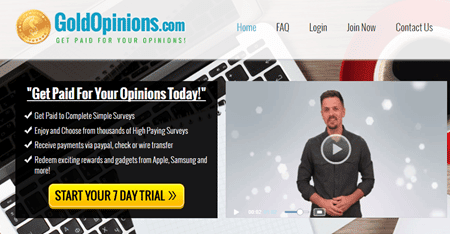 Gold Opinions is giving you the opportunity to take $5+ surveys from home and earn enough money to live a good life. But is that true? Is Gold Opinions a scam or a legit website?
I decided to join this platform for $1 and expose all you need to know about it. So, check out my review before you join!
By the way, don't forget to check out my #1 recommendation to discover the strategy that earns me $700/mo from my laptop.
Gold Opinions Review
---
Platform: Gold Opinions
Website: goldopinions.com
Price: $1 for a 7-day trial; $27/mo
Business Type: Online Survey
Score:

6.0/10
What is Gold Opinions? 
---
Gold Opinions claims to be an easy and fast way to make money online by sharing your opinions.
You may think this is another survey panel, but the reality is that Gold Opinions is a Clickbank product that is changing you a monthly fee for a database of survey panels, clinical trials and focus group opportunities.
The good thing about it is that you can start a 7 day trial for only $1 (ends on June 3, 2017). The price after that is $27/month, which will cover constant job updates and unlimited support.
Is Gold Opinions a Scam? 
---
I was very skeptical in the beginning because of all the hype around making lots of money with surveys. Actually, I was confident it was a scam after reading that I could make $500-$5,000 per month and get out of the rat race TODAY!

Come one. This can be the best survey platform on earth, but they should never claim something like that!
Well, as the trial was only $1, I decided to give it a go! And the first thing that I read in the member's area shocked me to death!
Here it is:
*Please note that canceling your membership will cancel all earnings, rewards, daily alerts, site access and your profile to our Partners. To ensure quality for our partners we no longer accept re-canceled members. So once you cancel you may never join our network again.
There is simply no way they can cancel your earnings because your payment will be processed by the third party companies, without any interference from Golden Opinions. Trust me. They have no power to do that!
Nevertheless, Gold Opinions is not a scam.  You will discover in the next section that the platform offers some interesting opportunities and can save you lots of time.
Pros and Cons 
---
Pros
7 – day trial for only $1.
It provides a database of over 150 survey panels to sign up for.
Every month Golden Opinions updates a huge list of high-paying research studies and focus group opportunities.
There is a selection of survey panels by country.
It comes step by step video tutorials and some eBooks.
Cons
It gives unrealistic expectations.
It claims you will lose your earnings if you cancel the membership. Not really…
The monthly membership is quite expensive.
The Platform is Not That Bad!
---
When you ignore all the hype and false threat of losing your earnings, what is left is a decent survey platform!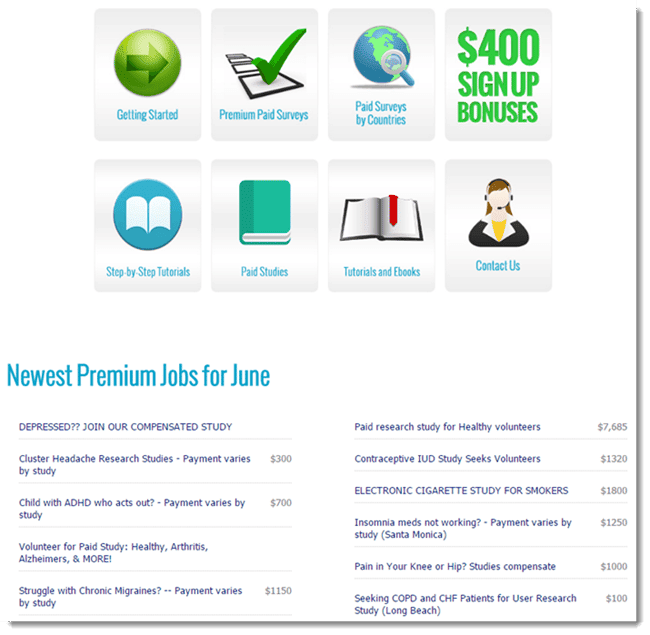 The first thing you should do is click on "Getting Started" and follow the step by step process to start making money with online surveys.
There is also a thorough step by step video tutorial on how to make the most of Gold Opinions.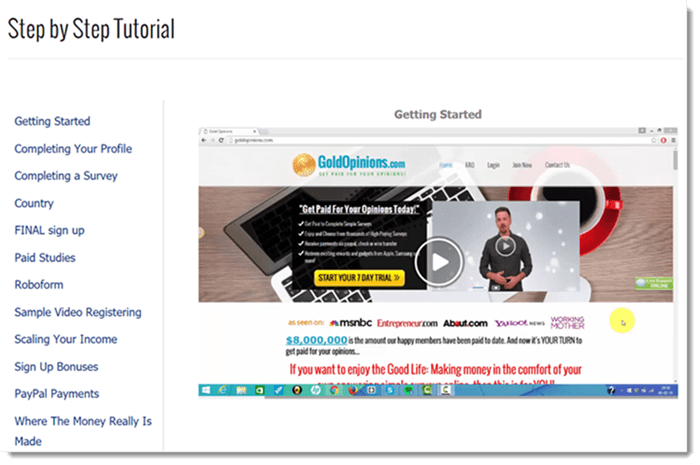 There is an incredible amount of survey websites listed in the "Premium Paid Surveys" category. At the time of writing this review, I counted 169!

If you sign up for only 10% of these panels, you should expect to get a constant flow of new surveys every single day.
It's important to note that not every survey sites will work in your country. If you don't live in the US, click on "Paid Surveys by Country," where you will find a list of panels that target your location.
The category called "$400 Sign up bonuses" is pretty cool! It's a list of many survey and GPT (get-paid-to) sites that will pay you just for signing up.
The thing is, all these bonuses will be sitting there, and you won't be able to redeem until you meet the minimum cashout requirements of each website. Therefore, it can take ages to claim all that money!
Unrealistic Expectation
Golden Opinion claims you can get paid $5 for 10-15 minute surveys.
The reality is that most survey opportunities will pay you less than $1.5. Therefore, don't expect to quit your job and live a comfortable life just by taking surveys as you will earn less than the minimum wage FOR SURE!
Premium Jobs 
---
Premium jobs are really the icing on the cake of Golden Opinions. This section is probably what makes people pay for the $27 monthly membership. And why is that?
Well, this is a list of opportunities for US residents to participate in clinical studies and focus groups for many companies, research institutes, and universities. The list is updated every month and is HUGE! I think there were over 500 opportunities just for June.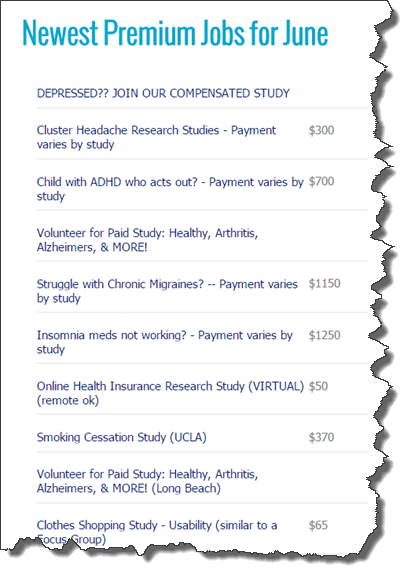 Some research studies pay really well. I am talking about $500, $1,000 and even $7,000!
Just keep in mind that it may not be easy to qualify, especially for high-paying studies. Not only the competition can be high, but you may not fit the specifications for the study. Some studies require only people with specific health conditions. Others may need people from a particular age group, etc.
Also, many research studies are carried out for a couple of weeks and months. So, if you live in another city or even in another state, it may be impractical for you.

For example, take a look at this Electronic Cigarette Study.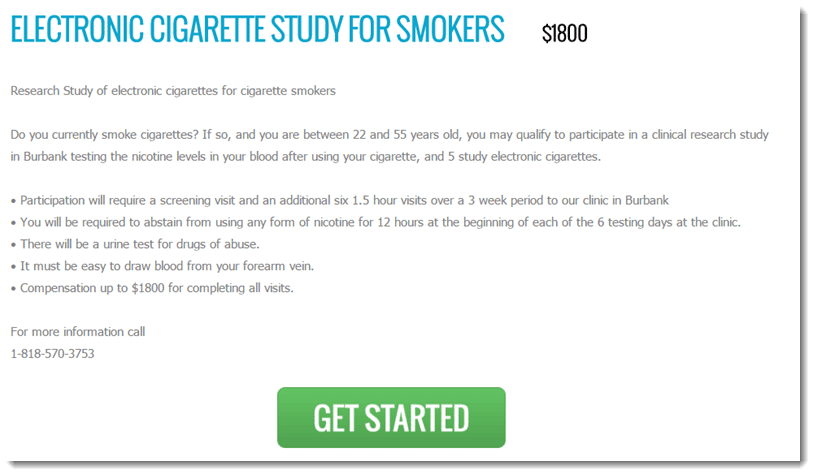 Final Thoughts
---
Overall, I think Golden Opinion is a good platform for those who are serious about taking surveys AND participating in research studies around the US.
It's better than another Clickbank product that I reviewed recently called Maximum Paid Surveys.
In my opinion, if you live outside the US, the monthly membership is not worth it.  The reason being that you won't take advantage of the premium jobs. Besides, the list of survey panels for people outside the US is not that impressive. You can quickly search for survey panels on Google and find loads of opportunities in your country for free.

This reward platform is going viral! Cash out via PayPal, Visa, Gift Cards, and in-game currencies - Click here to find out how to generate an extra $10+ per day! 
Let's not forget that Golden Opinions states that if people cancel their membership, all their earnings will be forfeited altogether. This is not true. They will never do that because they have no control.
Golden Opinion is not a scam, but there are definitely better ways to make money online.

How I Prefer to Make Money Online
---
I earned my first dollar online through an online survey. I agree. It's an easy way to make money from the comfort of your home, but the income potential is too small!
Well, in 2015 I discovered a powerful method to earn money online called Affiliate Marketing. After following a great step by step training, I built an online business and started promoting other people's products as an affiliate marketer.
It took me eight months to earn my first $1 online, but I kept working on it because I knew it would be just a matter of time before I started making $100's and even $1,000's per month.
May 2017 was my most profitable month so far. I made $750 in affiliate commissions! 
When you have an online business, your income potential is unlimited. Moreover, you don't need to deal with in customers, inventory, or employees. It's my favorite way to make money!
You may think that this is too complicated, but two years ago I was a complete newbie full of self-doubts as well. Everyone is capable of this with the right knowledge and mindset.
If you want to give it a try and start your online business, then check out my #1 recommendation review here! 
The first 10 lessons are completely free and will certainly put you on the right track to succeed online.
Thanks for reading. Just leave me a message in the comment box if you have any questions. I'll be more than glad to help you out!
Your friend
Stefan