Imagine if we could start making thousands of dollars a month with a push of a button! That sounds too good to be true, don't you think?
In this review, I am going to explain what is behind Push Button Profits and give you my verdict if its a Scam or a sweet opportunity to achieve financial freedom.
If you are serious about making money online, check out my top recommendation and discover the strategy that earns me over $1k per month.
Push Button Profits Review
---
Product Name: Traffic Authority (TA)
Website: www.pushbuttonprofits.com / www.trafficauthority.net
Price: $47 or $144 plus thousands of dollars to buy traffic
Business Type: MLM (Multi-level Marketing)
Overall Rating: 2/5
What is Push Button Profits?
---
Push Button Profits is a one-page website promising quick and massive profits with just a click.
It turns out Push Button Traffic is an affiliate website or a promoter of Traffic Authority's two packages:
The Starter Package – $47 / month
Top Earner Package – $144 / month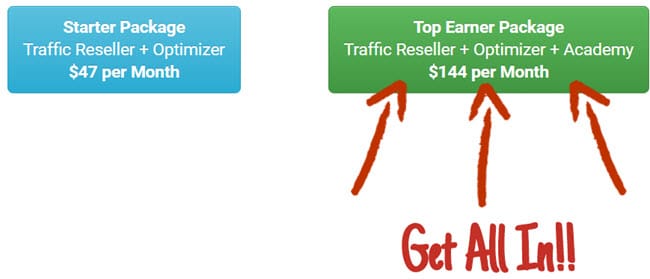 You Will get Involved With Multi-Level Marketing! 
Traffic Authority is a Multi-level marketing (MLM) company that sells traffic (visitors) to websites, tools, and training for online marketers.
Like most, if not all MLM companies, it focuses on recruiting people that are encouraged to make money by referring other people, and so on.
Can You Make Easy Money With a Push of a Button? 
---
The quick answer is no, I don't think so!

This reward platform is going viral! Cash out via PayPal, Visa, Gift Cards, and in-game currencies - Click here to find out how to generate an extra $10+ per day! 
One of the biggest challenges for any internet marketer is having a significant number of visitors to their website- high traffic.
Traffic Authority claims you can have high-quality traffic with a simple click.
Not only that, they argue that a team will be working for you, enticing visitors to buy expensive packages that will earn you commissions.
Let's say you purchase the standard package for $47 per month. You are paying only for the right to resell the products and for the traffic optimizer package, which includes the following:
Email Capture Pages
Click Tracker and traffic rotator
Split Testing Software
Popups, Timers, and Exit Pages
They do have the option if you want to try and make money with one click and without a website. However, it's not guaranteed, and you can lose money.
You will have to buy traffic packages from this list: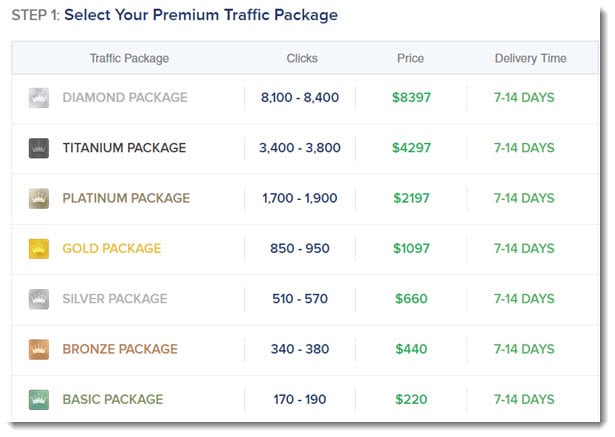 Then, you need to choose which sales funnel to send this traffic to. Either you choose one of TrafficAuthority funnels or your website if you have one.
The basic package costs around $0.86 per click, and the Diamond Package costs around $1 per click. It was quite expensive!
Rubbish or Quality Traffic?
---
Traffic Authority doesn't mention where they get this traffic from.

I have purchased traffic packages for my website with a company called Rebrandable Traffic, and the results were terrible – not a single sale! I got the visits, but none stayed for more than 1 minute on my page, which means people were not reading my content.
The reason is that people didn't find my site to get information. Instead, they were forced or paid to visit my site for just a few seconds, so they didn't care!
I don't know about the traffic offered by Traffic Authority, so I won't be able to give you a definitive answer.
Usually, I recommend newbies get free traffic before they jump into paid strategies. That is because you need to get some experience as a marketer and probably become more familiar with your niche market.
Training
---
If you don't have a website and don't know the inside outs of internet marketing, they will encourage you to buy the Traffic Academy training for a whopping $97 per month!
You will only have education and the reseller right at this price. You still need a website builder, hosting, and domain name for your site, which are services not provided by Traffic Authority.
$97/ mo is quite expensive compared to my #1 recommendation, which provides everything, plus great support, for $49/mo.
Promoting Traffic Authority
---
When you join Traffic Authority, you are urged to promote it to make commissions when people buy any of those products.
For example, you will make $16 per month when the person you invite (your referral) buys the Traffic Optimizer.
If you sell the Traffic Academy, you will make $40 per month for as long as your referral pays the membership.
One important thing to remember is that you can only earn commissions for selling a particular product after you buy it (reseller right).
Final Thoughts
---
There is no push button when it comes to succeeding online. No shortcuts!
Puch Button Profits is just an affiliate site promoting Traffic Authority, an MLM company.

Although you can get traffic to your promotions with a simple click, it doesn't mean you will make enough money to cover the expensive membership fees and traffic packages.
Finally, there are no guarantees, even if the traffic is high quality.
Verdict:

Not Recommended
A Sustainable and Profitable Way to Make Money Online
---
You get quality traffic to your website when you write quality content that ranks high on Google, Bing, and Yahoo. That's what we call free organic traffic!
The visitors choose your articles among other search results and get the information they want.
When people read through your content, you can show them your affiliate products and make commissions if they decide to buy.
Creating an affiliate marketing business is much better than involving yourself with an MLM, and it isn't as complex. These are the main steps that we follow:
Choose something you are passionate about or at least very interested in.
Build a Website – straightforward nowadays.
Create content for your audience – write helpful articles. It doesn't have to be perfect.
Get rankings and visitors (traffic).
Generate revenue through sales.
If you want to build a long-lasting online business, check out my #1 recommendation.
They will walk you through step by step and let you create two free websites for life. You will also have seven days of invaluable support from thousands of online entrepreneurs.
I hope you found this article helpful. Feel free to leave a message if you have a question or want to share your thoughts and experiences. I'll be more than glad to help you out! 🙂
Your friend

Stefan