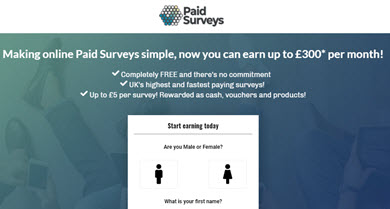 Welcome to my Paid Surveys UK review!
Paid Surveys UK is claiming they have helped thousands of Brits find legitimate survey panels and earn extra cash online.
Also, the website states that you can earn up to £300 per month by sharing your opinion with marketing research companies.
You are probably wondering if Paid Surveys UK can really help you earn a decent income from home. Is it a legit survey platform? 
I understand why you are sceptical and hesitant to sign up. Many sites are charging for a secret list of survey panels and giving you false expectations that you can make thousands of dollars per month completing easy surveys from home. Unfortunately, that's not how it works!
In this review, I will show you exactly how Paid Surveys UK works and give you my honest opinion.
While you are still here, don't forget to check out my top recommendation, which is the same program that helped me reach $1,600/mo from my laptop. No special skills required!
Paid Surveys UK Review
Product Name: Paid Surveys UK
Company: Submission Technology Ltd
Website: https://paidsurveys.uk.com/
Price: FREE
Strategy: Online Surveys
Score:

3.6/5
What is Paid Surveys UK?
Paid Surveys UK is a simple directory where you will find a list of legitimate survey panels available for UK residents. It's similar to other "bridge sites" that I reviewed such as SurveyCompare.com.
Paid Surveys UK is owned by Submission Technology Ltd., which also operates OhMyDosh, and 20 Cogs, which are popular sites that pay you to complete offers.

This reward platform is going viral! Cash out via PayPal, Visa, Gift Cards, and in-game currencies - Click here to find out how to generate an extra $10+ per day! 
It's important to understand that Paid Surveys UK is an affiliate site that provides basic information about survey panels and registers people with selected sites. Therefore, it's not responsible for handling surveys and cash rewards.
Every time you sign up with their partners and complete surveys, Paid Surveys UK earns a small commission.
I used to complete surveys, but then I discovered that becoming an affiliate is much more profitable! If you want to learn how to build your own site so you can generate affiliate commissions as I did, check out this step-by-step training. 
Is Paid Surveys UK Legit?
YES! Paid Survey UK is 100% legit! Rest assured this platform only partnered with reputable survey panels.
There are similar sites that connect people with misleading Clickbank products such as Paid Survey at Home. These products charge an expensive fee for the same list and claim that you will make over $10 for taking a quick survey. Paid Surveys UK won't do that!
Yes, you can find the same list on blogs and forums. And that's ok! Paid Surveys UK is free and doesn't even require registration to get access to their list of surveys. However, you can save time by providing your details and let them automatically create a free account for you.
Pros & Cons
Pros
It's free.
Paid Surveys UK will save you time by signing up with all sites automatically.
You don't need to provide your email address to access the list of companies.
All survey panels are well-known and reliable.
Cons

How Does Paid Surveys UK Work?
It's very very simple! Click on the blue button "Get Started, " and you will land on a page with 7 survey panels and 2 GPT sites.
What I like about this list is that bullet points are showing you the key features of each site, such as payment methods, signup bonuses, rewards, etc. They also provide a complete review of the panel by clicking on the link "read more".
Have a look at the site's description and select the ones that appeal to you. Alternatively, click on "Select all" and get started quicker. Then, click continue.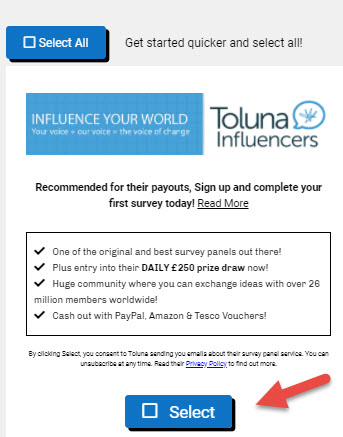 Provide your name, email and postcode so that Paid Survey UK creates a free account with each site. Next, you will receive a welcome email from each company. Click on the link to confirm your account and follow the instructions.
Most survey panels require that you complete your profile so that you can start receiving surveys invitations based on your demographics.
How Much Money Can You Make With Surveys?
The amount of money you can earn depends on the number of surveys you complete and their corresponding cash rewards. If you select all platforms available, I am confident that you will receive lots of survey invitations daily.
Paid Surveys UK claims that you will earn an average of £3 per survey, and if you complete 5 surveys per day, it's possible to reach £300/month. Well, from my experience, that is an overestimate!
In reality, most surveys take 10-25 minutes to complete and pay less than £2. But the main problem is that it can be hard to qualify, which is why it's so hard to make money as a panellist.
The worst think about completing surveys is the qualification process. You have to answer a few questions that will help marketing research companies select the most suitable candidate for a particular study.
Depending on your demographics, you may get rejected over and over again. It can be frustrating because you won't get paid if you are not a good match.

How do You Get Paid?
Each survey panel has its own withdrawal rules and payment methods. Most of them accept PayPal and Amazon Gift Cards.
Pay close attention to those websites that give you point rewards. Always make sure you calculate how much money you are getting for each survey, so you prioritize those that pay the most.
Is Your Personal Data Safe?
According to Paid Surveys UK, your data is kept save and your email will only be used to receive offers that you might be interested in. In other words, they are collecting your email to send you marketing emails, but you can unsubscribe at any time.
According to GDPR regulations in Europe, they should ask people's content whenever there is a signup form. I don't see any content box on the first page, only at the final stage when you are about to submit your email. As I am not an expert in GDPR, I cannot tell you whether this is 100% correct or not. However, I assume the company will respect your personal data and privacy.
Final Thoughts
Paid Surveys UK is a legitimate directory of the most reputable survey panels. It's 100% free! The more websites you sign up to, the more survey invitations you will get in your inbox every single day.

Just keep in mind that although completing surveys is easy, you are always trading your time for very little money. Therefore, you need to spend hours in front of the computer to qualify for surveys and make just a few dollars per day.
If you are serious about making money online, I suggest building your own online business. By promoting products and services through your website, you can generate an excellent source of income from home and change your life.
>> Check out my #1 recommendation to start a comprehensive step-by-step training. The first 10 lessons are completely free of charge.
Final Words
Thank you for taking the time to read my Survey Panel UK review. I hope this post was helpful to you. If you want, share your thoughts about this website in the comment box below.
All the best!
Stefan