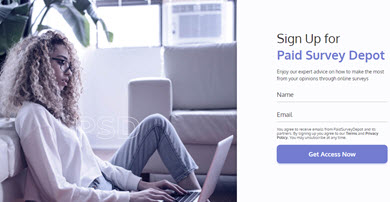 Welcome to my Paid Survey Depot review!
You may have found Paid Survey Depot while searching for opportunities to make money online.
Many people are doing the same because of the unprecedented situation we are all going through.
Small and medium businesses are closing down, and many workers are being laid off.
So, first of all, I hope you and your loved ones are safe in these troubled times.
This shall pass, and we should be prepared by taking important steps today!
My goal here is to explain how Paid Survey Depot works and give you my honest opinion about it.
Is it a scam or a legit website? How much money can you make?
Don't join this platform before you read my post.
IMPORTANT: In a time when governments are urging people to self-isolate, there is no better time to build an online business and make money from home. If you want to work remotely and earn a full-time income online, check out my #1 recommendation. This is the same program that helped me reach $1,600 per month and quit my job in 2019. 
Paid Survey Depot Review
---
Name: Paid Survey Depot
Website: https://paidsurveydepot.com/
Membership Eligibility: US
Recommended?

No

Overall Rating: 1/5
What is Paid Survey Depot?
---
At first glance, Paid Survey Depot seems like a survey website where people get paid to share their opinions.
The homepage encourages you to provide your name and email to gain access and start making money.
But once you create a free account, you will be forced to visit unreliable sites!
Let me explain to you what will happen on the next page.
How Does Paid Survey Depot Work?
---
When I first visited Paid Survey Depot, I thought it would be just like affiliate sites like SurveyBee, SurveySpotter, and many others.
These sites will collect your name and email in exchange for a list of marketing research companies.
However, Paid Survey Depot is different and I will explain why!
After signing up, they will urge you to click on the blue button and take a qualifying survey.
They promise to give you access to paid surveys, clinical trial opportunities, and part-time work offers.
So far, so good!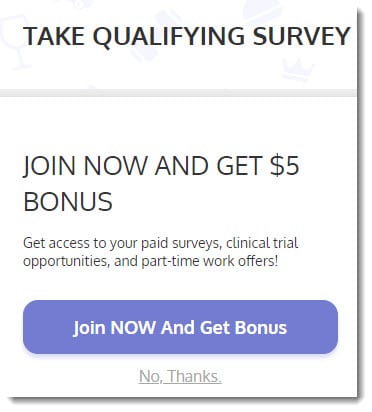 But after clicking on that button, my anti-virus blocked the page with a data threat warning.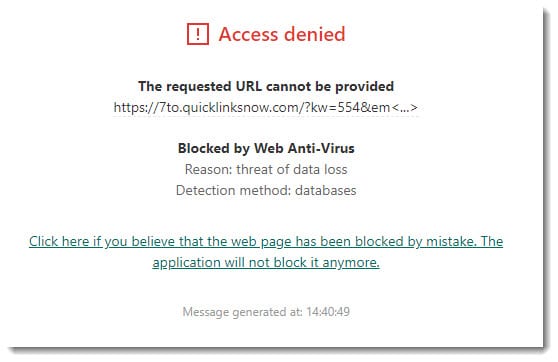 So, the URLs were not deemed safe and I decided to close the page.
I have reviewed other suspicious "survey sites" that were probably trying to break into my system somehow.
Some of these sites are Panel Bucks, Panel PayDay and Survey Momma.
Maybe my anti-virus has made a mistake, but whenever it blocks a website, I don't take any chances!
I simply close the page to stay on the safe side.
There are so many legit survey sites that it's not worth taking the risk, guys!
Now, if you click on "not now", Paid Survey Depot will continue to offer you more opportunities.
On another page, they say "Learn how to make $925 per day!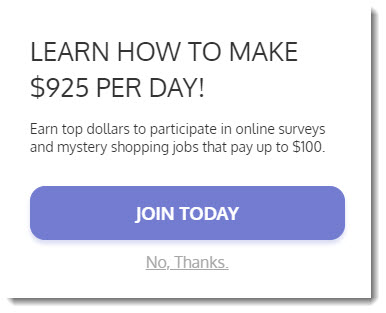 After reviewing countless scams in the past 5 years, I don't buy into the hype anymore.
All of these offers got blocked by my Kaspersky anti-virus.
If you don't have good protection and you opened any of these sites, hackers may have gained access to your operating system.

Is Paid Survey Depot a Scam?
---
I hope you understand that I can't make any claims without solid proof.
For now, I don't recommend Paid Survey Depot because they are directing people to suspicious URL's.
Conclusion
---
As of writing this review, Paid Survey Depot doesn't look like a safe place to complete online surveys.
They are not a marketing research company anyway, so they are not responsible for providing surveys and payments.

This reward platform is going viral! Cash out via PayPal, Visa, Gift Cards, and in-game currencies - Click here to find out how to generate an extra $10+ per day! 
Join Real Survey Panels and GPT Sites
---
As I mentioned, there are lots of legit opportunities in the form of survey panels and GPT sites.
If you want to complete surveys in a safe way and get paid for your time and effort, I highly recommend Prizerebel.

Prizerebel is a trusted GPT platform where you can take surveys, complete offers and micro-tasks from reliable partners.
Once you have earned $5, you can cash out via PayPal or gift cards from your favorite store.
Here are other reliable sites that you can join:
How To Earn a Full-Time Income From Home
---
Even if you used the best survey site in the world, you would make enough money to pay for all your living costs.
Maybe surveys can help you pay some of your transportation and food expenses.
But I am yet to find someone that makes $150+ per month with surveys.
I used to take surveys back in 2015, but I am glad that I found a much better strategy to make money online.
It's called affiliate marketing.
This excellent training program showed me the proper steps to grow an affiliate site and generate over $1,600 per month.
The site allows me to work remotely and make money while I am "stuck" abroad due to the recent World lockdown.
Having an alternative source of income from the internet can make a huge difference,  especially during a long period of recession.
Anyone can build a successful internet business and achieving remarkable results!
Prepare for the future by working hard to achieve your goals. It's worth it!
Check out my #1 recommendation and start your affiliate business today!
Final Words
Thanks for taking the time to read my Paid Survey Depot review. I hope it was helpful!
If you have any questions or concerns, feel free to leave me a comment below.
I will be more than glad to help! 😊
All the best
Stefan