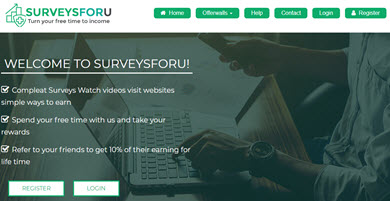 Welcome to my SurveysForU review!
More and more people are trying to make money online during this current lockdown.
For many, there is no other alternative other than search for online alternatives.
We all face difficult times, but we will overcome this for sure!
There are many sites offering surveys and other easy tasks to earn some extra cash from home.
I have recently found another platform called SurveysForU, which looks like a GPT (get-paid-to) site.
My mission here is to explain how SurveysForU works and give you my honest opinion about it.
Is it a scam or a legit website? How much money can you make?
Read this before joining!
IMPORTANT: If you want to work remotely and earn a full-time income online, check out my #1 recommendation. This is the same program that helped me reach $1,600 per month and quit my job in 2019. 
SurveysForU Review
---
Name: SurveysForU
Website: https://surveysforu.com/
Minimum Payout: $2.50
Membership Eligibility: Worldwide
Similar sites: Prizerebel, InstaGC, TimeBucks, Earnably
LEGITIMATE
Overall Rating:

3.3

/5
What is SurveysForU?
---
SurveysForU is a GPT (get paid to) platform that connects you with different marketing research companies and offerwalls.
When you join SurveysForU, you can get paid for taking surveys, completing offers, watching videos, visiting sites, and many other tasks.
Depending on the survey and offer provider, you will earn points or cash, which will accumulate in different balances.
You can withdraw your cash balance through PayPal once you earn a minimum of $2.50.
As for the points, you can convert them to cash at the current rate, which is 1 point = $0.01.
It adds up to your cash balance and helps you cash out faster.
Pros and Cons
---
Pros
Request payment when you reach $2.50.
Get paid via PayPal.
The company has partnered with lots of surveys and offer providers.
Earn $0.10 bonus if you join SurveysForU through a referral link.
Cons
Low pay.
Users are told to use Firefox only.
Is SurveysForU a Scam?
---
I don't think SurveysForU is a scam, but I recommend caution.
SurveysForU was launched in 2018, and due to strong competition with hundreds of GPT sites, it's still not very popular.
Therefore, there are very few users on the internet sharing their experiences.
I've seen a couple of reviews about SurveysForU on a comparison website called ForexRating.
Everyone is saying good things about the platform. Some people have also posted proof of payment.

So, the site is not popular, but it looks legit and promising!
How Does SurveysForU Work?
---
The registration is free and only takes less than one minute.
You just have to provide some basic details such as your name, email, country, address, date of birth and education.
People from all countries can join SurveysForU and request payment through PayPal or Bank wire.
There are many ways to earn cash and points.
Next, I am going to explain briefly the most common methods you can use.
Online Surveys
SurveysForU has partnered with different survey companies, which you can find at the Survey or Offerwalls tabs.

Surveys can be completed through different routers like Yuno, Your-Surveys, Speak Up and Sample Cube.
Some routers like Sample Cube provides unlimited surveys.
Regardless of the company you choose, most marketing studies pay less than $1.
Keep in mind that you won't qualify for every survey, which is why you can spend a lot of time for very little money.

Offerwalls
Just like popular GPT sites like Prizerebel and Offernation, SurveysForU also connects you with different offer walls such as
Offertoro
Personally
Super Rewards
Wannads
KiwiWall
Adwall
And more!
These are third-party platforms where you can find a variety of offers inside.
For example, you can get paid to download mobile applications, subscribe to free trials, sign up for survey panels and more.
Most offers pay only a few cents, but it's no rare to find opportunities that pay more than $1.
When completing offers, pay attention to rules and all the requirements.

This reward platform is going viral! Cash out via PayPal, Visa, Gift Cards, and in-game currencies - Click here to find out how to generate an extra $10+ per day! 
Many people don't get credited because they haven't cleared the cash and cookies before completing the offer.
Pop-up blockers can also prevent you from earning, so don't forget to disable it if you use one.

To make sure you get credited, I highly recommend you read the help section.

One of the downsides of offers is that you will be giving away your contact details and personal data to different companies.
This will allow them to call you and send emails about products and services. It can be unsustainable and annoying after completing a couple of offers.
Videos
There is also the video section inside the "offerwalls" tab.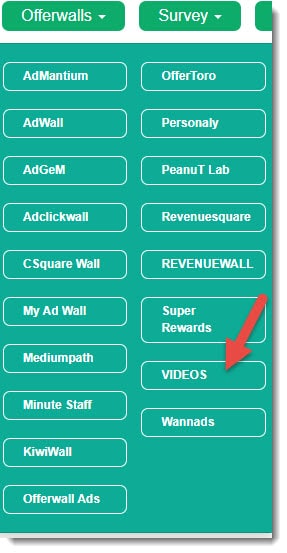 This is the place where you can earn points just for watching videos. This is one of the lowest paid tasks inside SurveysForU.
You may earn only 1 or 2 cents per day even if you do it for hours. So, I wouldn't bother!
Referral Program
One of the best ways to earn money with SurveysForU is to take advantage of the referral program.
A referral is someone who signs up after clicking on your affiliate link.
When you have a referral, you will earn 15% of what they earn on the platform.
For example, for every $10 that your referral earns, you will automatically get $1.50 without lifting a finger.
And, your referral will get $0.10 as a sign-up bonus.
The more referrals you have, the more passive income you will make.
So, your job is to share the link with as many people as possible and encourage them to join SurveysForU.
If you are serious about getting referrals, I highly encourage you to build an affiliate site.
You can also share the link via social media or YouTube.
How Do You Get Paid?
---
One of the best qualities of a GPT site is having a low minimum payout.
You don't want to wait for weeks or even months to be able to cash out!
The plan is to have the least amount of money at stake because, if something goes wrong, you won't waste a lot of time.
Luckily, you can request a payment once you have earned a minimum of $2.50 or 250 points.
Don't forget to convert all your points to cash before requesting a payment.

Conclusion
---
SurveysForU is a legitimate opportunity to make money from home.
The site has gone the extra mile to connect users with many advertisers and leading marketing research firms.
The best thing about joining SurveysForU is the low minimum cash out requirement, which is only $2.50.
So, it's possible to complete 3 or 4 surveys and withdraw on the same day!
Despite the large number of opportunities, you can still struggle to accumulate points.
The reason is that you won't qualify for every survey, and for some reason, some offers may not credit.
Verdict: Legit
How To Earn a Full-Time Income From Home
---
Survey Panels and GPT sites like SurveysForU can give you an extra $50, or even $100 per month.
It helps, but you have to consider the number of hours you are spending.
The reality is that you will trade a lot of time for very little money.
I used to take surveys back in 2015, but I discovered a much better strategy to earn money online.
It's called affiliate marketing.
I found this in-depth training, which showed me step by step how this business model works.
After putting the necessary time and effort for 1 year, I started making excellent commissions.
My online revenue continued to grow, and eventually, I reached $1,600 per month.
So, I quit my job and traveled with my wife to SE Asia.
Affiliate marketing allows you to work remotely even if you have no special skills.
As I am stuck in the Philippines because of the current global situation, I can continue to work remotely and make money from my laptop.
In other words, I don't need a job to put food on the table, and this is liberating!
Having an alternative source of income from the internet can make a huge difference, especially during a long period of recession.
Anyone can build a successful internet business by taking consistent action on a proven method that you can find here.
Prepare for the future and work hard to build an alternative income. It's worth it!
Check out my #1 recommendation and start your affiliate business today!

Final Words
Thanks for taking the time to read my SurveysForU review. I hope it was helpful!
If you have any questions or concerns, feel free to leave me a comment below!
I will be more than glad to help! 😊
All the best
Stefan