Today I discovered Panel Payday, which is a website that is claiming you can earn $25-$75 just for filling out online surveys. I was naturally very skeptical because I had never made more than three dollars in a marketing research study. Can you really trust these guys, or is it another scam?
Let's check it!
By the way, if you want to discover a proven method that earns me $900+ per month from my laptop, check out my #1 recommendation.
Panel Payday Review
---
Name: Panel Payday
Website: www.panelpayday.com
Price: Free to join
Overall Rating:  

0/5
What Is Panel Paydays?
---
Because of its name, you may think that Panel Payday is marketing research panel that will send survey opportunities and reward you for sharing your opinions. Not really…
In reality, Panel Payday is an affiliate site that is connecting users with third-party companies and malicious links (more on that below).
They will show you a list of websites to join just like other affiliate sites such as Survey Momma, Top 10 Best Paid Surveys, Only Cash Surveys, among others.
Most of them lure people into thinking they will make good money, but the truth is that the pay-rate is usually much less than the minimum wage.
So, what happens is after you sign up with these companies and take a survey, Panel Payday will earn a commission, but you are the one who will trade time for very little money.
Fishing URLs! Is Panel Payday a Scam?
---
At first glance, I thought there was nothing wrong with this site until I started clicking on the various links that would supposedly direct me the official survey panels.
Here is the first page: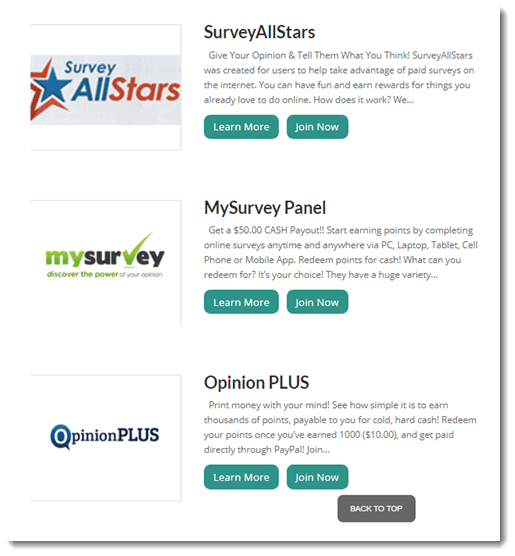 However, when I clicked on one opinion, my anti-virus blocked the page because it was considered a fishing URL.
Check this out: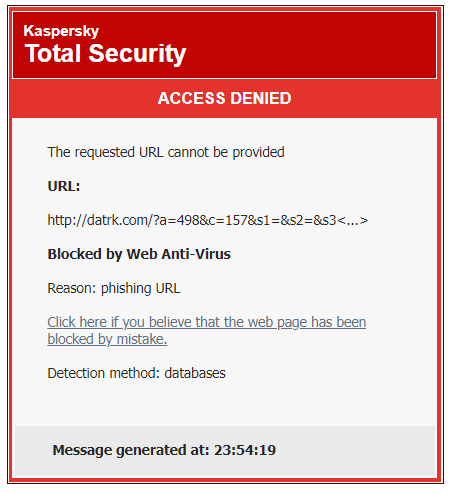 For those of you who don't know, a fishing URL is a fake website that often resembles a legitimate site, and it's designed to steal people's username, password, and any other critical information.
The login page is almost identical to the official website, but when you enter your name, password or another personal information, your credentials will be stolen. A fishing attack can, therefore, be used to gain access to your online accounts and credit card details.
That is a good reason to believe Survey Paydays is acting in bad faith. So, for this reason, and until the owner of this site doesn't fix those links, I have no option but to call it a scam.
Nothing justifies the existence of a link directing people to a suspicious website.
Identical to Other Sites
---
Another red flag you should know is that there are at least three websites that are identical to Panel Payday. Which makes me believe they are run by the same folks.

Here are the ones that I identified so far:
Survey Momma – surveymoma.com
Panel Bucks – panelbucks.com
SaySo4Profit – sayso4profit.com
Paid Survey Depot – paidsurveydepot.com
Not only the layout is similar, but they all use the same strategy of directing people to fishing URLs.
Final Thoughts
---
It's pretty clear for me, and hopefully for you that Panel Payday is not a reliable opportunity to make money online. The owner is tricking people to click on suspicious links that can help Hackers to steal your personal information.
All that being said, you should avoid Panel Paydays at all costs!
Verdict: Not Recommended 
There is no point in using this site when there is a wide variety of legit platforms to make money with online surveys.
For example, Prizerebel is a decent GPT platform to take surveys, complete offers, and other simple tasks. They will connect you directly with real marketing research companies and pay you via PayPal or Amazon e-gift cards.
How I Prefer to Make Money Online
---
As I said at the beginning of this article, many people get discouraged to take online surveys because of the low-income potential.
Indeed, there are much better ways to make money online such as affiliate marketing, freelance writing, and dropshipping. Personally, I prefer to use affiliate marketing as it allows me to earn passive income, and scale my business to the point where I will be making a full-time income from my laptop.
Currently, and making around $900 per month on the side while still working 9 to 5. For me, it's a remarkable achievement as this extra cash covers all my living costs, allows me to travel more, and gives me peace of mind.
You can do the same if you want to. I have built this blog to help people discover more profitable ways to make money and achieve their full potential online.

For proper foundation for your online business to succeed as an affiliate marketer, check out my #1 recommendation.
It's the best platform that will give you step by step training, expert support, and all you need to grow an affiliate site from scratch. Even if you have zero experience!
In fact, that's the same platform that helped me start my online business, and which I still use every single day!
Thanks for checking out my Panel Payday review, and I hope it helps you make an informed decision. If you have any questions, feel free to ask in the comment section below.
Stay safe!

This reward platform is going viral! Cash out via PayPal, Visa, Gift Cards, and in-game currencies - Click here to find out how to generate an extra $10+ per day!