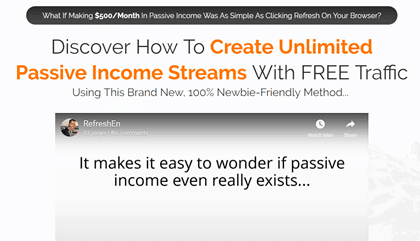 You are probably wondering if RefreEn will help you make $500/mo in passive income so you can finally live the laptop lifestyle. Is RefreshEn a scam or a legit product?
I decided to take a closer look at this brand new course for sale on WarriorPlus and give you my honest opinion.
By the way, if you want to discover a proven method that earns me $1,000+ per month from my laptop, check out my #1 recommendation.
RefreshEn Review
---
Product Name: RefreshEN
Website: www.refresh-en.com
Price: $12.94
LEGITIMATE
The Hype
---
The owners of RefreshEn want to make you believe that making $500 per month in passive income is as easy as clicking the refresh button in your browser. In fact, the name RefreshEn remits to this idea.

Many people are searching for strategies to make passive income because of the high level of freedom you can achieve! But what most product creators won't tell you is the hard work you need to put in first.
Instead, the owners of RefreshEn claim the method can get set up in 45 minutes or less. Then, click "refresh," scale, and earn as much money as you want.
Well, here is my advice for you, guys: Don't fall for the hype!
The bigger the passive income stream you want to build, the more upfront work you need to put in. Period.
That is not to say RefreshEn is a scam or that it won't help you make money online. Yes, it will. But if you decide to buy this course, go for it with a realistic mindset.
What is RefreshEn?
---
RefreshEn is a step by step video training that will show you a newbie-friendly method do make passive income online.
The method is all about building niche sites and getting free traffic from Pinterest. Then, you will monetize this traffic with Google Adsense, which is the advertising service that pays you for every click people make on ads located on your web pages.
Newbies may never have heard of this strategy before, but I guarantee you it's not brand new.
Nevertheless, it's possible to get lots of traffic (visitors to your site) from Pinterest and earn an income from Adsense.
Pros and Cons
---
Pros
It's affordable.
There are great tips to grow your exposure through Pinterest.
The lessons are very easy to follow.
Cons
It's overhyped.
Without unique content, you are missing out on free traffic from search engines. Besides, you can get in trouble with copywriting laws.
No community to back you up.
The Training
---
The training is well structured and will show you how to:
Locate niche leaders that are doing well with Traffic from Pinterest – You will be encouraged to learn more and follow their winning strategies.
Find out viral posts being shared on Pinterest, so you know what really works.
Build your site – Learn how to set up your hosting and install WordPress.
Build content using content curation. Here, you will be encouraged to share other people's content that is available on the internet.
Get traffic using Pinterest.
Monetize your site with Adsense.
Here Is Why I Don't Like RefreshEn!
---
RefreshEn is designed for those who are not really into content creation and search engine optimization (SEO).
The problem is that if you don't create your own content, you have no choice but to publish existing content from other sites. And although you can curate content, that doesn't mean you can copy everything and post as if you were the author. If you do so, you will be infringing copywriting laws.
So, yes! You can make money with this strategy, but I don't recommend copying other articles and publishing them on your site.
It's true that you can make get lots of traffic on Pinterest, but if you decide to create your own content to avoid trouble with copywriting, then you can also take advantage of SEO.

Unfortunately, RefreshEn, is only focused on Pinterest and won't help you with SEO, which is extremely useful when you want free organic traffic from search engines like Google and Yahoo.
Besides, you will be leaving money on the table if you just monetize your site with Adsense.
In my opinion, affiliate marketing can be way more profitable than Adsense. That is because depending what you are promoting on your site, you can rack in $10s, $100s and even $1,000s per sale!
As for Adsense, you will make just a few cents when people click your ads. Meaning that depending on your niche, you will need way more visitors to earn the same income.
Conclusion – Is RefreshEn a Scam?
---
No, it isn't. RefreshEn is a legit course that can be useful if you want to understand how to create a site, get traffic from Pinterest and use Adsense to earn an online revenue.
However, this strategy can take years to generate the kind of income they are claiming. That is because you need HUGE traffic to produce a decent income with Adsense.
Another critical point I want to make is that the course doesn't focus on creating unique content. It's a lazy method that usually doesn't work well!
Verdict: Legit But Not Recommended
What I Recommend
---
It's become clear from this article that I am a fan of creating unique content and building trust with my readers.
With unique content, you can tap into search engine, social media and even paid traffic sources! In other words, you can potentialize the results of your online business and achieve much better results in less time.
So, I recommend you build a site and become an authority in your niche.
Focus on helping your audience by writing reviews and informational articles in your niche market. Also, share your content on social media and publish informative and review videos on Youtube!

I know it's hard to understand how to everything fit together so you can finally earn a decent income online. It's not as simple and as easy as many gurus try to convince you it is.
However, with a structured step by step training and strong motivation, everyone can achieve excellent results! It takes time and hard work, but we all have to start from somewhere.
So, start small, take one step at a time, and you shall succeed!
If you want help to build the proper foundation for your online business, I can't I recommend Wealthy Affiliate highly enough. This community-based platform will give you excellent step by step training and all you need to grow an affiliate site from scratch.
I've been a member of Wealthy Affiliate for 2 years, and it helped me build a passive income source that generates over $1,000 per month in affiliate commissions. Click the link below to learn more about it!
Click Here and Check Out My Wealthy Affiliate Review

This reward platform is going viral! Cash out via PayPal, Visa, Gift Cards, and in-game currencies - Click here to find out how to generate an extra $10+ per day! 
Thanks for checking out my RefreshEn review. If you have any questions, feel free to ask in the comment section below. I'd love to help!