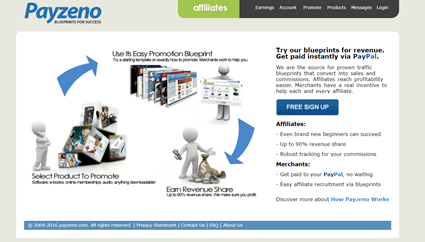 Payzeno is claiming to give you a proven traffic blueprint, so you make more sales and succeed as an affiliate marketer. Is Payzeno a scam or legit?
I decided to sign up and give you my honest opinion about it. So, check out my review below to make an informed decision.
By the way, if you want to discover a proven method that earns me $1,000+ per month from my laptop, check out my #1 recommendation.
Payzeno Review
---
Name: Payzeno
Website: www.payzeno.com
Price: Free to join

LEGITIMATE

Overall Rating:  

2/5
What is Payzeno All About?
---
Payzeno is a marketplace of digital products that have been connecting merchants and affiliates for mutual benefits since 2009. It's somewhat similar to Clickbank or Commission Junction, but significantly inferior in terms of the variety of the products.
When you sign up with Payzeno as an affiliate, you will be able to browse digital products, see the merchant's traffic recommendations (blueprints) and get your affiliate links.
Now, if you are a merchant, you can automatically recruit affiliates and easily direct Paypal payments through the platform.
Is Payzeno a Scam? 
---
I have to confess I was quite skeptical of Payzeno in the beginning. Their website is old-fashioned and claims to be a proven source of traffic blueprint to achieve profitability easier.
However, after I signed up, I realized there was nothing to worry about as it will just provide affiliates links and tips to promote digital products. So, the answer is no. Payzeno is not a scam.
Pros and Cons
---
Pros
Free to join.
Quick and easy affiliate recruitment.
Merchant's Blueprints help you get traffic to your offers.
Cons
It's a relatively small marketplace.
Many links are broken.
Some products look scammy.
The list of products is not divided into different categories.
Most blueprints are ineffective, and not scalable.
How Does Payzeno Work? 
---
Payzeno is free and very straightforward to join. All you have to do is fill up a form with your username, email address, and Paypal email.
Then, you have to choose whether you want to use the platform as an affiliate or a merchant. In case you don't have your own product, you should select the affiliate route.
The platform will use your username to create your unique affiliate links for all the products available. To earn commissions, you will need to copy the link and promote it using different strategies.
When people click the link and purchase the product, they will know you were the one responsible for acquiring the new customer, and will automatically pay you a commission.
It's great that some merchants (not all of them) provide a blueprint (guide) to promote their links.

For example, they can recommend you to use ppc, target specific keywords, and use the exact ads they provide.

Can You Succeed With Payzeno?
---
The first thing I noticed when I saw the product list was that most affiliate programs are in the "make money online" niche. Meaning products that teach people how to make money online.

However, it's also possible to find products in the fitness & health, beauty & fashion, personal & culture niche, among others.
You have to go through all the list to see offers in another niche as it's is not organized into different categories.
Although they may be legit, they look scammy to many people so you will probably have a hard time converting visitors into buyers.
Many Links are Not Working! 
The worst thing is that lots of merchant's sites are down, so you won't be able to make money if the links are not working!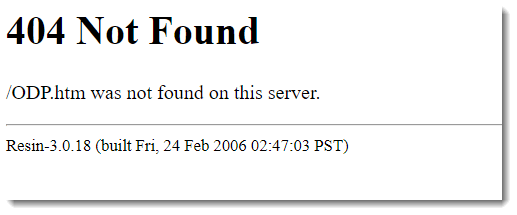 Also, I have to criticize the blueprints that some merchants are providing. The strategy that many merchants recommend is based on sharing links on related forums, social media groups, and also using PPC (pay per click) advertising.
Yes, you can make money sharing links in different places, but if you are not building an online presence, you will struggle to make money because you will need to keep posting links like crazy to make a sale. In other words, it's not scalable!
Also, I don't think promoting these type of products with PPC is profitable. If you are a beginner, you can lose money as your commissions may not cover the costs.
Final Thoughts
---
Payzeno is legit but I didn't like it because of many factors.
The marketplace seems abandoned as many links are not working.
Also, the sales page of some products look scammy, so many people will feel skeptical and will not buy from your links. That means your conversions will probably be low, so you will need HUGE traffic (visitors) to make a sale!

Not to mention that most blueprints will not help you build a solid affiliate business to make consistent sales. 
In order to do that, you will need to build an online presence (grow an audience) by providing quality content consistently. One of the best ways to do that is to create a blog and a Youtube channel to help people in your niche.
In time, you will grow an audience that trusts your recommendations, and therefore, you will be able to make more sales.
What I Recommend
---
There are other more popular marketplaces that you can find better affiliate programs in your niche market. Amazon, Rakuten, Maxbounty, Clickbank, and Commission Junction have a wide variety of quality products to promote as an affiliate.
As for building the proper foundation for your online business to succeed as an affiliate marketer, I can't I recommend Wealthy Affiliate highly enough. This community-based platform will give you excellent step by step training and all you need to grow an affiliate site from scratch.

This reward platform is going viral! Cash out via PayPal, Visa, Gift Cards, and in-game currencies - Click here to find out how to generate an extra $10+ per day! 
I've been a member of Wealthy Affiliate for 2 years, and it helped me build a passive income source that generates over $1,000 per month in affiliate commissions.
[thrive_megabutton mt="Click Here and Check Out My Wealthy Affiliate Review" st="" color="green" link="https://myroomismyoffice.com/wealthy-affiliate-score-9-7/" target="_self" align="aligncenter"]

Thanks for checking out my Payzeno review, and I hope it was helpful to you. If you have any questions, feel free to ask in the comment section below. I'd love to help!