Welcome to my GetGC app review!
I discovered GetGC after watching a guy on Youtube explaining how to make $30 per day by using this application.
If you follow my blog, you know that I have reviewed countless money-making apps that are a complete waste of time.
Not only the pay rate is ridiculously low, but many apps will never put money in your pocket.
So, you are probably wondering…
Can you really make $30 per day with GetGC? IS it a scam or a legit app?
In this post, I am going to explain how it works and give you my honest opinion based on personal experiencer as well as other user reviews.
While you are still here, don't forget to discover the step-by-step program that helped me reach $1,300/mo from my laptop (free to get started and 100% newbie-friendly).  
GetGC App Review
---
What is GetGC?
---
GetGC is a money-making application where users can complete easy tasks and accumulate points redeemable for PayPal and eGift cards.
Some of the most common tasks that you can find are:
Completing online surveys.
Testing other free apps.
Playing the lucky spin.
Inviting friends to join GetGC.
Recently, the developers decided to discontinue this app in 2019 and replace it for a new one called MobilePoints.
However, GetGC is still available on Google Play and the App Store as of the time of writing this review.
RECOMMENDED: Click here to see my no.1 recommendation for making money online.
How Does GetGC Work?
---
Just like most reward apps, the app is founded by advertisers and marketing research companies.
You can download GetGC for free via the Google Play or App Store, depending on which device you have.
After that, you can quickly create an account by providing your email or Facebook account.
In the member's area, you will find a list of all the different ways you can earn points. Here a breakdown of the most common tasks:
Take Online Surveys
GetGC has partnered with Pollshish SDK, SpeakUP and other different survey providers. You can participate in marketing research studies and earn points by taking surveys. (100p – 800p per survey)
Test free apps
In this section, you can earn points for installing and/or using different applications (10p – 100p per app).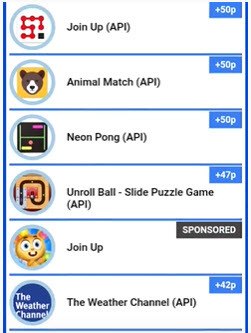 Complete Offers

Earn points for signing up to free trials or email lists (10p – 1000+p per offer).
Check-in daily
When you sign in for consecutive days, you will earn bonus points.
Lucky Spin
Every day, you can spin the wheel 3 times for a chance to win 200p, 400p or extra spins.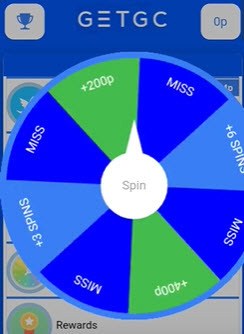 Referral Program
You can also earn 25% of all the points earned from every user that signs up through your referral link.
All you have to do is share the link with your friends on social media and cross your fingers.
A much better strategy to get referrals is to promote GetGC via a blog or youtube channel and include your referral link in your post or video description.
Points vs Rewards
Once you have accumulated enough points, you can redeem for Amazon, iTunes, Steam and many other eGift cards.
PayPal is also available depending on your country.
The minimum number of points that you will need depends on the payment method.
For example, you can redeem 3500 points for a $10 Amazon Gift card, and 5000 points for $15 via PayPal.

Is GetGC a Scam? Will You Get Paid?
---
I can't make any claims without proof, and unfortunately, I have none.
What I can say is that many people are complaining about this app on the Google Play store.
Lots of people say they don't earn points after completing offers.
Besides, the lucky spin seems to be rigged for some people as they claim to get a miss all the time.
Can You Make $30 Per Day With GetGC?
---
The answer to this question is a big NO for probably 99.999% of people!

This reward platform is going viral! Cash out via PayPal, Visa, Gift Cards, and in-game currencies - Click here to find out how to generate an extra $10+ per day! 
There is no way you can earn $30 consistently unless you have a YouTube channel or a blog and refers 1000s of people per day.
Maybe you can earn $30+ in one day by completing certain offers that require you to make a $10 deposit.

But in that case, your profit will be significantly smaller than $30 because you spent $10 on each offer.
The reality is that you will never reach $30 per day if you focus on taking surveys and completing free offers.
Conclusion
---
GetGC is technically a legit app, but many people seem to have issues with payments.
I have lost count of how many apps that get poor reviews because of missing points and payments.
Some Youtubers overhype mobile applications, so they get lots of referrals and earn commissions.
These guys are probably the only ones making a decent income with GetGC.
How to Really Earn $30/Day and Beyond on the Internet
---
From personal experience, the best way is to promote products and services as an affiliate.
In 2015, I was living paycheck after paycheck in London. So, I decided to complete paid surveys to earn some extra cash from home.
However, I quickly realised that I was undervaluing my time due to low pay rates and frequent disqualifications.
After some research, I found the possibility of making a job-replacing income by creating an affiliate website.
All I have to do is create helpful content and promote other people's products.
Depending on the affiliate program, you can earn recurring commissions that add up to $1,000s per month.
That's exactly how I was able to reach a consistent $1,300 per month with my website.
It took a lot of time and effort to get traction!
But you can realistically reach this income level if you have the right information and take massive action
If you are interested in building your income-generating website, check out my #1 recommendation and start today.
Final Words
Thanks for taking the time to read my GetGC app review. I hope it was helpful!
If you still have any questions, feel free to ask anything in the comment section below. I'll be more than glad to help you out!
All the best
Stefan