Welcome to my Make Money Fast app review!
The creators of Make Money Fast are claiming you can earn an extra salary just by completing simple tasks on your phone. Thousands of people are downloading this reward application to earn free money whenever and wherever they want.
But be careful! Most apps are designed to work for a while and then crash or block your account so you can never cash out. The reason is that app developers are hungry for money and the more rewards they pay, the less money is left in their pockets.
Can you trust the Make Money Fast app? Is it legit or fake? In this review, I will show you how it works so you can decide whether you should join or avoid this platform.
If you want to work remotely and earn a full-time income online, don't forget to check out my #1 recommendation. This is the same program that helped me reach $1,600 per month and quit my job in 2019.
Make Money Fast App Review
Name: Make Money Fast
Company: FL Labs
Website: https://make-money.one/
Type: GPT (get-paid-to)
Membership Eligibility: Worldwide
Similar apps: Cashapp, Pocketflip, Bituro
Overall Rating:

2

/5
What is Make Money Fast? 
Make Money Fast is a mobile application that allows you to earn credits by downloading free apps, completing surveys, and watching videos.
If you live in the UK, or the US, you will find lots of offers that are giving a decent number of points. For example, by installing and playing just one gaming app, you can earn more than $5.
However, these high-paying offers are very limited and depending on your country, you can struggle to reach $5 in less than 1 month.
With over 100,000 installs, The Make Money Fast has been rated 4.7 out of 5. But that doesn't mean your chances of having a positive experience are high!
Next, I will show you why you should think carefully before using the Make Money Fast app.
Pros and Cons
Pros 
There are lots of tasks depending on your country.
It doesn't take a long time to cash out.
It's available worldwide.
Redeem credits through PayPal.
Cons
The app requires Biometric authentication to log in.
You may never get paid.
They can terminate your Make Money Fast account at any time even if you play by the rules.
There is no startup bonus.
Some people experience technical issues trying to open the app.
Is the Make Money Fast app Legit? Does it Pay? 
As with most reward apps, Make Money Fast doesn't seem to pay everyone. Some people claim they could not open the app or didn't get credits after completing tasks. Other users complain about payment delays.
In response to a negative review about payment, the company said they will solve the issue after an update, probably after 1 month.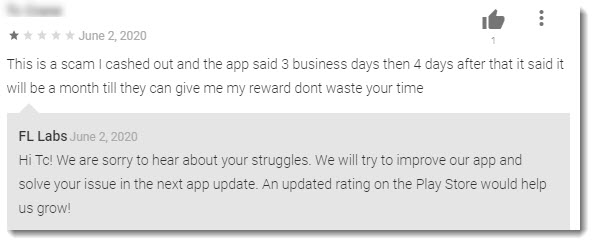 The app seems legit, but there is no guarantee that the company will pay you. The proof is in the Terms of Service, which says:
Please note that at any time, we may, in our sole discretion, decide about the payout amount and time or terminate our legal agreement with you and deny you continued use of the Make Money Fast Features and our Services.
This means they can delete your account and rewards whenever they want. I'd be infuriating if they closed my account for no reason.

Fingerprint required – OMG!! 
I installed the Make Money Fast app, browsed the list of tasks for a while, and then closed it. When I opened the app again, I saw this message asking me to scan my fingerprint to unlock the app.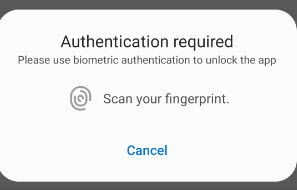 I understand some apps require biometric authentication as a strong security measure. But I think it's completely unnecessary the use of this technology in an app like Make Money Fast.
The Privacy Policy has no information about why they are collecting such sensitive data. So, I refused and uninstalled the app!
How Does it Work? 
Installation 
The Make Money Fast app is available on Android devices only. The app works worldwide, but tasks and cash incentives differ from country to country.
You don't need to fill up a registration form after installing the app. You should only provide your PayPal email address once you are ready to cash out.
But as I mentioned, when you try to enter the app for the second time, they may ask for your fingerprints. I'd be very cautious about it.
Complete tasks
In your dashboard, you will see all the tasks (offers) available along with the reward amount. Most tasks involve installing mobile applications, subscribing to free trials, and completing online surveys.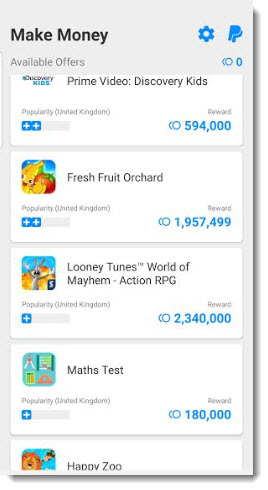 When completing offers, make sure you are a new user or subscriber and that you are not using a VPN. Read carefully all the instructions and complete all the steps to receive the credit.

In most cases, you may have to install a game and play until you reach a certain level. Or, install another reward app and accumulate a specific number of points. So, it can take some time and effort to claim your reward.
Be careful with offers that encourage you to sign up for free trials. Some of them require that you stay signed up after the trial ends, which means you will have to pay for the service.
Here is one example: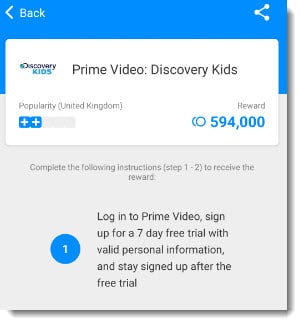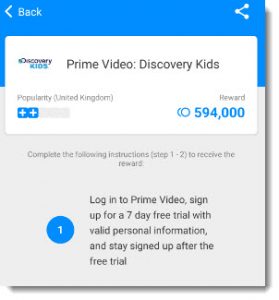 You will also find survey routers that allow you to take part in marketing research studies and get paid for your opinions. Click on the survey router every day for new survey opportunities.
The main problem with surveys is that it can screen you out at any stage, making you waste your time and patience. And, there is a risk of not getting the credits for your participation.

This reward platform is going viral! Cash out via PayPal, Visa, Gift Cards, and in-game currencies - Click here to find out how to generate an extra $10+ per day! 
How Do You Get Paid? 
You can supposedly cash out $5 (or the equivalent in your currency) through PayPal once you collect 3,500,000 credits. To request your payment, click on the "Save email address" button and enter your PayPal email.

It doesn't take long to reach the minimum payout threshold if you live in a wealthy country such as the US, or the UK. However, you may have to wait for a few weeks or months to get the money.
How Much Money Can You Make?
It depends on your country and the number of tasks you complete. It's not so difficult to reach $5 within 1 week because there are lots of tasks that offer a decent number of credits.
Unfortunately, the Make Money Fast app is not obliged to pay you, so you can spend many hours playing games or answering boring surveys for nothing!
Conclusion 
There is no guarantee that you will get paid after completing tasks for the Make Money Fast App. The company has total control over your earnings and thus, they can choose to keep your credits as profits.
I couldn't find any testimonial from users who received the money. There are many positive reviews, but most of them are from people who haven't cashed out yet.
Keep in mind that app developers can purchase reviews from platforms like Apperwall and AppWare. That's why you will see terrible apps getting close to 5-star ratings despite lots of complaints.
Another downside is that you must provide your fingerprints in order to use the app. What for? Well, no one knows…
It's up to you whether you want to take the risk. Me, personally, I cannot afford to work for companies for less than the minimum wage and with no payment guarantee.
How To Earn a Full-Time Income From Home 
There are many options available for those who want to put in the time and work.
However, I believe affiliate marketing is the best alternative if you dream about achieving time and location freedom. 
With this business model, you can…
Set your own schedule
Go on holidays whenever you want
Make money even while you are sleeping or traveling the world.
Work independently with no boss or co-workers telling what to should, or shouldn't do.
Thanks to this well structured step-by-step program, I was able to build an affiliate website that is now covering all my living expenses.
This course will help you set a solid foundation for your online business to attract visitors and earn commissions.
If you are prepared to work consistently and grow a reliable source of income from home, get started here!
Final Words
Thanks for taking the time to read my Make Money Fast app review. I hope it helps you make an informed decision.
If you want to share your thoughts or ask questions about this app, drop us a comment below.
Stay safe and until next time!