Welcome to my Prize Fiesta app review!
Over 1 million people have installed Prize Fiesta to collect points and hopefully, exchange for some cool electronic products. Who doesn't like the idea of earning freebies just for playing addictive games?
You are reading this post because you are skeptical and trying to understand how Prize Fiesta works. The game has a complex reward structure that is difficult to comprehend.
In this review, I will place the puzzle pieces together and give you my honest opinion about this game.
Is Prize Fiesta legit? Can it deliver real prizes to your home?
If you want to work remotely and earn a full-time income online, don't forget to check out my #1 recommendation. This is the same program that helped me reach $1,600 per month and quit my job in 2019.
Prize Fiesta App Review
Name: Prize Fiesta
Company: Full Game Ahead Ltd.
Website: http://www.prize-fiesta.info/
Similar apps: Maze Fiesta
Overall Rating:

1.3

/5
What is Prize Fiesta?
Prize Fiesta is a Candy Crush style game where you must line up 3 identical icons to make progress and earn points.
The game was developed by Full Game Ahead Ltd., which claims to have delivered 4226 prizes with a total value of £1,222,510 since 2010. Considering over 3 million players have registered on their games, this only goes to show how difficult it is to get rewarded.
With Prize Fiesta, you may win gifts from sweepstakes or the membership reward program. Gifts include Android smartphones, laptops, TVs, game consoles, drones, tablets, and more!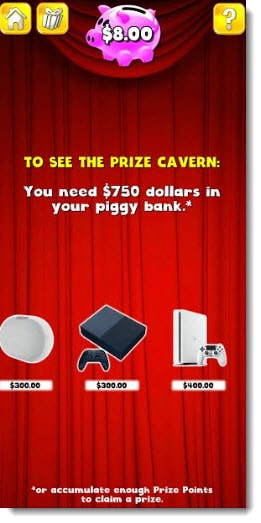 The game is available in many countries such as the US, the UK, Ireland, Russia, Germany, Colombia, Australia, Argentina, and Brazil.
You can play if you don't live in a supported country, but you won't be able to enter sweepstakes nor exchange points for rewards.
Is Prize Fiesta Legit? 
I suppose Prize Fiesta is operating legally, otherwise, Google Play would have banned this app a long time ago.
However, you probably won't win any prize after spending a significant amount of time and even money.
Unlike most reward apps, Prize Fiesta will entice you to invest your hard-earned money with no guarantee they will exchange your points for rewards.
Pros and Cons
Pros
Some people think it's fun and very addictive.
There are no ads.
Cons
Confusing reward system. You can get lost with so many rules!
There are no clear instructions about different terms such as Mushrooms, gems, crows, prize points, etc. It's a complete mess!
They will delete your mushrooms every day you don't play the game.
It takes a long time to earn $750 and unlock the Prize Cavern.
It's very difficult to win a prize if you don't spend money.
How Does Prize Fiesta Work? 
After installing the Prize Fiesta app on your Android or iOS devices, you can play it straight away.

However, you must fill out your profile and validate your email to access the Prize Cavern and exchange points for real prizes.
The game consists of lining up at least 3 identical pieces to gain ground.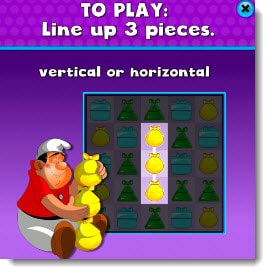 The prize Fiesta app has a very intricate reward system that many users struggle to understand. Why are there so many terms? Why make it so complicated?
I feel like I must do a Ph.D. to understand how this entire system works.
As you play the game, you will earn virtual dollars and membership points that you can exchange for Prize Points. You can claim the prize once you accumulate enough Prize Points or after you unlock The Prize Carven.
To unlock the Prize Cavern, you must accumulate 750 virtual dollars in your piggy bank or a specific number of Prize Points required to order a gift. Keep in mind that your cash balance doesn't represent a real monetary value.
Unfortunately, Prize Fiesta will only show you all the requirements once you get access to the Prize Cavern.
I can imagine the disappointment when players realize they must collect more Point Prizes after reaching $750. Prize Fiesta won't let you exchange your virtual dollars straight away! 
Keep in mind that you will need mushrooms to win virtual dollars. The problem is that if you don't pass a level, you will have to buy gems with real money, or they will block your mushrooms for 8 hours. They don't explain this requirement in the game tutorial, causing a lot of frustration!
You will also accumulate sweepstakes tickets every 7 minutes you spent playing the "match 3" section of the Prize Fiesta game. The more you play, the higher your chances to win a gift. But with this method, you can only rely on luck!
How do You Receive Your Gift at Home? 
If you win a prize, you must complete an online affidavit and show proof of identity and address within 4 days. If you don't, your prize will be lost.

Can You Really Win Prizes? 
If you check the game's help section, it warns users that an unblocked gift card has not been won yet. This is enough reason to suspect the app is not willing to reward anyone through the membership program.

Indeed, many users have played Prize Fiesta for months but didn't get any prize!
Most people think they will finally redeem their virtual dollars for an expensive gift as soon as they reach $750.
Well, not really!

This reward platform is going viral! Cash out via PayPal, Visa, Gift Cards, and in-game currencies - Click here to find out how to generate an extra $10+ per day! 
Once you get access to the store, you will realize you need more Prize Points, which in turn, require more gems/crowns that cost actual money. Besides, some gifts are only available in certain states or countries.
This person claimed he earned nothing despite spending a lot of time and money:


Another person reported that he collected over $300 but his piggy bank went down to $3. Besides, all his mushrooms and Prize Points vanished!

This person is still descending the rabbit role after playing the game for years and putting $40.
As you can see, you should not expect to earn any gift through the Prize Point system as they will make it hard to redeem your virtual cash balance.
Players may win gifts with the sweepstakes. However, the odds of holding a winning ticket are extremely low as thousands of people play Prize Fiesta regularly.
You have to be aware that your points have no value and are only offered to you as a gift. In other words, there is no guarantee that you will eventually exchange them for real rewards.
Not to mention the company has the right to terminate your account at any time and for any reason. Some people lost their accounts after submitting a complaint to the customer service.
Conclusion 
Prize Fiesta is the most confusing game I have ever played on my smartphone! It makes people waste a significant amount of time and even money in the pursuit of an expensive product.
If you want to play Prize Fiesta, do it for the fun, and drop your expectation to win anything as your chances are pretty slim.
After reading the reviews on both Google Play and App Store, I noticed lots of users regret playing Prize Fiesta and don't recommend it. No one wants to play
The game itself is cool, but the reward system is a complete mess and unfair in my opinion! I think Prize Fiesta should be more transparent and give people the gift they deserve without having to spend money.
If you are searching for an app to earn freebies, I recommend Grab a Treat. This app allows you to earn points for taking surveys and downloading apps. The only downside is that the majority of products are women's clothing and accessories.
How To Earn a Full-Time Income From Home
In my opinion, affiliate marketing is the best business model for most people who dream about working remotely.
The reason is that you work whenever and wherever you want without trade your time for money.
You can go traveling at any time of the year, and work independently with no unrealistic deadlines set by a boss.
Thanks to this well-structured program, I built an affiliate website that is generating thousands of dollars in commissions.
This program will help you set a realistic approach to your online business and put you on the right track to succeed. I joined back in 2015 and I am still a member 5 years later!
If you are prepared to put in the work and join the rank of the top affiliates, click here and start your first 10 lessons for free!

Final Words
Thanks for taking the time to read my Prize Fiesta app review. I hope it gives you a better understanding so you make an informed decision.
If you want to ask questions or share your thoughts about this app, drop us a comment below.
Stay safe and until next time!